Chimborazo
Chimborazo is an inactive glacier-capped stratovolcano that last erupted around 550 A.D. It sits in Ecuador's Cordillera Occidental Mountain Range of the Andes, southwest of the capital, Quito.
Visitors can enjoy nearby rest stops and photo spots; lodging at Comunidad La Moya, Hostería La Andaluza, and Laguna Las Cochas; and grocery shopping. The Bosque Potrerillo National Forest is directly south of the mountain.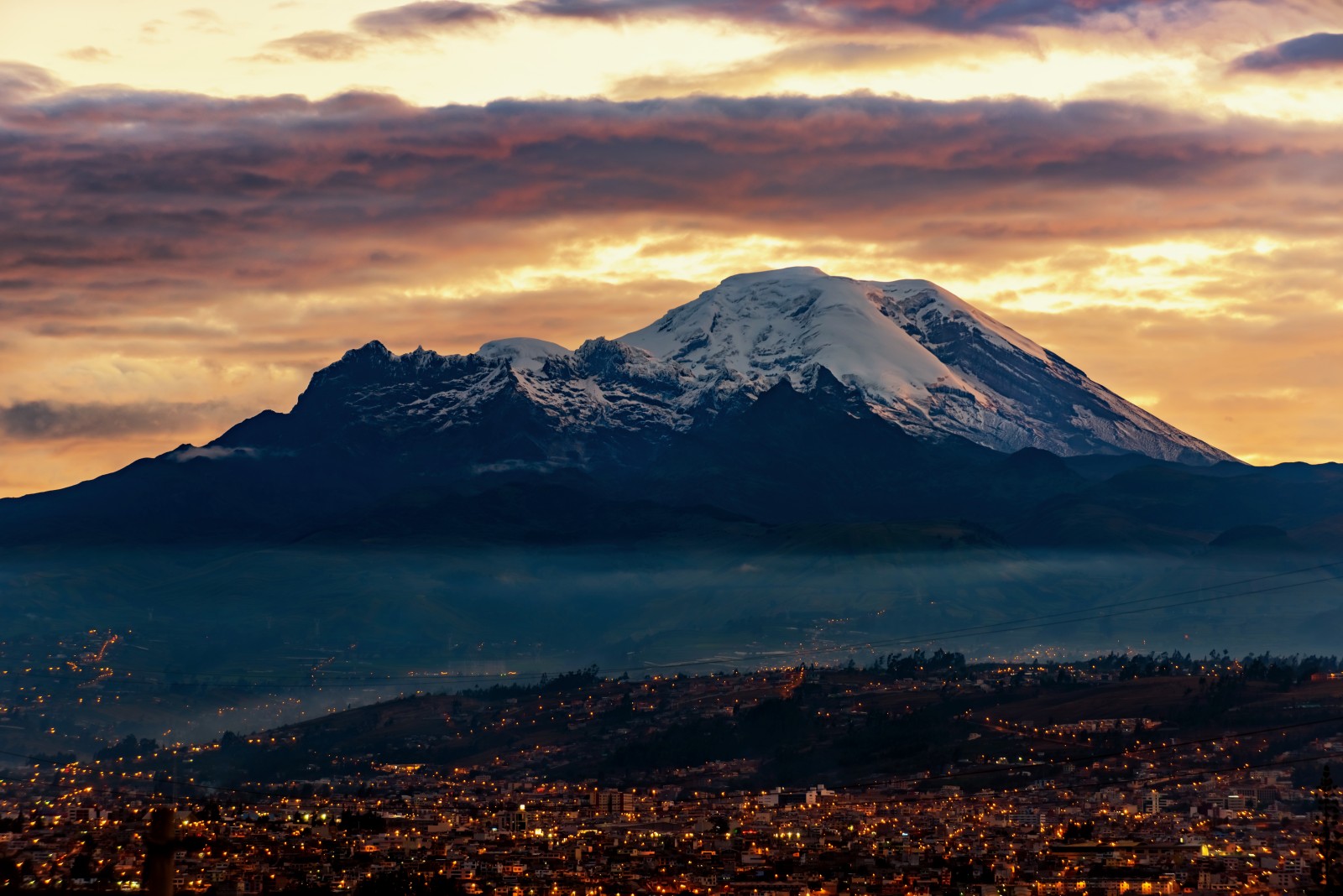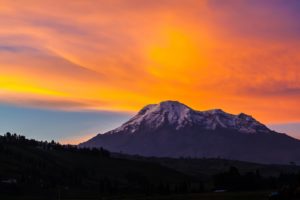 Fast Facts
Country: Ecuador
State/Province: Chimborazo Province
Mountain Range: Cordillera Occidental Range, Andes
Parents: Andes, Cordillera Occidental
Elevation: 20,549 feet / 6,263 meters
Prominence: 13,510 feet / 4,118 meters
Isolation: 526 mi / 846 km
First Ascent: January 4, 1880, by Edward Whymper with Italian guides Louis Carrel and Jean-Antoine Carrel. Subsequently, the route and summit were both named after him, known as the Whymper route and Whymper summit. This climb made them the first Europeans to summit a peak over 20,000 feet. Critics doubted the claim that Whymper reached the summit, so he climbed it again the next year via the Pogyos route with the Ecuadorians David Beltrán and Francisco Campaña.
Fun Fact: Chimborazo is the highest peak in Ecuador. It is also believed to be the farthest point from the Earth's center.
Flora and Fauna
Plant Life: Quinua is a sacred Inca plant that grows in the area and acts as an excellent food source. Bromeliads including the pineapple grow in Chimborazo's warm climate and also provide food. The geraniaceae plant species is also common to the area, with its most popular plant being the lovely geranium. Piquiles, rosemary, quishuares, sigses and chuquiraguas also grow in the region.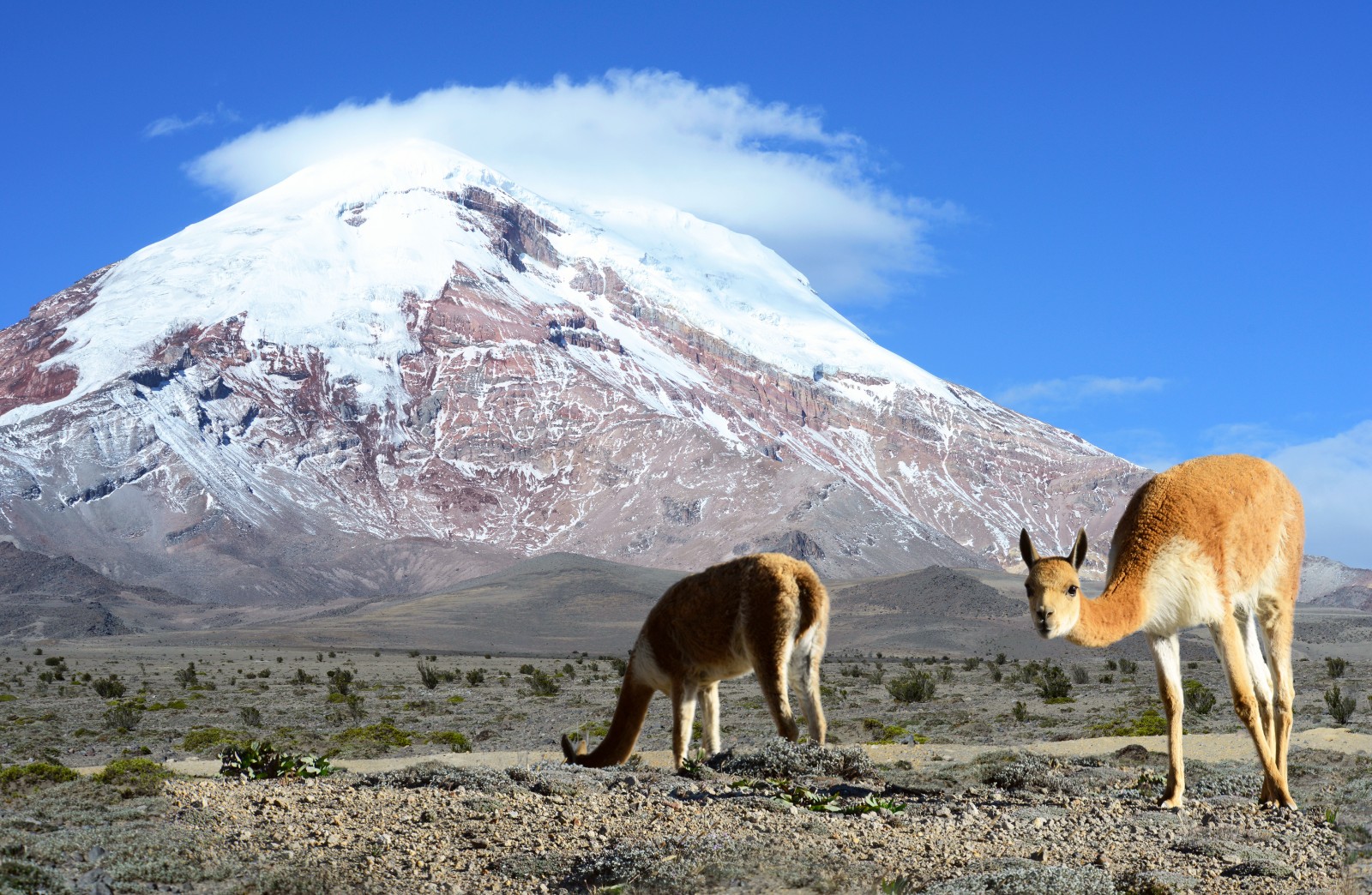 Animal Life: Camelids (a member of both the llama and alpaca family), alpacas, llamas, wolves, deer, marsupial rats, skunks, and Amazonian rabbits can all be found in the Chimborazo area.
Bird Life: The Ecuadorian hillstar, tawny-breasted tinamou, black-bellied whistling duck, sickle-winged guan, rufous-fronted wood quail, pied-billed grebe, oilbird, common potoo, common nighthawk, chestnut-collared swift, fiery topaz, white-throated crake, sungrebe, limpkin, striped cuckoo, rufescent tiger heron, great blue heron, turkey vulture, osprey, ruddy pigeon, great egret, white-tipped dove, gray-fronted dove, rock dove, and pallid dove are among the numerous bird species that be found in the Chimborazo area.
Sources: