Labuche Kang III (Labuche Kang East)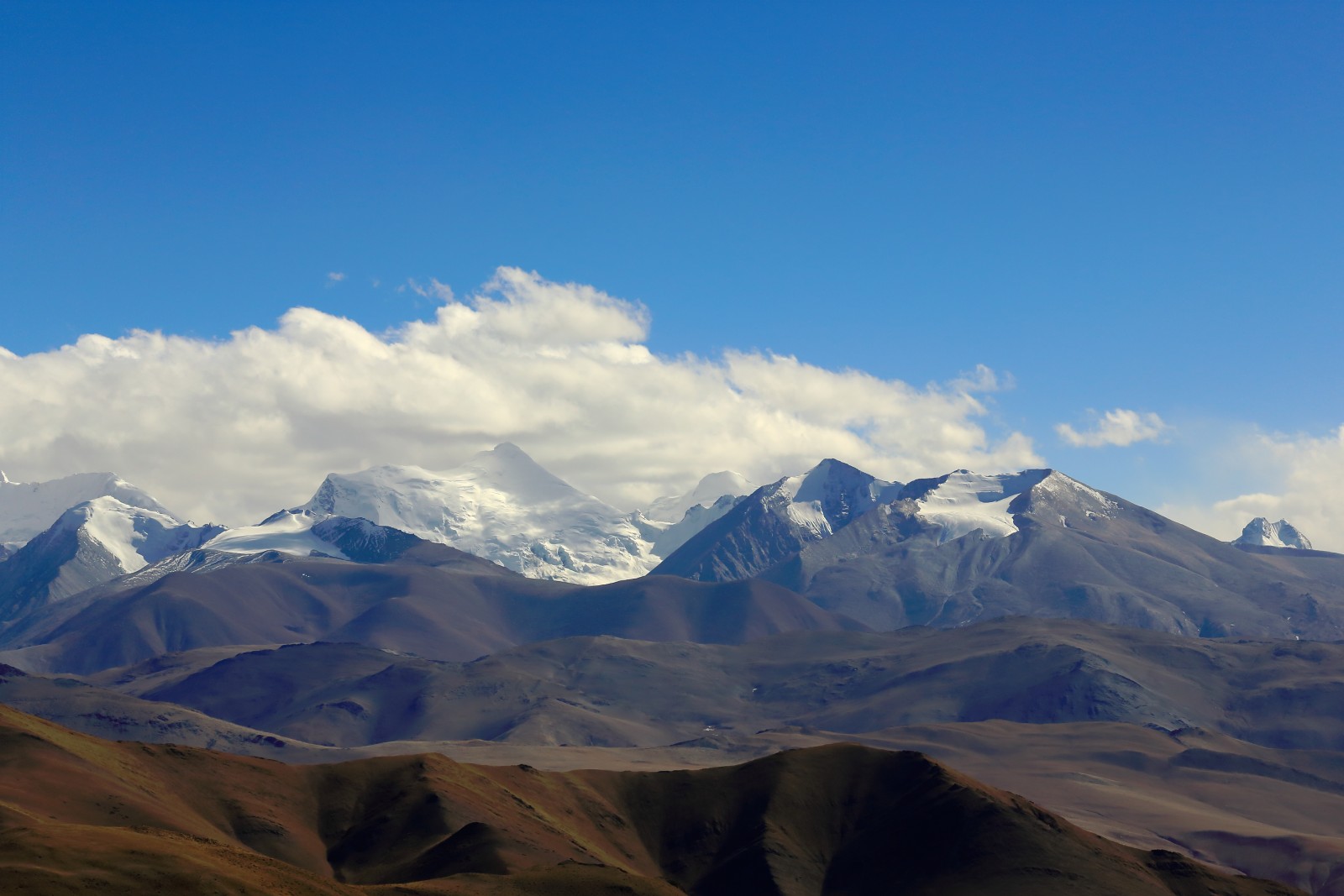 Labuche Kang III is an esteemed mountain peak located in the Tibet Autonomous Region of China. It stands majestically as part of the Labuche Himalaya, a sub-range of the mighty Himalayas. This prominent summit has an elevation of approximately 7,250 meters, making it one of the towering peaks in the region. Labuche Kang III is surrounded by a plethora of other notable peaks, offering a panoramic view that attracts mountain climbers and explorers from all over the world.
Labuche Kang III is nested in the heart of Tibet, a region known for its rich cultural heritage, spiritual significance, and breathtaking landscapes. The mountain poses a significant challenge to mountaineers due to its high altitude and difficult terrains. The harsh weather conditions and thin air at such lofty heights add to the thrill and adventure associated with climbing Labuche Kang III.
China is home to several high-altitude peaks, and Labuche Kang III is no exception. It forms an integral part of the country's diverse topography, contributing to its allure for mountaineers and adventurers. In recent years, there has been an increase in attempts to summit the peak, reflecting its growing popularity in the mountaineering community.
The Labuche Himalaya range, within which Labuche Kang III is located, spans across several kilometers and includes numerous other peaks. This range is not just a geographical marvel but also a significant contributor to the local climate. The glaciers and snowfields of the Labuche Himalaya feed many rivers that support local communities and ecosystems.
Labuche Kang III, nestled in Tibet within China's boundaries and part of the larger Labuche Himalaya range, is more than just a mountain peak. It is a symbol of natural grandeur and human endurance, offering invaluable insights into high-altitude ecosystems and contributing significantly to China's rich geographical diversity.
Fast Facts
Country: China
State/Province: Tibet
Mountain Range: Labuche Himalaya
Parents: Himalaya
Elevation: 23,790 feet / 7,250 meters
Prominence: 1,870 feet / 570 meters
Isolation: 1.97 miles / 3.17 kilometers
Nearest Higher Neighbor (NHN): Labuche Kang
First Ascent: unclimbed
Fun Fact: Labuche Kang III is the 93rd highest peak in the world. It is also the second highest unclimbed peak in the world, behind Gangkhar Puensum in Bhutan, where climbing is prohibited.
Neighboring Peaks: The closest neighboring peaks to Labuche Kang III are Cho Oyu and Lunag Ri I to the southeast, Tengi Ragi Tau to the south-southeast, Phurbi Chyachu and Lönpo Gang to the southwest, and Shishapangma to the west. The beautiful Himalayan Langtang National Park is located to the west of the peak and the stunning Sagarmatha National Park is just to the southeast of the mountain.
Plant Life: With two gorgeous parks just a few miles away, Labuche Kang III is the perfect area to take in some amazing sights of the Himalayas. The Sagarmatha National Park area boasts of lush evergreen forests of pine and hemlock, juniper, birch, and white fir, as well as rhododendron plants, scrub, and alpine plant communities. Langtang National Park to the west offers diverse vegetation in 18 different types of ecosystems, ranging from upper tropical forests below the 1,000 meter mark to hill forests of chirpine (Pinus roxburghii), rhododendrons and Nepalese alder (Alnus nepalensis) at 2,000-2,600 meters to oak, silver fir, and hemlock forests at the temperate zone of 2,600-3,000 meters to larch in the 3,000–3,600 meter lower sub–alpine zone to grassy meadows with juniper and rhododendron shrubs (R. anthopogon) at the 4,000 meter elevation graduating to alpine scrub and perennial ice in higher elevations. Sal (Shorea robusta) forests can be found in south Langtang National Park.
Animal Life: Local animals found near Sagarmatha National Park include the snow leopard, red panda, yak, musk deer, Himalayan tahr (or tehr, related to goats and sheep), marten, and Himalayan mouse hare (pika). Since the two parks are so close to each other, it's not unusual that they share many common animal species. Animal life common in Langtang National Park includes the snow leopard, red panda, musk deer, Himalayan tahr, Himalayan black bear, wild dog, ghoral, and serow.
Bird Life: Bird species of the Sagarmatha National Park area include the snow cock, Impeyan pheasant and blood pheasant, and the red billed cough. Over 250 species of birds live in nearby Langtang National Park.
Flora and Fauna
Labuche Kang III, located in the Tibet Autonomous Region of China, presents a remarkable array of flora and fauna that are noteworthy for their diversity and adaptability. The region, set within the high altitudes of the Himalayan mountain range, offers a unique ecosystem that is home to a variety of species that have evolved over centuries to withstand the harsh conditions.
The flora of Labuche Kang III is characterized by its high-altitude vegetation, primarily composed of alpine grasses and herbs. These plant species have developed special adaptations such as smaller size, dense hairiness, and deep root systems to survive in the cold, windy and low oxygen environment. Despite the challenging conditions, they play an essential role in maintaining soil stability and providing food for the local fauna.
As for fauna in Labuche Kang III, it is equally fascinating. The rugged landscapes of Tibet are home to a host of mammals adapted to life at high elevations. Rare and endangered species such as the snow leopard, Tibetan antelope and wild yak roam these parts. In addition, the region is also inhabited by a variety of birds like the Tibetan snowcock and bearded vulture, which are specially adapted to thrive in this high-altitude environment.
The Labuche Kang III region in Tibet, China, is not just a stunning example of nature's grandeur but also an important ecological zone. The interplay between the flora and fauna here contributes significantly to the biodiversity of the region. This delicate balance underlines the importance of conservation efforts to preserve this unique high-altitude ecosystem and its rich biodiversity for future generations.
Trails
Labuche Kang III, located in Tibet, China, is renowned for its breath-taking beauty and the exciting trails that surround it. This majestic mountain peak, standing at a height of 7,250 meters, offers an irresistible lure to adventurers and nature lovers alike. It's a haven for trekkers, boasting of some of the best trails that offer an invigorating blend of thrill, adventure, and natural beauty.
One of the most popular trails near Labuche Kang III is the trek to the base camp, which is both challenging and rewarding. This trail offers trekkers an opportunity to immerse themselves in the stunning landscape that encompasses rugged terrains, serene glacial lakes, and panoramic views of the Himalayan range. The journey through this trail is filled with the allure of pristine nature and the exhilaration of scaling new heights.
Another remarkable trail near Labuche Kang III is the route through the Tibetan plateau. Known as 'the roof of the world', this trail explores the unique charm of this high-altitude desert landscape. The trek unveils a fascinating world of ancient monasteries, nomadic settlements, and rare wildlife in addition to offering awe-inspiring views of snow-capped peaks.
Moreover, there's also a trail that goes around several other peaks in the region. This trail provides an opportunity to witness the grandeur of numerous Himalayan peaks while traversing through diverse landscapes, from lush green valleys to icy mountain passes.
Labuche Kang III in Tibet, China, is not just a mountaineer's paradise but also a trekker's delight. The trails around this magnificent peak provide an unparalleled trekking experience combining adventure with an appreciation for nature's awe-inspiring beauty. Whether you are an experienced hiker or a novice adventurer, the trails near Labuche Kang III promise to leave you with unforgettable memories.
Sources
Links