Paiju Peak (Paiyu Peak, Payu Peak)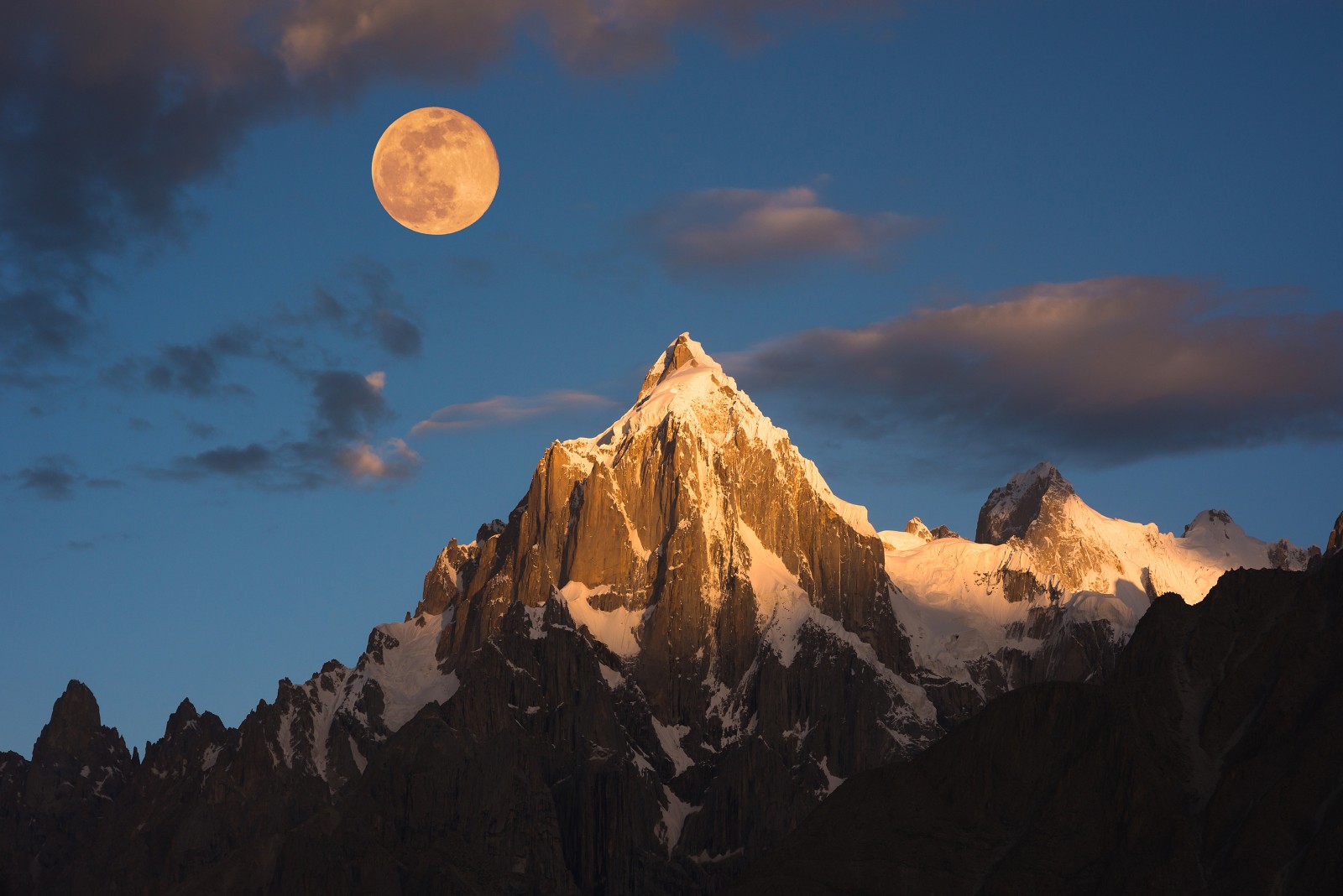 Paiju Peak is a significant mountain located within the boundaries of Pakistan, more specifically in the Gilgit-Baltistan region. This majestic peak is a part of the Karakoram range, which is renowned for its expansive collection of some of the highest and most challenging peaks in the world. Standing tall at 6,610 metres or 21,686 feet, Paiju Peak holds an eminent position in the Himalayan belt and is a spectacle of natural beauty that captures and captivates the hearts of mountaineers and nature enthusiasts alike.
The Paiju Peak, often cloaked in snow and shrouded by clouds, is an epitome of nature's grandeur and might. Despite not being the highest peak in the Karakoram range, it still commands respect for its rugged terrain and harsh weather conditions that challenge even the most seasoned climbers. The location of Paiju Peak in Gilgit-Baltistan, a region in northern Pakistan known for its stunning landscapes and rich cultural heritage, further enhances its appeal.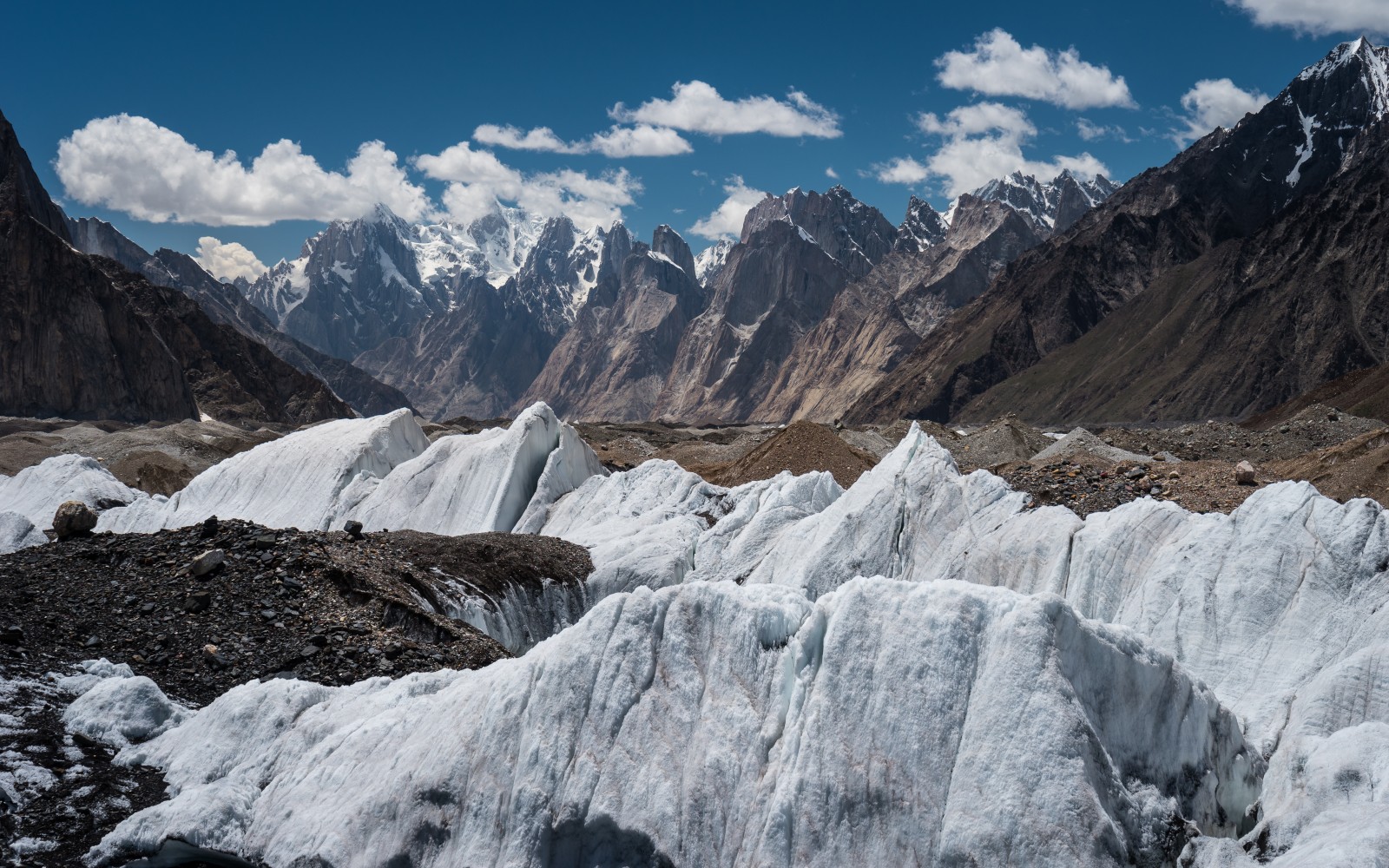 Paiju Peak is not just a physical entity but also carries significant cultural connotations for the people of Pakistan. It is seen as a symbol of national pride and natural wealth that the country possesses. Its proximity to the Baltoro Glacier, one of the longest glaciers outside polar regions, adds another layer of intrigue to this majestic peak.
In summation, Paiju Peak is undoubtedly a marvel of nature nestled in Pakistan's Gilgit-Baltistan region. It forms an essential part of the Karakoram range and stands as a testament to the awe-inspiring beauty and power that nature harbours. The peak continues to attract mountaineers worldwide, eager to conquer its daunting heights and experience the breathtaking scenery that awaits at its summit.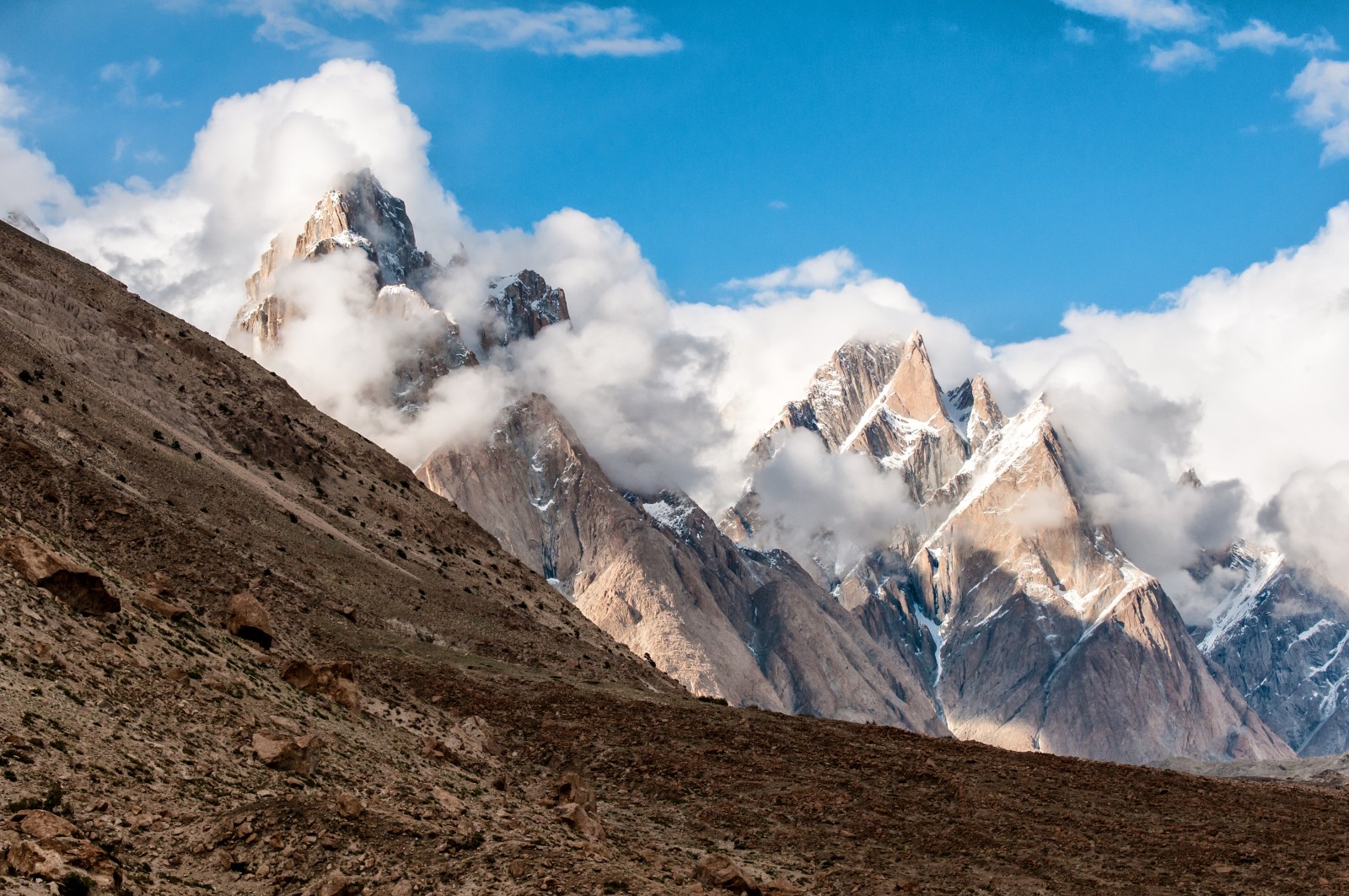 Fast Facts
Country: Pakistan
State/Province: Gilgit–Baltistan
Mountain Range: Baltoro Muztagh, Karakoram
Parents: Karakoram
Elevation: 21,686 feet / 6,610 meters
Prominence: 1,909 feet / 582 meters
Isolation: 1.84 miles / 2.97 kilometers
Nearest Higher Neighbor (NHN): Choricho
First Ascent: July 20, 1976, by Bashir Ahmed, Manzoor Hussain, Nazir Ahmed Sabir, members of a Pakistani group.
Neighboring Peaks: The closest peaks to Paiju are Choricho, directly northwest of Paiju, Uli Biaho peaks and Shipton Spire north of the peak, and the Trango Towers northeast of Paiju. Hikers can rest at Paiyu Camp to the south of the mountain. Central Karakoram National Park is just west of the mountain.
Plant Life: The Central Karakoram National Park boasts valleys of Himalayan white pine, West Himalayan spruce, and Pashtun juniper. Smaller shrubs and plants common to the region are wild strawberry (Fragaria nubicola), Kashmir balsam (a species of impatiens), sea wormwood, Astragalus gilgitensis, Geranium nepalensis, Thymus linearis, and white clover.
Animal Life: The snow leopard, Himalayan lynx, Himalayan brown and black bear, urial, Siberian ibex, markhor, and bharal all live in the Central Karakoram National Park area.
Bird Life: Only a few bird species have been spotted in the region, mainly the common raven, golden eagle, chukar partridge, and Alpine chough.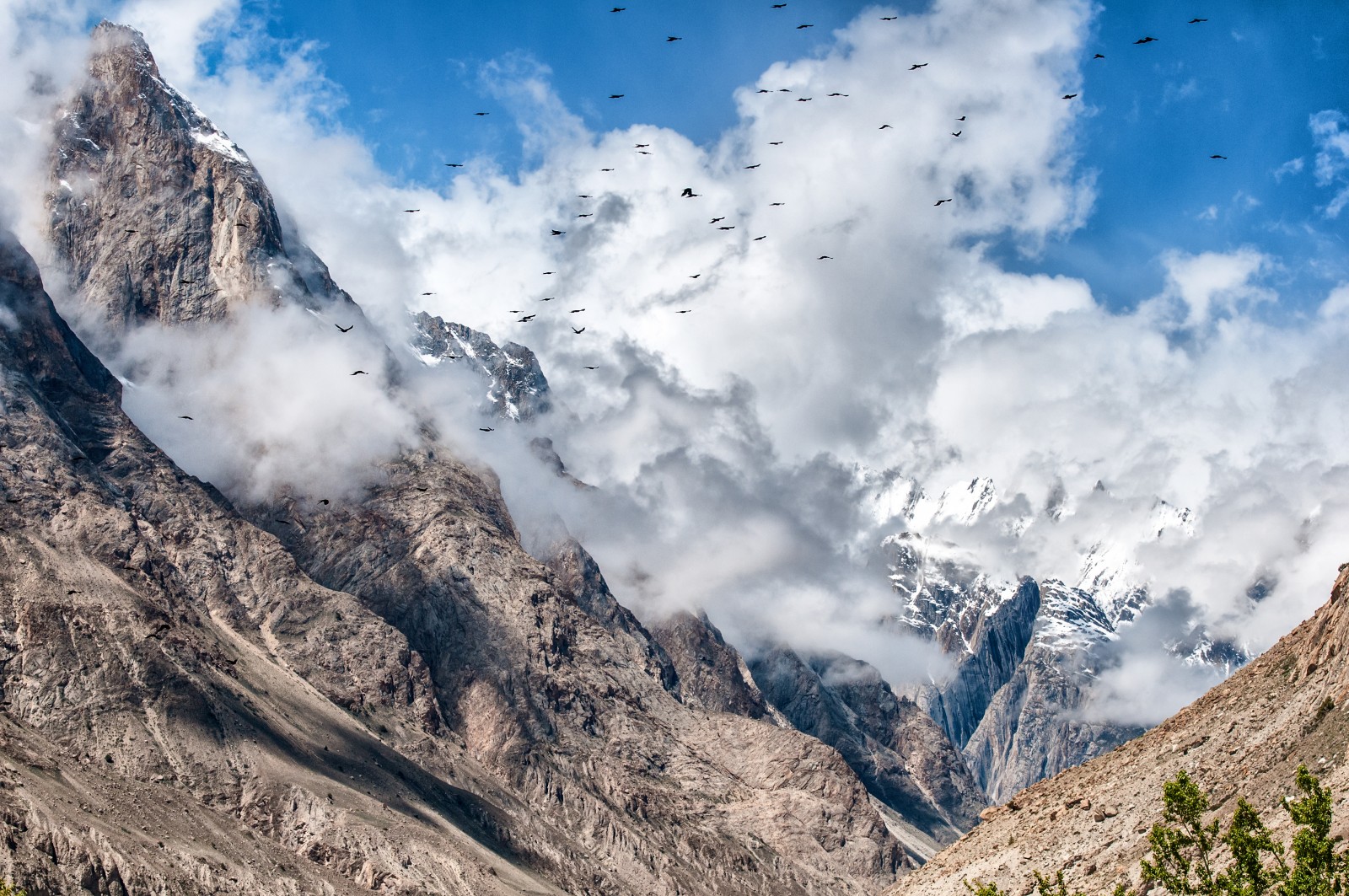 Flora and Fauna
Paiju Peak is a unique ecosystem that teems with a rich variety of flora and fauna. This striking landscape, nestled in the heart of the Karakoram Range, serves as a natural sanctuary for a plethora of species that add to the ecological splendor of this area.
The flora of Paiju Peak is characterized by its resilience and adaptability to the harsh climatic conditions of this mountainous region. The vegetation primarily comprises alpine and subalpine species, including a variety of herbs, shrubs, and trees that have adapted to survive in the rugged terrain and extreme weather conditions. The region is home to several endemic plant species that contribute significantly to the biodiversity of Gilgit-Baltistan.
In addition to its impressive flora, Paiju Peak also boasts a diverse range of fauna. From mountain goats and snow leopards to diverse bird species such as golden eagles and Himalayan griffons, the wildlife of this peak is as captivating as its vegetation. The animals have developed unique physiological features and behaviors to survive in the challenging environment of the peak.
Nevertheless, the unique flora and fauna of Paiju Peak are under constant threat due to climate change and human activities such as overgrazing and deforestation. These issues have led to habitat loss and a decline in the population of various species. Hence, concerted efforts are needed to conserve the pristine ecosystem of Paiju Peak in Pakistan's Gilgit-Baltistan region.
Paiju Peak is more than just a stunning mountain peak; it is a vibrant ecosystem teeming with diverse flora and fauna. The preservation of this ecosystem is crucial not only for the survival of these species but also for the overall biodiversity of Gilgit-Baltistan.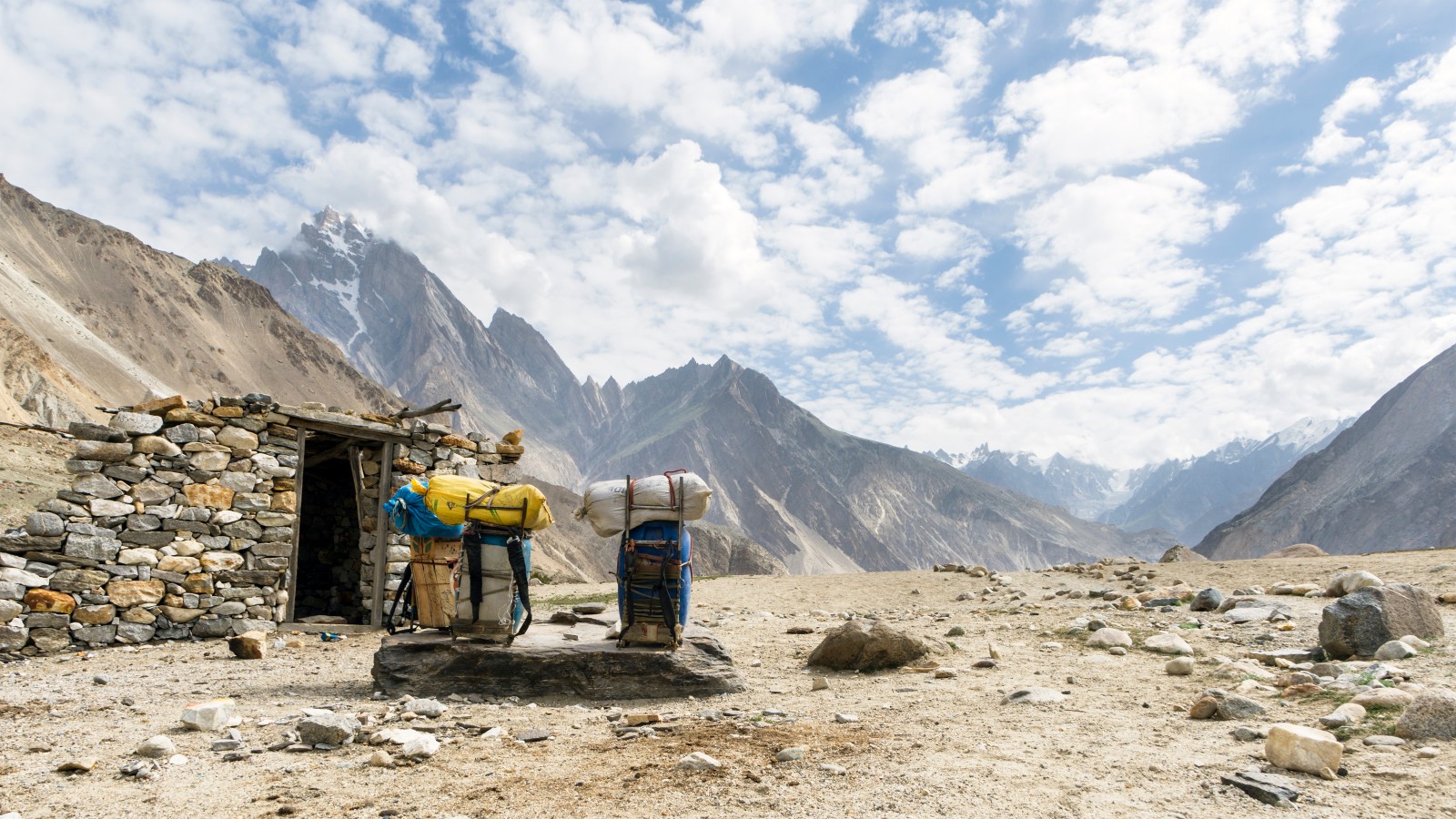 Trails
Paiju Peak is a stunning and challenging attraction for avid trekkers and mountaineers. It stands as an epitome of raw beauty, offering some of the most exciting and breathtaking trails in the vicinity. The towering height of this peak, combined with the rugged topography of the area, makes it an adventurous destination for those seeking thrill and natural beauty.
One of the most popular trails near Paiju Peak is the Baltoro Glacier trail. This trail offers a mesmerizing view of the colossal mountain ranges, encompassing the four 8,000-meter peaks of K2, Broad Peak, Gasherbrum I, and Gasherbrum II. This route is not just a trekking path but an avenue to witness some of the most dramatic landscapes on earth.
Another notable trail near Paiju Peak is the K2 base camp trail. This route starts from Skardu and passes through several villages before reaching Paiju Peak. The trail offers a blend of cultural exposure and natural beauty. Trekkers can witness local life in remote villages and experience unparalleled views of majestic mountains, lush green meadows, and pristine rivers.
The Trango Towers trail is another highly recommended route for experienced climbers. It is considered one of the most challenging rock climbing routes in the world, offering an adrenaline-pumping experience with captivating views of the Karakoram Range.
Paiju Peak in Pakistan's Gilgit-Baltistan region presents a multitude of trails and routes that accommodate both novice trekkers and experienced mountaineers. The trails near Paiju Peak offer an opportunity to explore the untamed beauty of this region, making it a must-visit destination for adventure seekers worldwide.
Sources