Kangchenjunga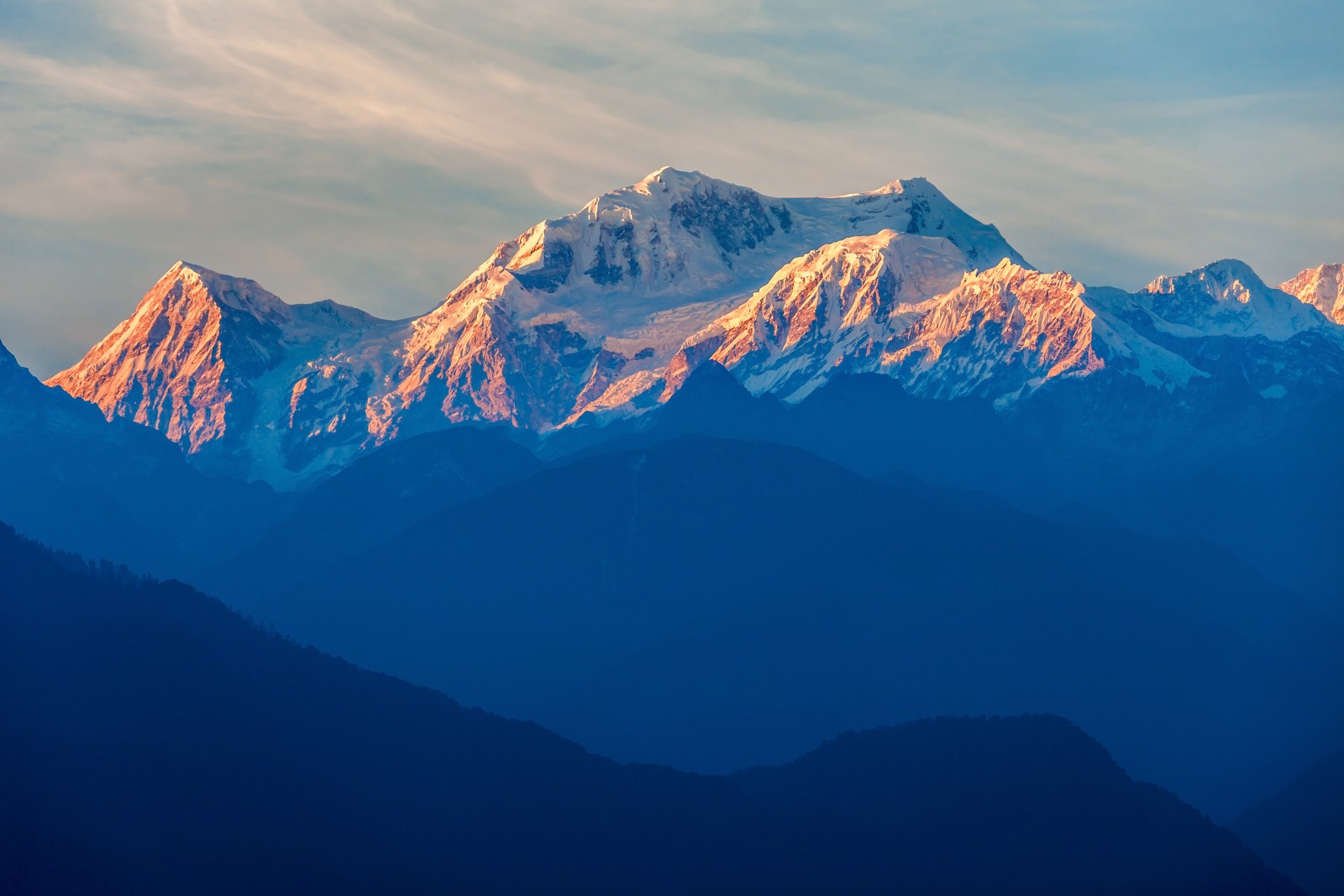 Kangchenjunga, the third highest mountain in the world, sits majestically in the Himalayas, straddling the borders of Nepal and India's northeastern state of Sikkim. It is a mountain of immense beauty and grandeur, rising to an astonishing height of 8,586 meters (28,169 feet). The name Kangchenjunga translates to 'The Five Treasures of Snows', referring to its five distinct peaks, each of which is believed to represent a treasure: gold, silver, gems, grain, and holy books.
Kangchenjunga is not just a geographical wonder but also holds immense cultural significance. Numerous myths and legends surround this majestic peak. For the people of Sikkim, it is a sacred entity, deemed as their guardian deity. There are specific norms and rituals associated with Kangchenjunga that are strictly adhered to by the locals. For instance, out of respect for the mountain's sanctity, mountaineers have traditionally stopped just short of the summit.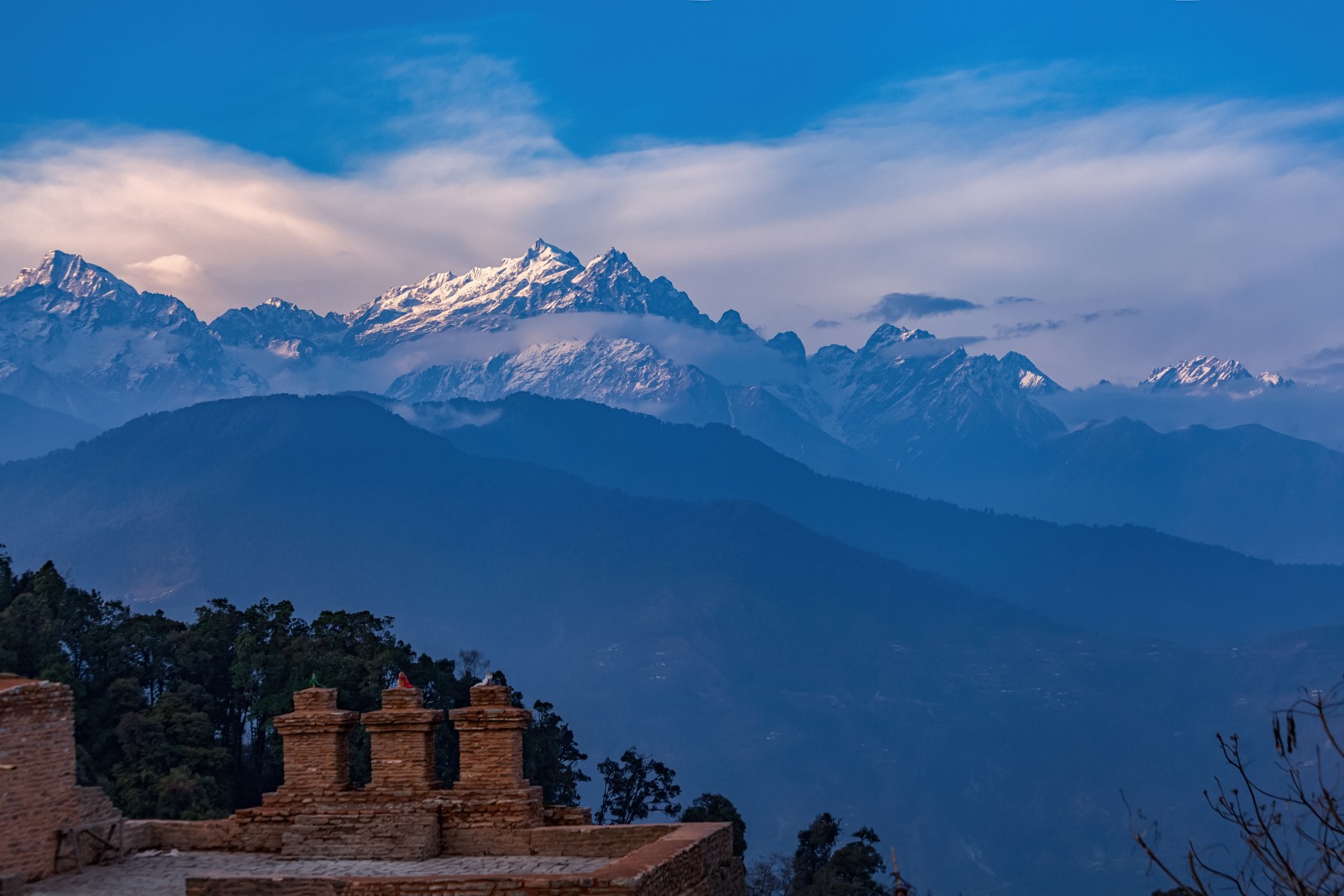 The region surrounding Kangchenjunga boasts diverse flora and fauna. The lower slopes are adorned with lush forests and are home to an array of wildlife including snow leopards and red pandas. The higher altitudes house glaciers that feed major rivers including the Koshi. This river originates from the highland watersheds of Kangchenjunga and plays a crucial role in supporting local ecosystems and communities.
Geographically, Kangchenjunga is part of the eastern Himalayas, a younger and more volatile section of the mountain range known for its seismic activity. Despite the inherent risks associated with its geography, Kangchenjunga continues to draw adventurers, mountaineers and spiritual seekers from around the world. Its imposing presence and natural beauty make it one of the most remarkable features of the Himalayan landscape. Despite its allure, its remote location in Sikkim and strict climbing restrictions have helped preserve its pristine environment.
Kangchenjunga is not just a towering peak in the Himalayas; it is an embodiment of nature's grandeur interwoven with cultural richness and biodiversity. Its unique combination of physical prominence, cultural significance, and ecological diversity make it an invaluable part of both Sikkim and the greater Himalayan region.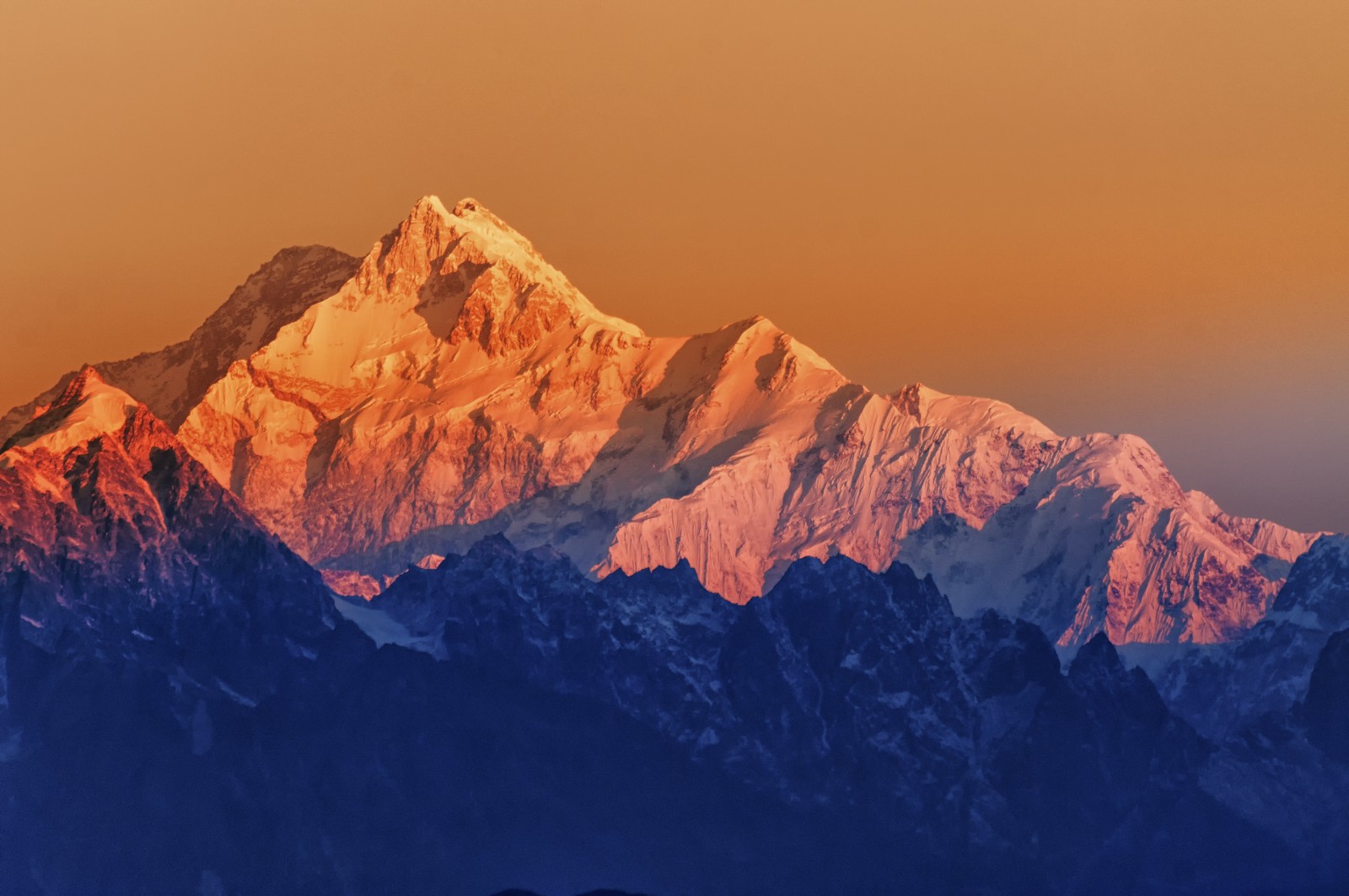 Fast Facts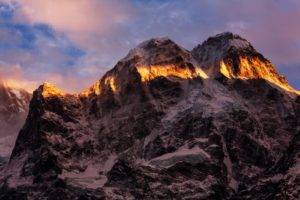 Country: Nepal, India
State/Province: Sikkim, Koshi
Mountain Range: Kangchenjunga Himalaya
Parents: Himalayas
Elevation: 8,586 meters / 28,169 feet according to the National Geographic Society
Prominence: 12,867 feet / 3,922 meters
Isolation: 77 miles / 124 kilometers
Nearest Higher Neighbor (NHN): Mount Everest
First Ascent: On May 25th, 1955, Joe Brown and George Band were the first to climb Kangchenjunga on a British expedition. However, they stopped just before reaching the summit to keep a promise to the Chogyal not to violate the peak, and every climber since has done the same.
Fun Fact: Kangchenjunga is the third highest mountain in the world! Also, Kangchenjunga Main is the highest peak in India.
Neighboring Peaks: The five peaks of the Kangchenjunga are: Kangchenjunga Main (8,586 m), Kangchenjunga West (Yalung Kang) (8,505 m), Kangchenjunga Central (8,482 m), Kangchenjunga South (8,494 m), and Kangbachen (7,903 m).
Flora and Fauna
Kangchenjunga is adorned with a rich variety of flora and fauna. Located in the Himalayan range, it spans across the borders of three countries – Nepal, Tibet, and India, more specifically Sikkim. The verdant landscapes of Kangchenjunga are home to a myriad of plant and animal species that contribute to the region's exceptional biodiversity.
The flora in Kangchenjunga varies significantly with altitude. The lower slopes of the mountain are cloaked in lush subtropical forests while the higher altitudes boast of beautiful alpine meadows punctuated with vibrant rhododendrons, magnolias, and orchids. This region is also known for its medicinal plants that are integral to the local communities and traditional medicine practices.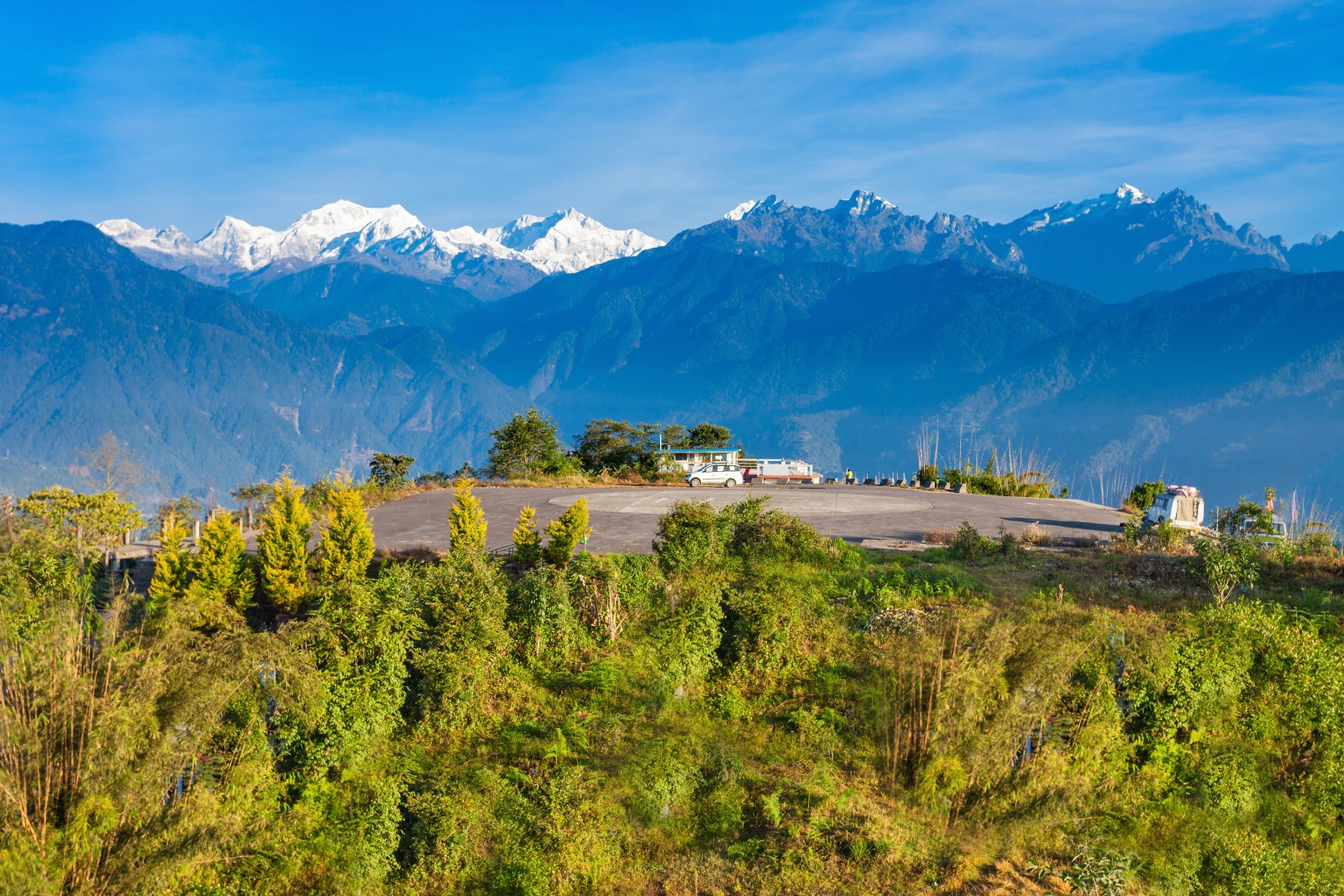 Kangchenjunga's fauna is equally impressive. Over 550 species of birds inhabit this region, including the blood pheasant and satyr tragopan which are considered as state birds of Sikkim. The animal life here includes several endangered species like snow leopards, red pandas, and Himalayan black bears that find refuge in this untouched wilderness.
The rivers running through Kangchenjunga, including the Koshi river, also support a wide range of aquatic fauna. Species of Mahseer fish and freshwater turtles are common in these waters. The presence of such diverse wildlife is a testament to the pristine and healthy ecosystem of this part of the Himalayas.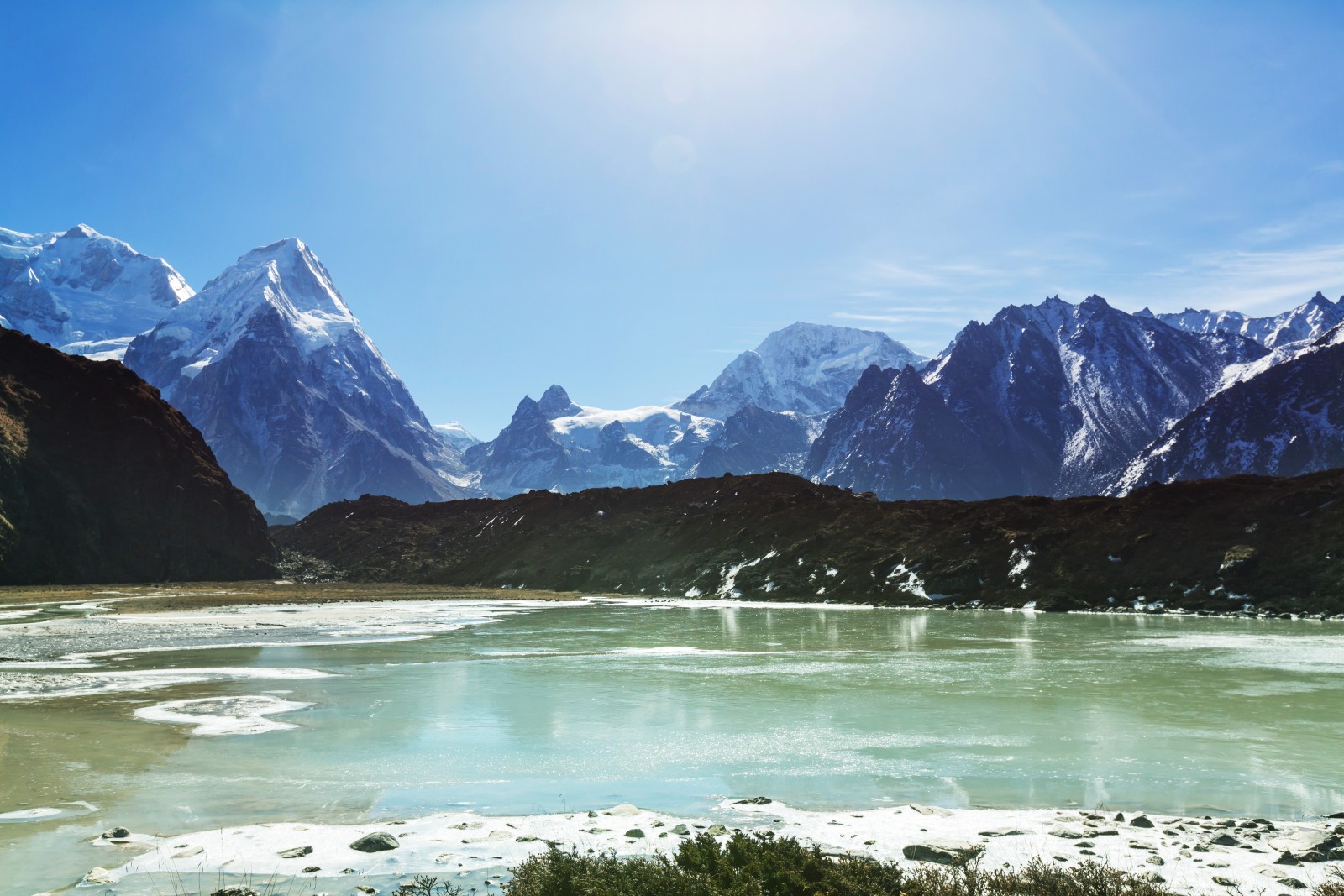 The Kangchenjunga Conservation Area has been established to protect this rich biodiversity. It plays a pivotal role in conserving the unique flora and fauna of this region while promoting sustainable tourism practices. The conservation efforts here have been instrumental in preserving the natural heritage of Kangchenjunga for future generations.
Kangchenjunga's rich collection of flora and fauna make it a critical hotspot for biodiversity in the Himalayas. Its diverse ecosystems provide a safe haven for numerous species and create a platform for researchers to study unique ecological dynamics. The conservation efforts within Kangchenjunga not only protect its unique biodiversity but also contribute towards maintaining our planet's ecological balance.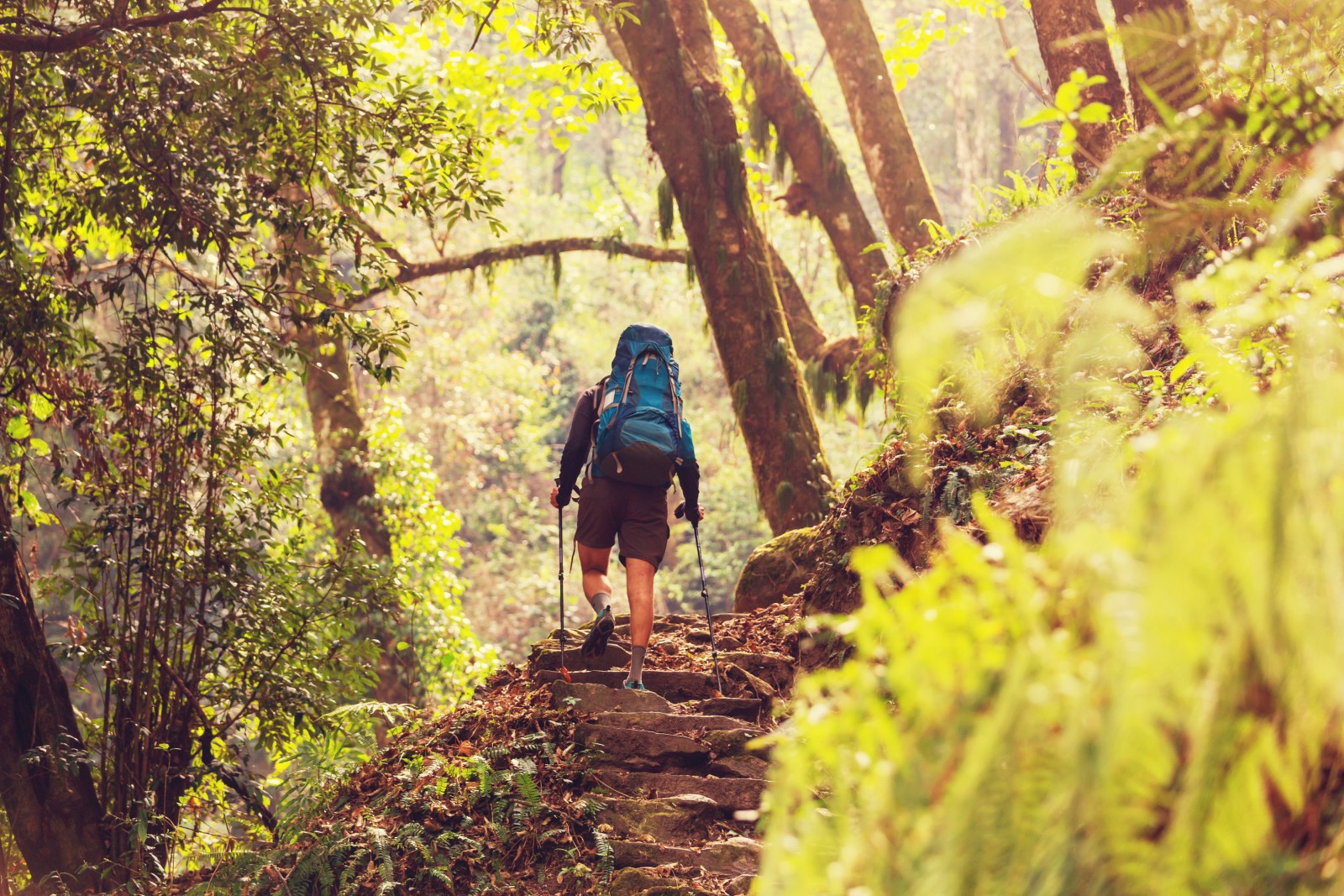 Trails
Kangchenjunga is located in the Indian state of Sikkim and is a popular destination for trekkers and adventure enthusiasts. This majestic peak, nestled amidst the mighty Himalayas, offers some of the most captivating trails which are known for their enchanting beauty and challenging terrains.
One of the best trails near Kangchenjunga is the Goecha La Trek route. Starting from Yuksom, this trek provides a panoramic view of the entire Kangchenjunga range. The trail takes you through dense forests, serene meadows, and rushing rivers, offering an unforgettable experience. Another highly recommended route is the Green Lake Trek, which commences from Lachen in North Sikkim. This trail brings you up close with the Koshi river and offers breathtaking views of the Kangchenjunga and its surrounding peaks.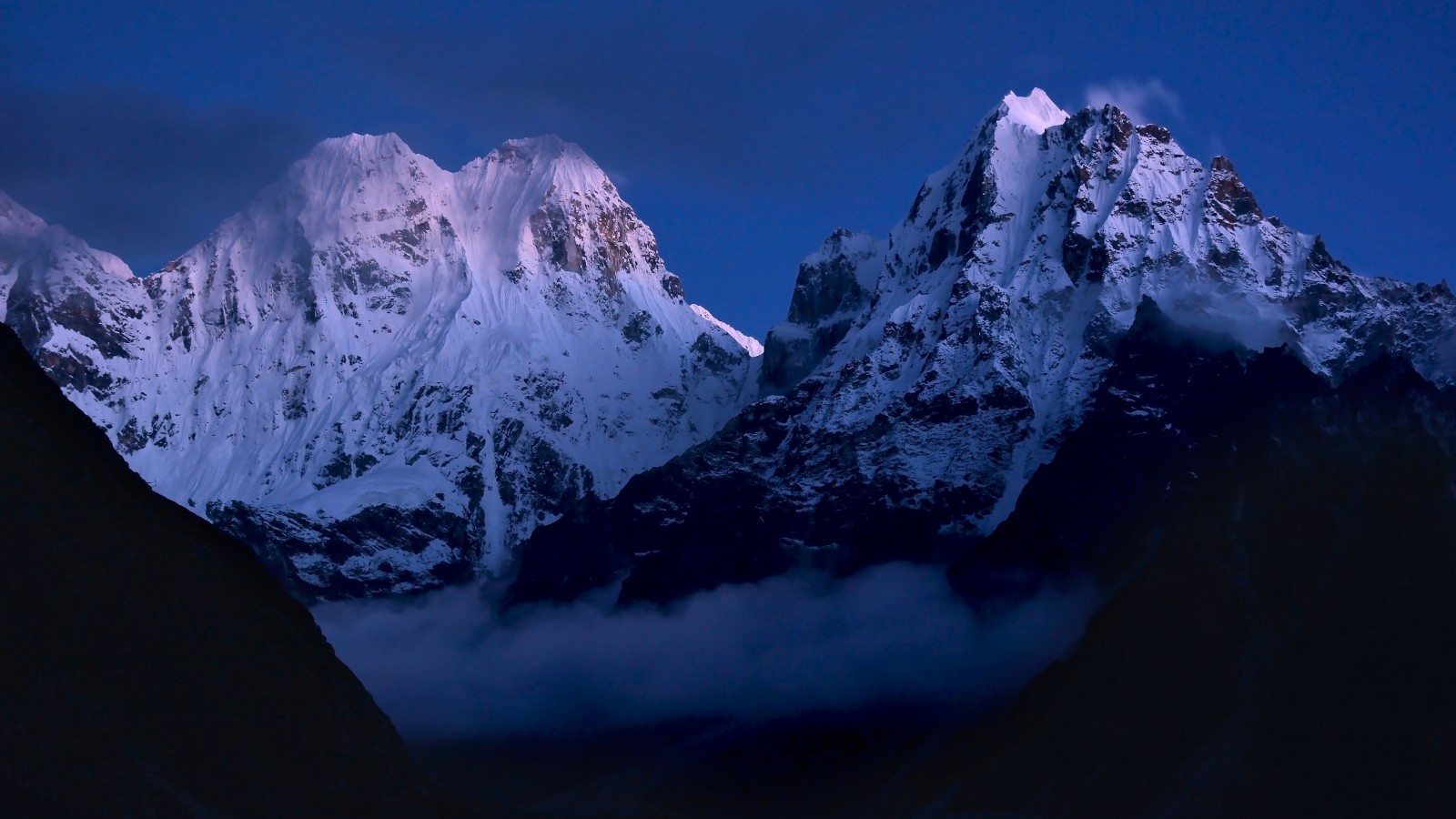 The Koshi Tappu Wildlife Reserve trek is another trail that shouldn't be missed. It is a bird watcher's paradise where one can spot rare and exotic bird species. The trek starts from Basantpur and passes through the Koshi river banks, giving trekkers a unique opportunity to explore the rich biodiversity of the region.
Another noteworthy trail is the Singalila Trek that takes you along the Singalila Ridge and offers stunning views of Kangchenjunga, Everest, Makalu, and Lhotse – four of the highest peaks in the world. This route is not only known for its panoramic views but also for its rich flora and fauna.
These trails near Kangchenjunga offer an incredible trekking experience amidst nature's grandeur. Whether it's trekking through dense forests, crossing gushing rivers or journeying along steep terrains, these routes offer something for every adventure enthusiast. The beauty of Sikkim and Kangchenjunga, combined with the thrill of trekking in the Himalayas, makes these trails a must-visit for any nature lover or adventure seeker.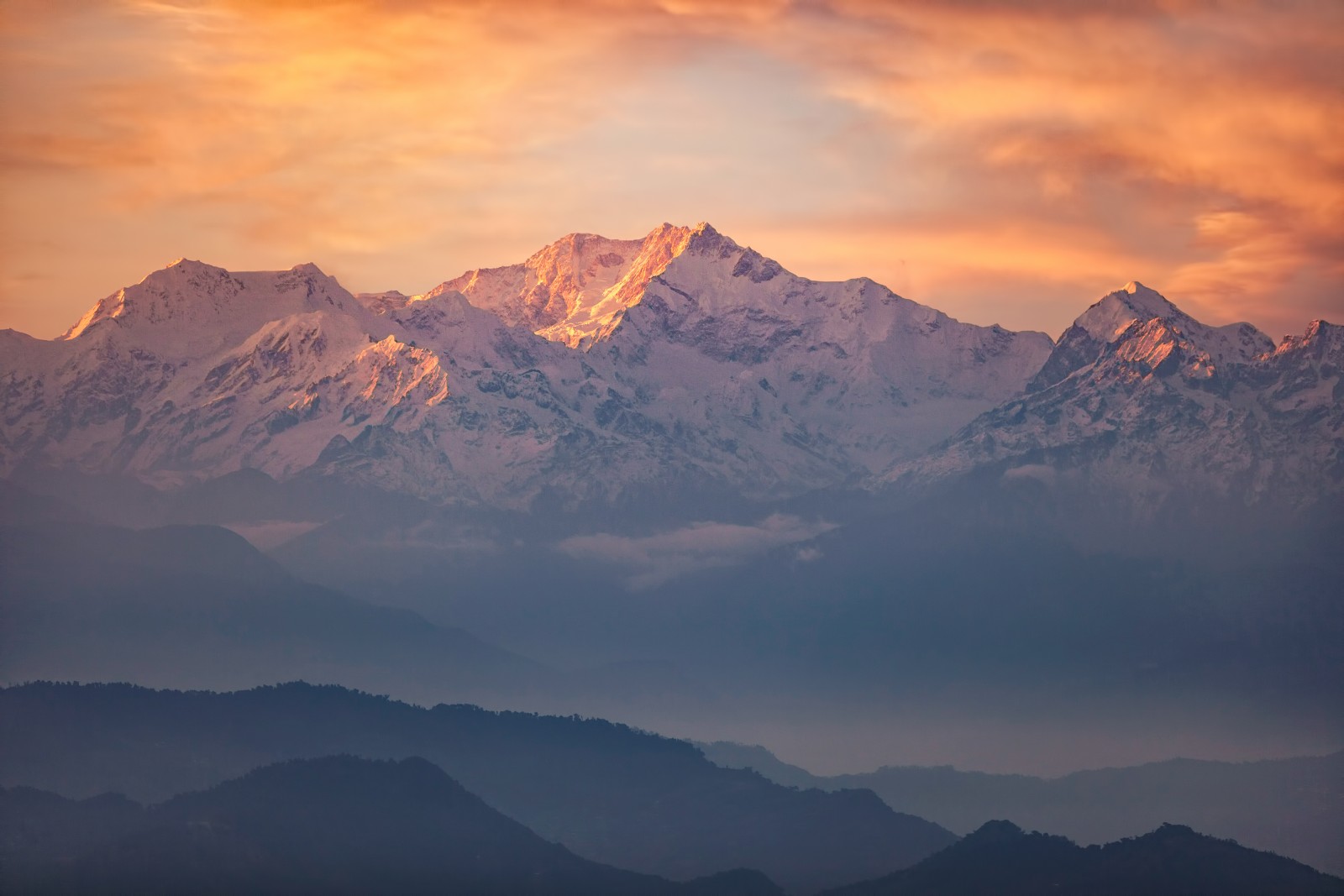 External Links
Philippe Gatta – Great post on a Kangchenjunga expedition with photos
Mark Horrell – "Joe Brown provides a rare glimpse of Kangchenjunga"
Britannica – Encyclopedia entry on Kangchenjunga