Mount Assiniboine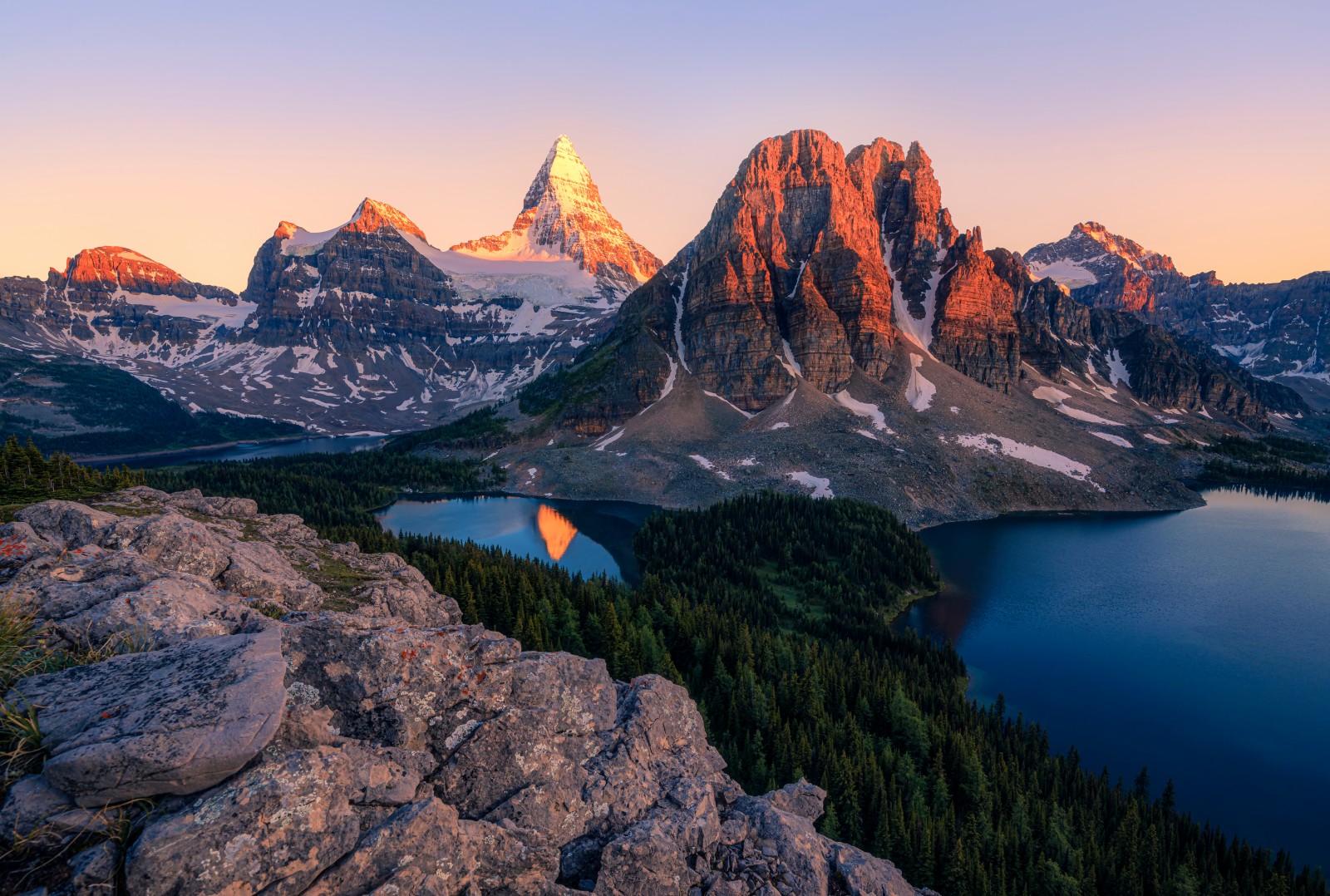 Mount Assiniboine, often referred to as the "Matterhorn of the Canadian Rockies," is an iconic peak in the mountain ranges of Western Canada. This majestic mountain, located on the Great Divide at the border between British Columbia and Alberta, is a significant part of the Southern Continental Ranges of the Canadian Rockies. Mount Assiniboine stands at a remarkable height of 3,618 meters (11,870 feet), making it one of the tallest peaks in the Canadian Rockies and a popular destination for mountaineers and outdoor enthusiasts from all over the world.
The grandeur and beauty of Mount Assiniboine have made it a significant point of attraction in Canada. The mountain is situated in the heart of Mount Assiniboine Provincial Park, a pristine wilderness area covering more than 39,050 hectares. This park, designated a UNESCO World Heritage site, offers visitors a unique opportunity to experience untouched alpine landscapes, diverse wildlife, and an array of outdoor activities.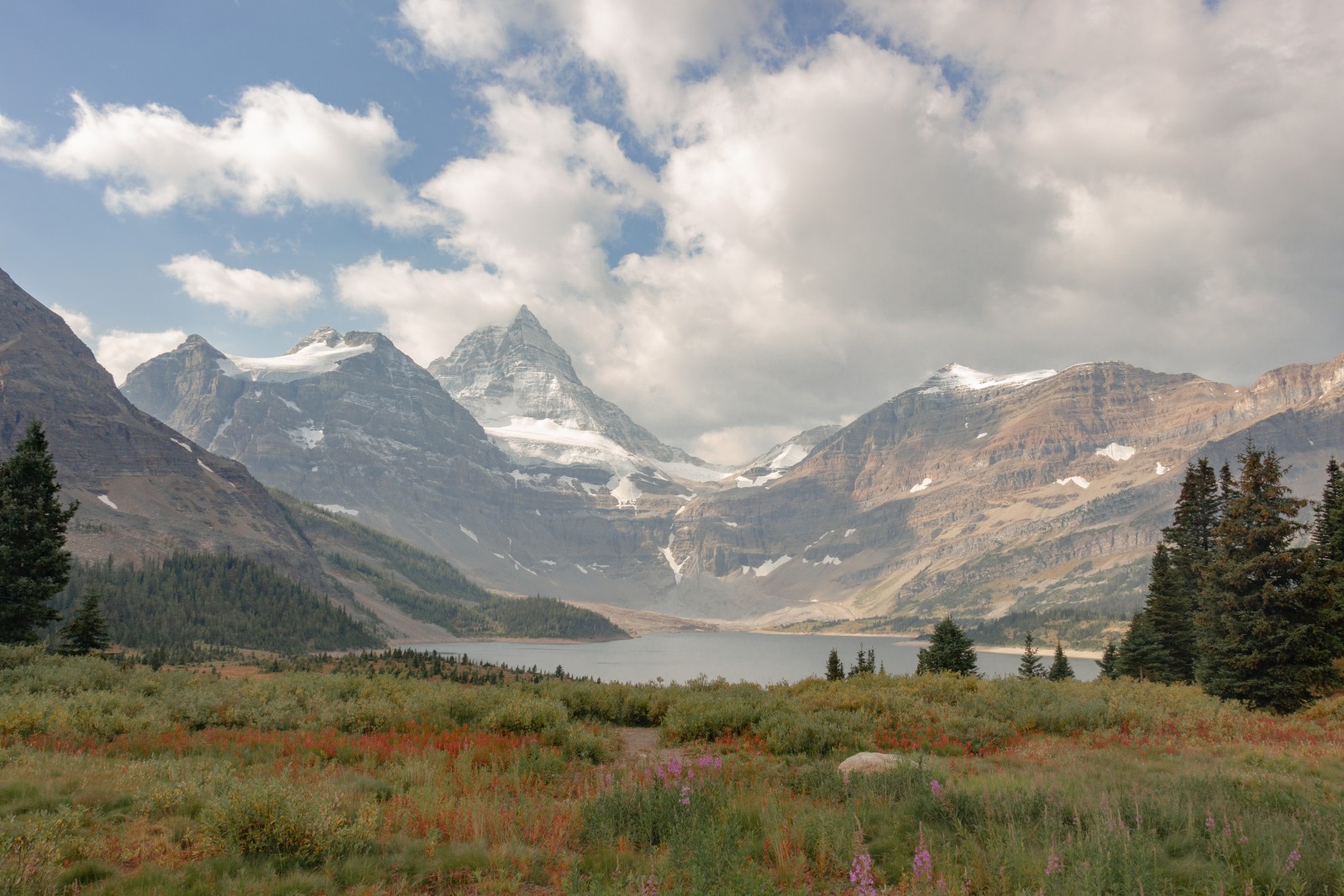 Mount Assiniboine is not merely a natural spectacle; it also holds cultural significance. The name 'Assiniboine' was given by European explorers, derived from the indigenous Assiniboine people – known as the 'stone Sioux' – who once populated the region. This majestic peak thus embodies a unique blend of natural beauty and cultural heritage.
Whether you're an avid mountaineer seeking the thrill of summiting one of Canada's highest peaks, or an outdoor enthusiast looking to explore the stunning landscapes of the Canadian Rockies, Mount Assiniboine offers an unparalleled adventure. With its breathtaking vistas, rich biodiversity, and profound historical significance, Mount Assiniboine truly represents the essence of Canada's wild and beautiful nature.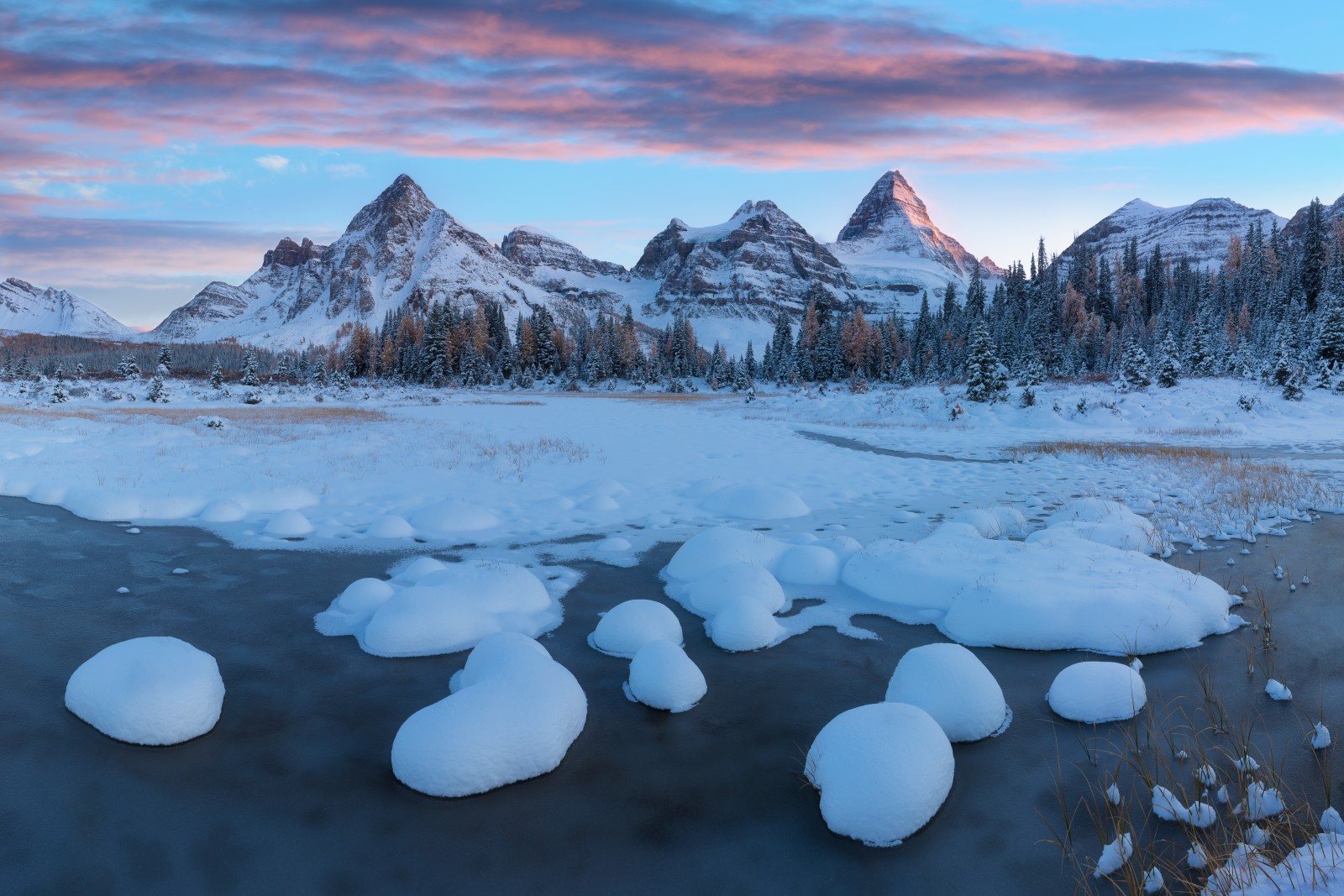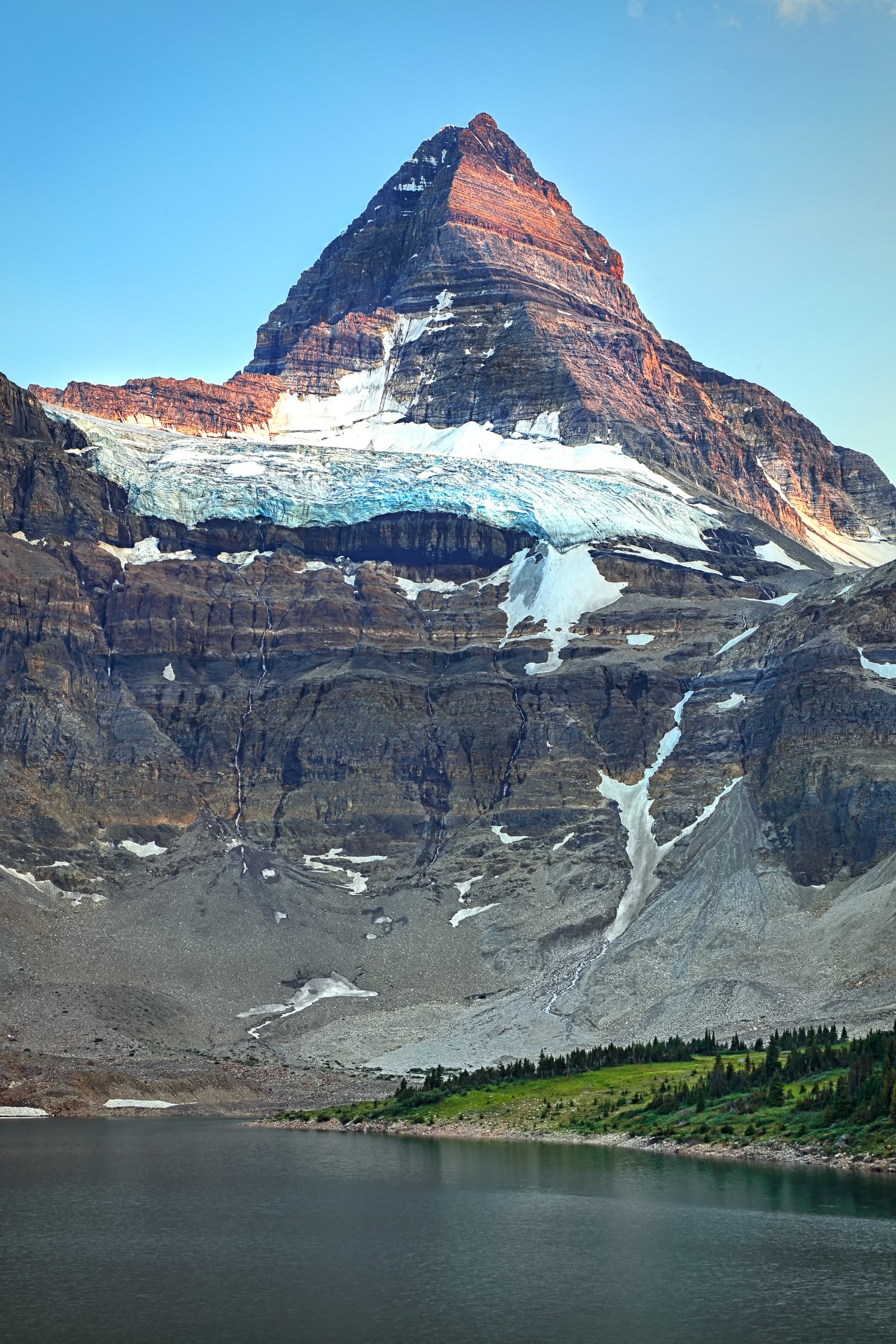 Fast Facts
Country: Canada
State/Province: Alberta, British Columbia
County/Region: Banff, East Kootenay
Mountain Range: Southern Continental Ranges, Canadian Rockies
Parents: Southern Continental Ranges, Canadian Rockies
Elevation: 11,870 feet / 3,618 meters
Prominence: 6,844 feet / 2,086 meters
Isolation: 6,844 feet / 141.76 kilometers
Nearest Higher Neighbor (NHN): Mount Forbes
First Ascent: 1901, by James Outram, Christian Bohren, and Christian Hasler.
Fun Fact: Mount Assiniboine is the highest mountain peak in the Southern Continental Ranges of the Canadian Rockies.
Flora and Fauna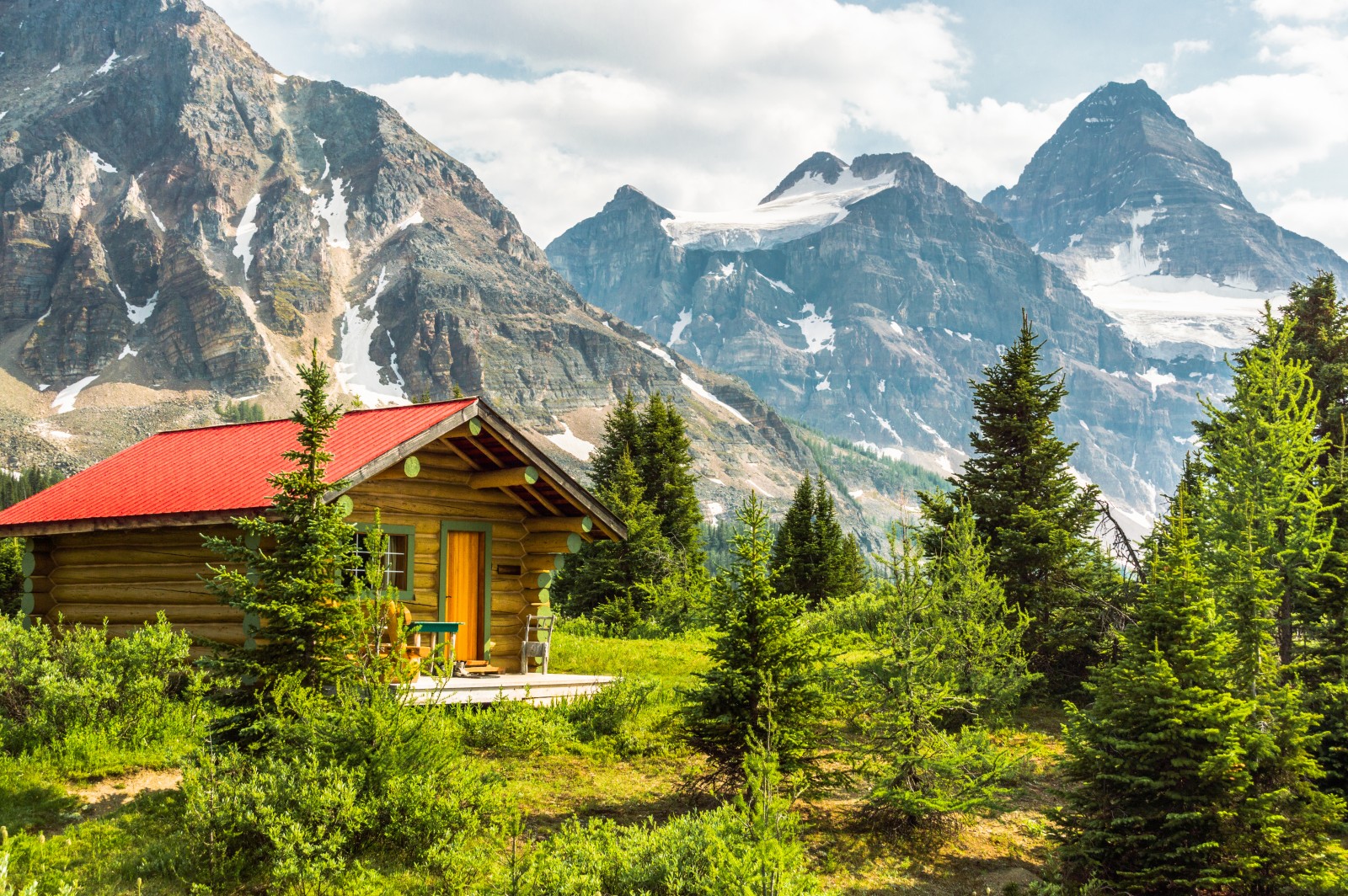 Mount Assiniboine, a majestic peak nestled in the heart of the Canadian Rockies, is renowned not only for its towering stature but also for its diverse and vibrant ecology. The flora and fauna of Mount Assiniboine are characteristic of the rugged yet delicate beauty of the Canadian wilderness, exhibiting a harmonious blend of resilience and adaptability.
The flora of Mount Assiniboine is a vivid display of nature's paintbrush, with a variety of plant species adorning its slopes and valleys. During spring and summer, the lower elevations are carpeted in a riot of colors from wildflowers like Indian paintbrush, lupine and fireweed. The subalpine zone is predominantly covered by coniferous forests featuring Engelmann spruce and subalpine fir. Higher up, near the treeline, one can find krummholz – stunted trees shaped by the harsh alpine conditions.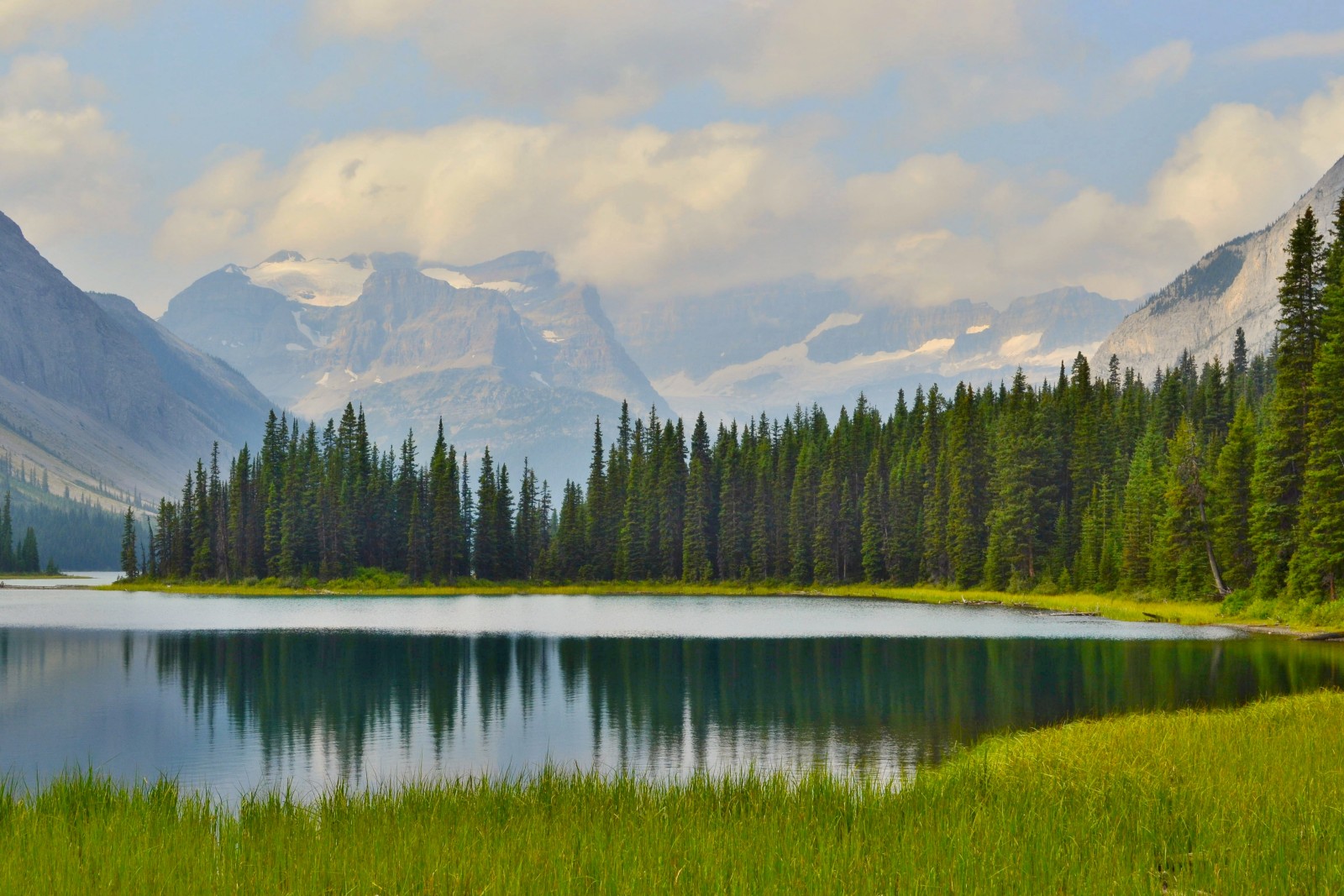 The fauna of Mount Assiniboine is equally as diverse and fascinating as its flora. The area is home to an array of wildlife species that are well adapted to the rugged terrain and harsh climate of the Canadian Rockies. Commonly spotted residents include the grizzly bear, black bear, moose, elk, and mountain goat. The region also supports a variety of bird species including the golden eagle, Clark's nutcracker, and gray jay. Smaller creatures like pikas and marmots can be seen scampering among the rocks in the higher altitudes.
The flora and fauna of Mount Assiniboine reflect the rich biodiversity of the Canadian Rockies. They form an integral part of this spectacular landscape, contributing to its aesthetic appeal while playing crucial roles in the ecosystem. The management and preservation of this incredible biodiversity is paramount for sustaining the natural beauty and ecological health of Mount Assiniboine.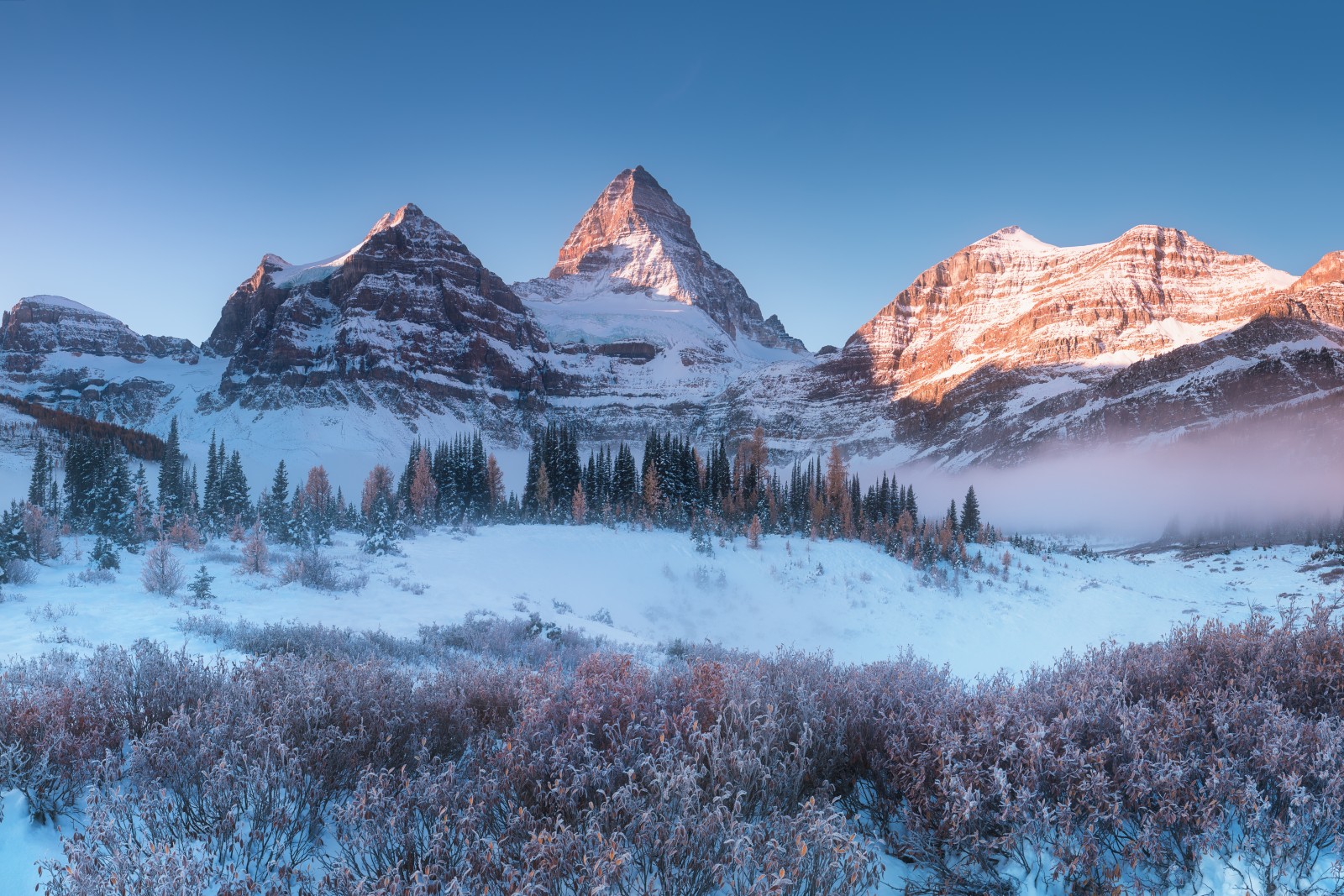 Trails
Mount Assiniboine, located in the heart of the Canadian Rockies, is a monumental natural attraction that draws in numerous outdoor enthusiasts every year. The mountain's distinctive pyramid shape extends an impressive 11,870 feet into the sky, making it a truly breathtaking sight. However, the true allure of this area lies not merely in its scenic beauty but also in the numerous trails that traverse its diverse terrain.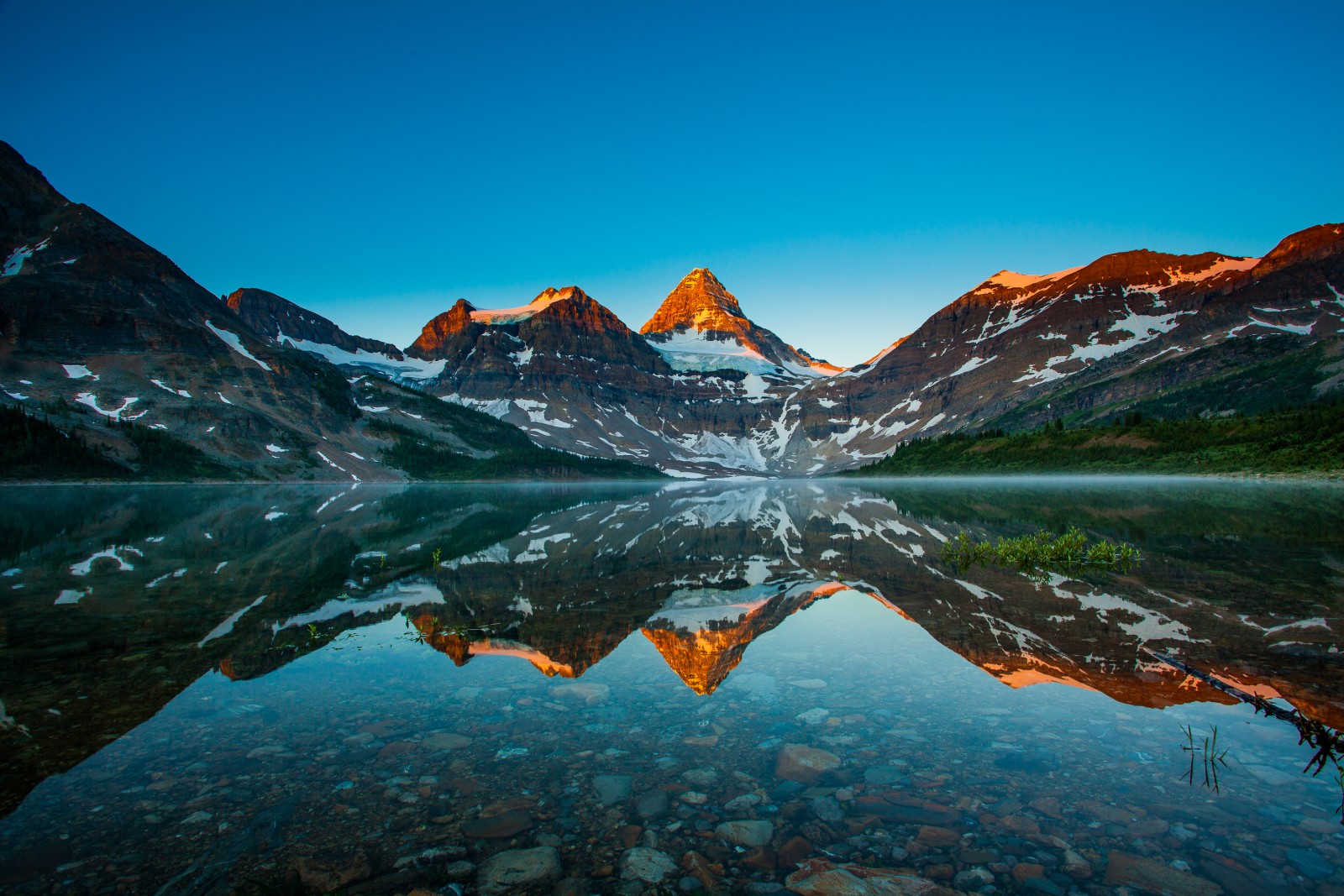 One of the most popular trails near Mount Assiniboine is the Assiniboine Pass trail. This 27-kilometer trail offers hikers a chance to experience the mountain's unique biodiversity firsthand. The trail itself is relatively flat and accessible, making it suitable for both novice and experienced hikers. Along the way, hikers can expect to encounter pristine alpine meadows, dense forests, and even a historic trading post.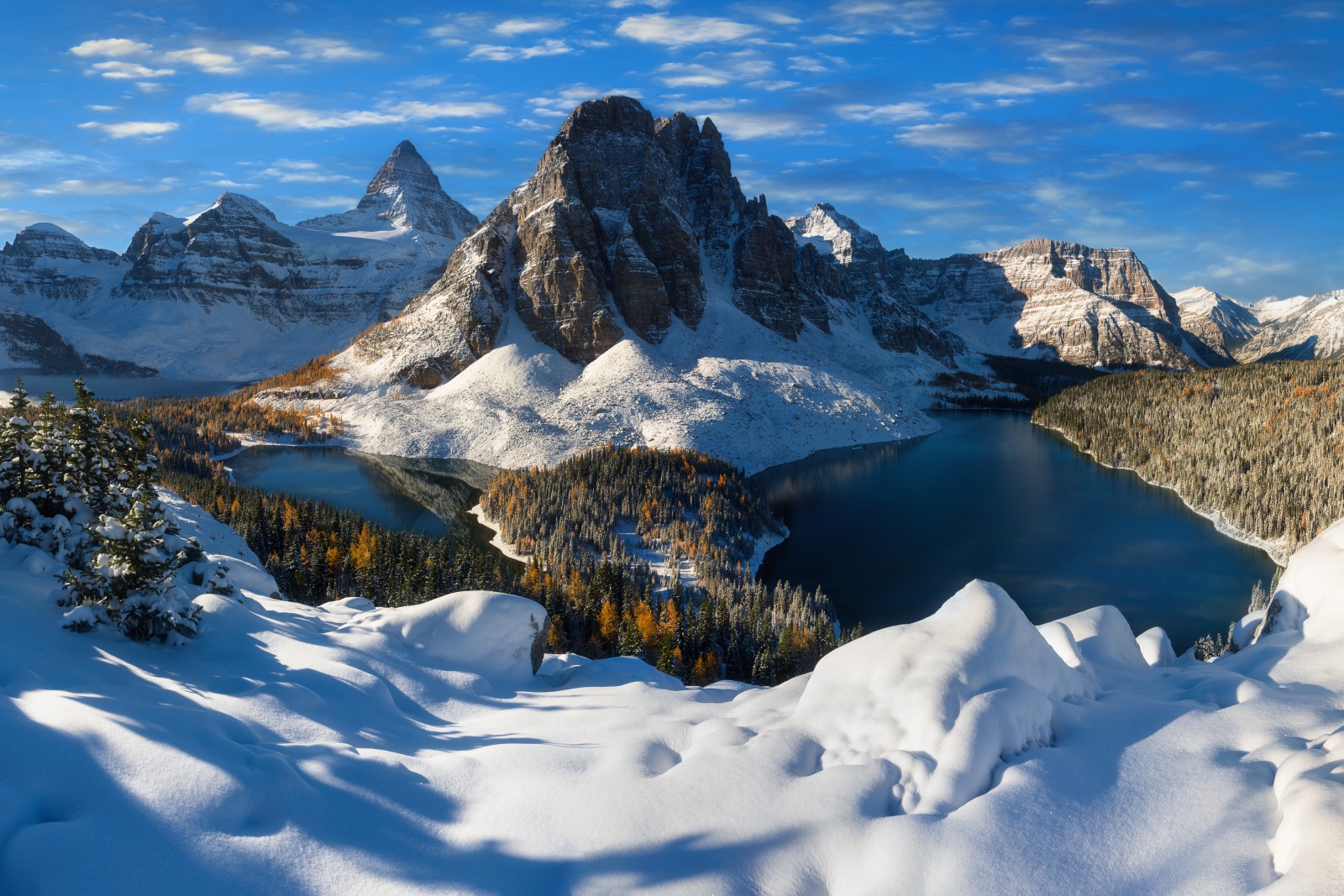 Another standout trail is the Nub Peak trail. This trail is known for its panoramic views of Mount Assiniboine and the surrounding Canadian Rockies. Although it's a more challenging hike, with a steep climb to the summit, the reward is an unobstructed 360-degree view of some of Canada's most stunning landscapes.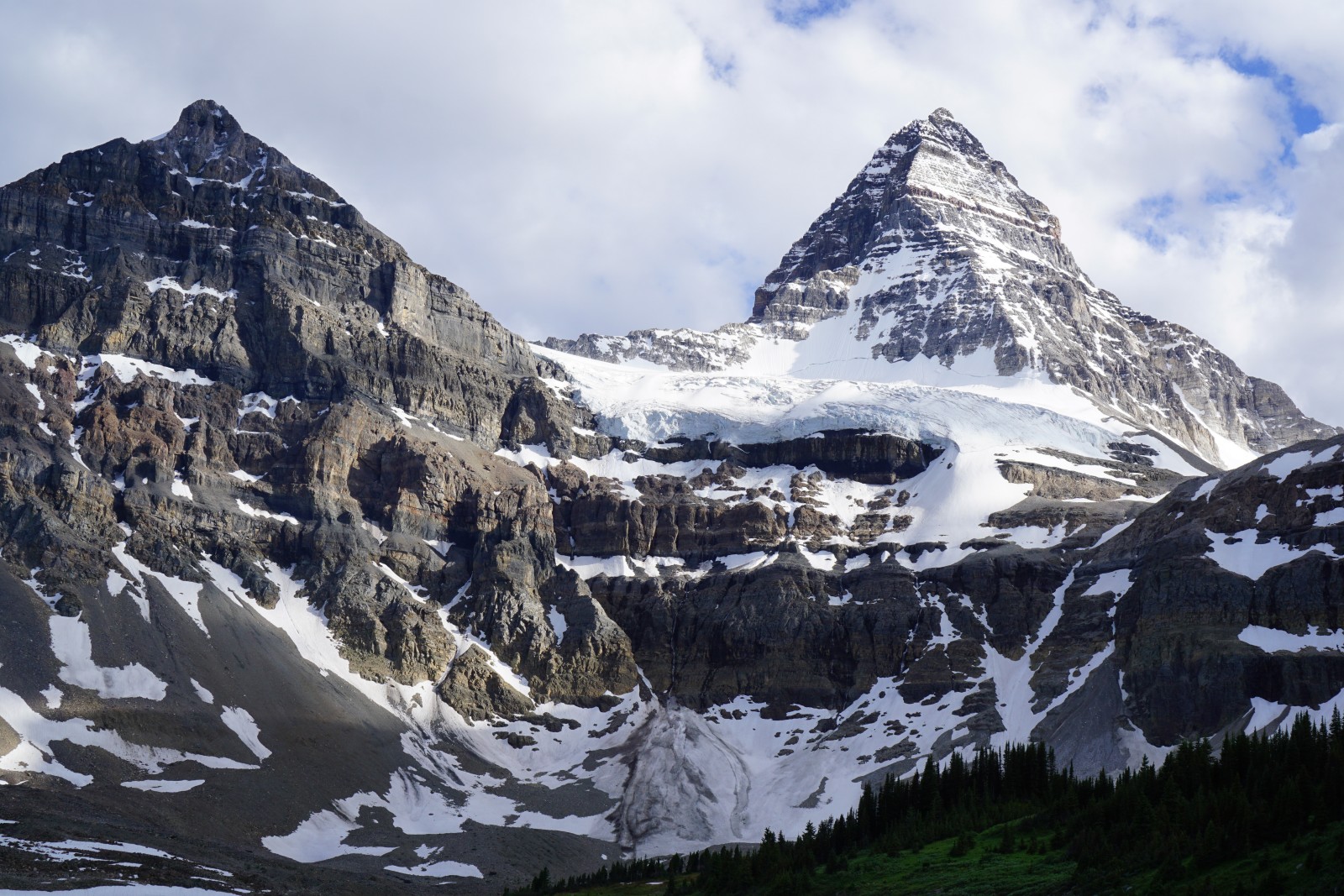 For those who prefer a more leisurely pace, there is also the Lake Magog trail. This relatively flat trail circles Lake Magog and offers breathtaking views of Mount Assiniboine from different angles. It's an ideal choice for families or those who prefer a more relaxed hiking experience.
Mount Assiniboine and the Canadian Rockies offer a range of trails to suit all levels of hiking proficiency. Whether you're an experienced hiker looking for your next challenge or a family seeking a leisurely stroll amidst stunning natural beauty, you're sure to find a trail that suits your preferences near Mount Assiniboine.