Aiguille du Grépon

The Aiguille du Grépon, situated in the French Alps region of Haute-Savoie, is a significant peak in the Mont Blanc massif. This remarkable mountain stands as an emblem of the natural beauty and grandeur of this region. Its location in the Haute-Savoie department of France makes it a popular destination for mountaineers and adventure enthusiasts from around the globe.
The Aiguille du Grépon, which reaches an altitude of 3,482 meters, is renowned for its challenging climbing routes. Its name translates to "the needle of Grépon," reflecting its distinctively sharp and slender silhouette. The mountain's formidable granite faces, combined with its high altitude and often unpredictable weather conditions, make it a challenging ascent even for seasoned mountaineers.
Part of the Mont Blanc massif, the largest mountain range in Europe, the Aiguille du Grépon contributes to the region's reputation as a world-class climbing destination. It was first ascended in 1881 by Albert F. Mummery and Alexander Burgener, and many climbers still follow their route today, which is considered one of the classic climbs of the Alps.
The Aiguille du Grépon also plays a significant role in local culture and history. Its striking profile has inspired countless works of art and literature and has become an enduring symbol of the awe-inspiring natural beauty that characterizes the Haute-Savoie region.
The Aiguille du Grépon is much more than just a peak in the Mont Blanc massif; it is a testament to nature's grandeur and a challenge for those daring enough to scale its heights. Whether viewed from afar or experienced up close, this majestic mountain peak undoubtedly leaves a lasting impression.
Fast Facts
Country: France
State/Province: Auvergne-Rhône-Alpes
County/Region: Haute-Savoie
Mountain Range: Mont Blanc massif, Graian Alps
Parents: Mont Blanc Massif
Elevation: 11,424 feet / 3,482 meters
Prominence: 623 feet / 190 meters
Isolation: 0.97 miles / 1.55 kilometers
Nearest Higher Neighbor (NHN): Aiguille du Plan
First Ascent: August 5, 1881, by Albert F. Mummery, Alexander Burgener, and Benedikt Venetz.
Flora and Fauna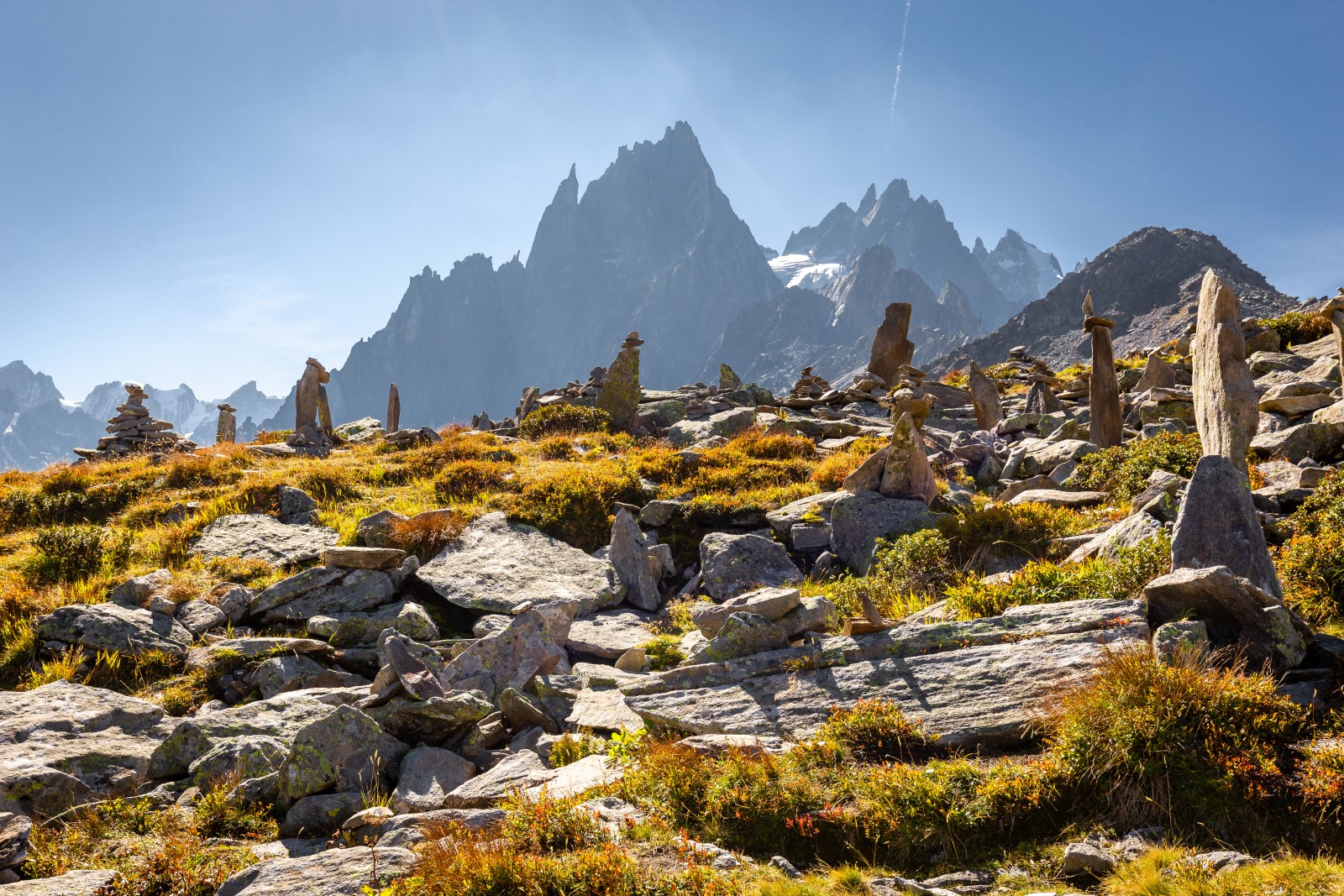 The Aiguille du Grépon, located in the Haute-Savoie region of France, is a testament to the beauty and diversity of alpine ecosystems. The striking mountain peak, rising to an elevation of over 3,400 meters, is not only a popular destination for climbers but also a remarkable habitat for a wide range of flora and fauna.
The flora of Aiguille du Grépon is predominantly alpine, adapted to survive in the harsh conditions at high altitudes. Among the plants that manage to thrive here are several species of mosses, lichens, and hardy flowering plants like Saxifrages and Gentians. These plants have evolved to withstand low temperatures, strong winds, and intense solar radiation. Their presence adds a touch of color and life to the otherwise stark and rocky landscape.
In terms of fauna, the Aiguille du Grépon is home to a variety of wildlife. The isolation and ruggedness of the terrain provide an ideal habitat for species such as chamois, marmots, and the elusive Alpine ibex. These animals have adapted to life at high altitudes and are often seen grazing on the sparse vegetation or navigating the steep mountain slopes with ease. Bird species like eagles, vultures, and alpine choughs can also be observed soaring above the peaks or nesting on cliff faces.
In addition to these, the Haute-Savoie region around Aiguille du Grépon supports an array of insects, spiders, and small mammals that contribute to the biodiversity of this alpine ecosystem. Despite the challenging environment, these creatures manage to thrive, playing crucial roles in nutrient cycling and food chains.
The flora and fauna of Aiguille du Grépon demonstrate nature's resilience and adaptability. They are an integral part of what makes this region unique and are vital for maintaining its ecological balance. Therefore, efforts must be made to preserve this fragile ecosystem and protect its inhabitants from threats such as climate change and human intrusion.
Trails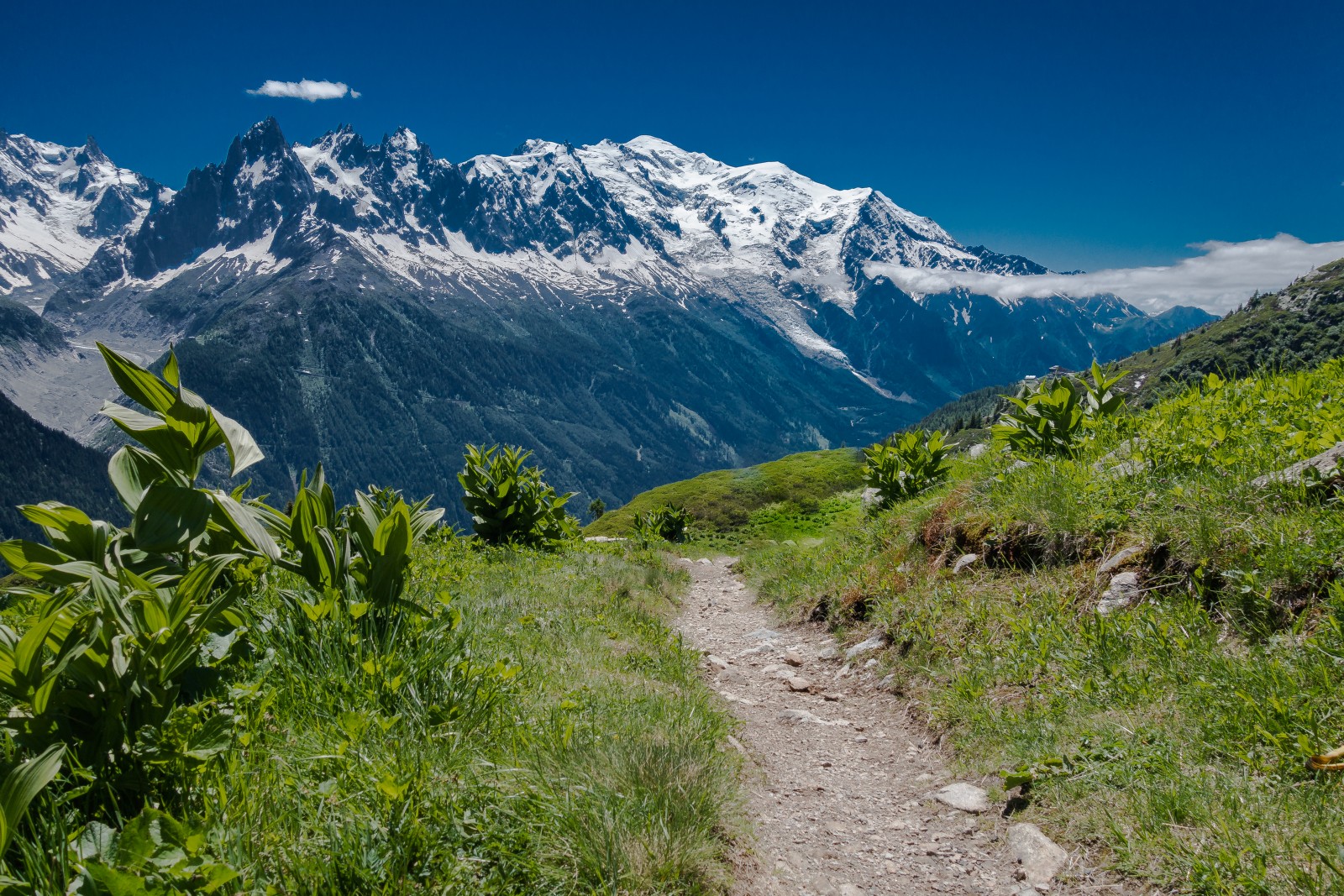 The Aiguille du Grépon is a mountain that attracts tourists and adventure seekers from all around the globe. Towering at an elevation of 3,482 meters, it offers breathtaking views and thrilling climbing experiences. The area surrounding the Aiguille du Grépon is home to some of the best trails for hikers and mountaineers, each providing a unique experience of the stunning Alpine landscape.
One of the most popular trails near Aiguille du Grépon is the Mer de Glace trail. This historic route offers a spectacular view of the longest glacier in France. The trail begins at Montenvers railway station, winds through pine forests and rocky landscapes, until it reaches the mesmerizing Mer de Glace. Here, hikers can explore ice caves and exhibitions that provide insight into glacial science.
Another noteworthy trail is the Lac Blanc trail. Starting from the Flégère cable car, this trail leads you through a verdant forest to the stunning Lac Blanc. The views of the Mont Blanc massif and the Aiguille du Grépon from this vantage point are truly awe-inspiring.
For those looking for a more challenging route, the Grand Balcon Nord is an excellent choice. This high-level trail offers panoramic views over the Chamonix valley and impressive views of the Aiguille du Grépon. It requires a good level of fitness and mountaineering experience but rewards with unforgettable vistas and encounters with local wildlife.
The variety of trails near Aiguille du Grépon in Haute-Savoie caters to different fitness levels and interests. Whether you're a seasoned hiker or a casual walker, you'll find a trail that not only challenges you but also uncovers the breathtaking beauty of this region. From well-trodden paths to remote roads less traveled, the trails near Aiguille du Grépon offer an unparalleled hiking experience in one of the world's most beautiful mountainous regions.