Aiguille du Dru (Dru, the Drus, Les Drus)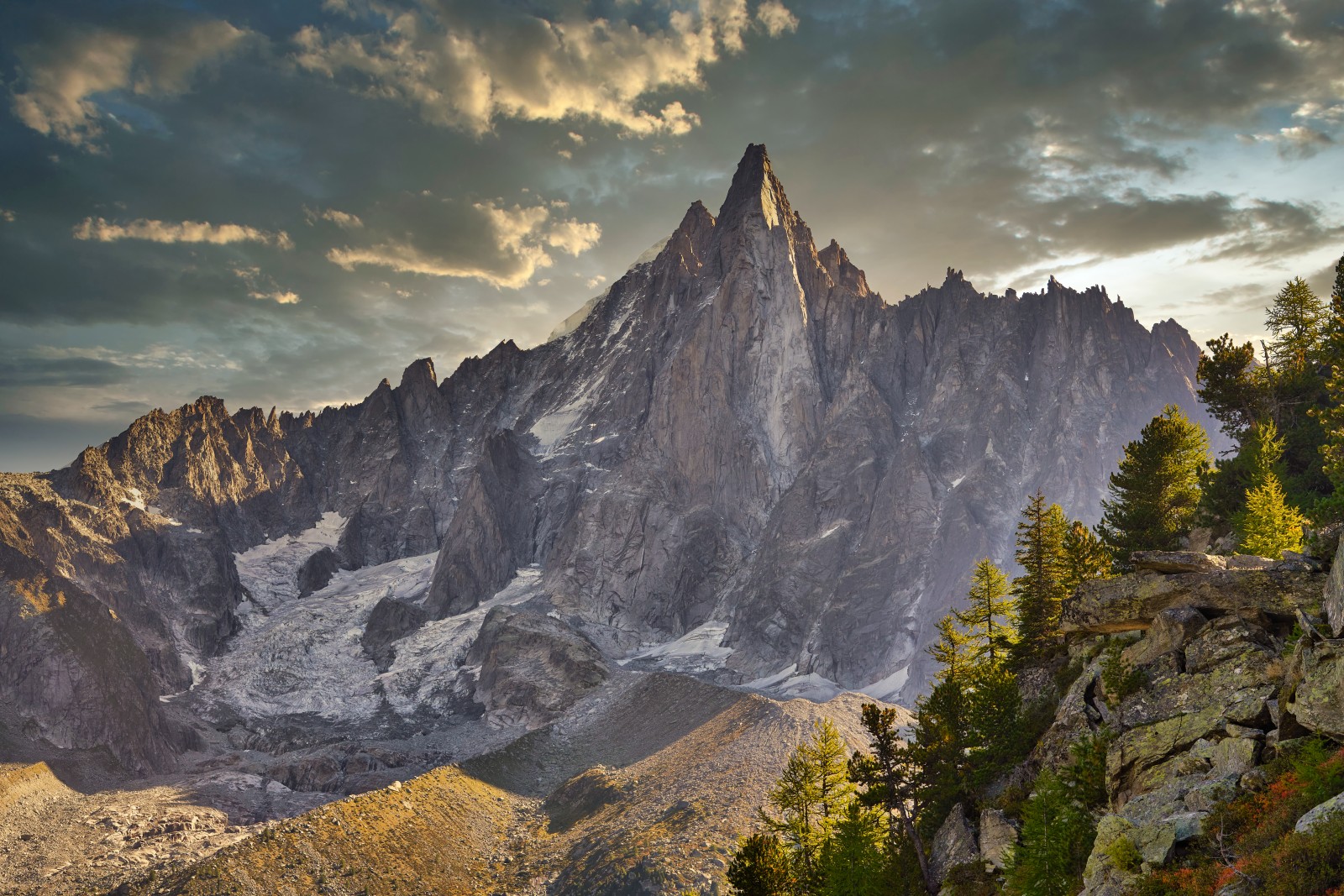 The Aiguille du Dru, a prominent peak in the French Alps, is a spectacle of natural grandeur that stands tall in the Chamonix Valley in Haute-Savoie. As an integral part of the Mont Blanc massif, Aiguille du Dru holds a special position in the world of mountaineering and has a rich history full of climbing feats and challenges. Famous for its strikingly vertical north face, it has been a magnet for climbers since the late 19th century.
Located in Haute-Savoie, a department in the Auvergne-Rhône-Alpes region of Eastern France, the Aiguille du Dru towers over the surrounding landscape at an impressive elevation of 3,754 meters. The mountain is bifurcated into two peaks: the Grand Dru (3,754 m) and the Petit Dru (3,733 m). The Petit Dru's west face is renowned amongst climbers for its formidable structure and is considered one of the six great north faces of the Alps.
The beauty of Aiguille du Dru extends beyond its physical attributes. It's not just an emblem of the French Alps, but it also represents the spirit of adventure that characterizes alpine mountaineering. The first successful ascent of the Grand Dru was made by British climbers Clinton Thomas Dent and James Walker Hartley in 1878, marking a significant milestone in alpine climbing history.
Despite suffering from rockfalls that have altered its iconic structure, Aiguille du Dru continues to be a symbol of perseverance and determination for climbers all over the world. This majestic mountain, set in the heart of Haute-Savoie and towering above the beautiful landscapes of the French Alps, is undeniably a testament to nature's awe-inspiring grandeur.
Fast Facts
Country: France
State/Province: Auvergne-Rhône-Alpes
County/Region: Haute-Savoie
Mountain Range: French Alps
Parents: Graian Alps
Elevation: 12,316 feet / 3,754 meters
Prominence: 650 feet / 198 meters
Isolation: 0.31 miles / 0.5 kilometers
Nearest Higher Neighbor (NHN): Aiguille Verte
First Ascent: September 12, 1878, by Clinton Thomas Dent, James Walker Hartley, Alexander Burgener, and K. Maurer.
Fun Fact: In 2005, there was a large rock fall that destroyed the mountain's southwest "Bonatti" pillar.
Neighboring Peaks: The closest neighboring peaks to Aiguille du Dru include Petite Aiguille Verte and Aiguille des Grands Montets to the north, Aiguille Verte and Aiguille du Jardin to the east, and Mont Jeremy le Magnifique and Aiguille du Moine to the south. It is directly east of several glaciers.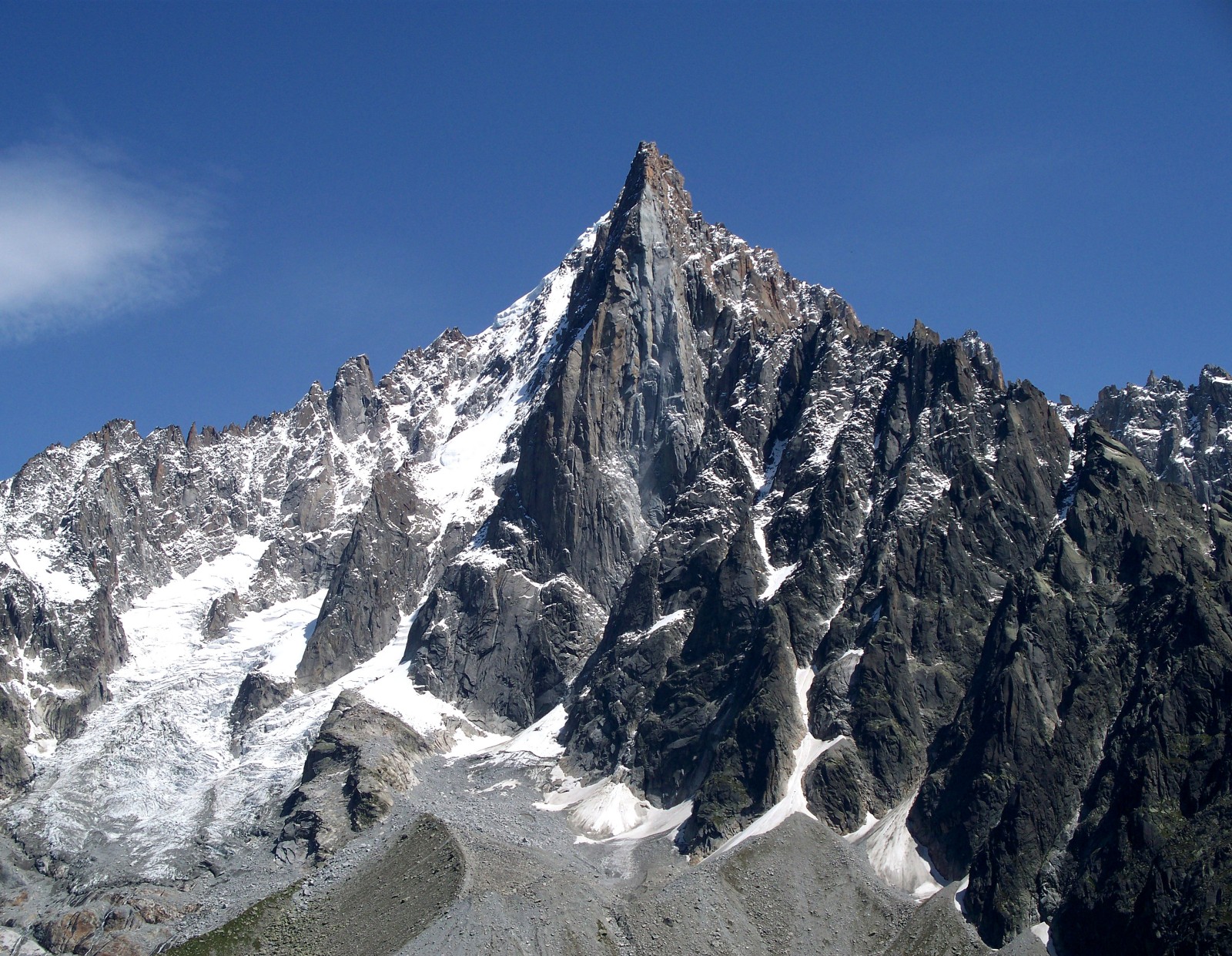 Plant Life: Several species of deciduous trees grow in the valleys of the Alps, including the birch, oak, poplar, elm, linden, beech, chestnut, mountain ash, and Norway maple. Coniferous trees are found at higher elevations, commonly the spruce, larch, and pine species.
Animal Life: The rare brown bear, as well as the ibex (a wild goat), chamois, marmot, mountain hare, and ptarmigan all know the Alps as home.
Bird Life: The Alps are also home to the prized bearded vulture (lammergeier).
Flora and Fauna
The Aiguille du Dru, a striking peak in the Mont Blanc massif within the French Alps, is located in the Haute-Savoie department of France. This towering granite spire is not just famous for its breathtaking views and challenging climbing routes, but also for its rich biodiversity. The flora and fauna of the Aiguille du Dru are as diverse and captivating as its rugged and dramatic landscapes.
The flora around the Aiguille du Dru is uniquely adapted to survive in the harsh, alpine conditions. Lush green alpine meadows at lower altitudes are carpeted with a variety of vibrant wildflowers during the short summer season. As you ascend, you will find hardy, low-growing shrubs and grasses that can withstand the cold, wind, and snow. The Edelweiss, a symbol of the Alps, is one such plant that thrives in these extreme conditions. These plants play a crucial role in maintaining soil stability on the rocky slopes and providing food for the local fauna.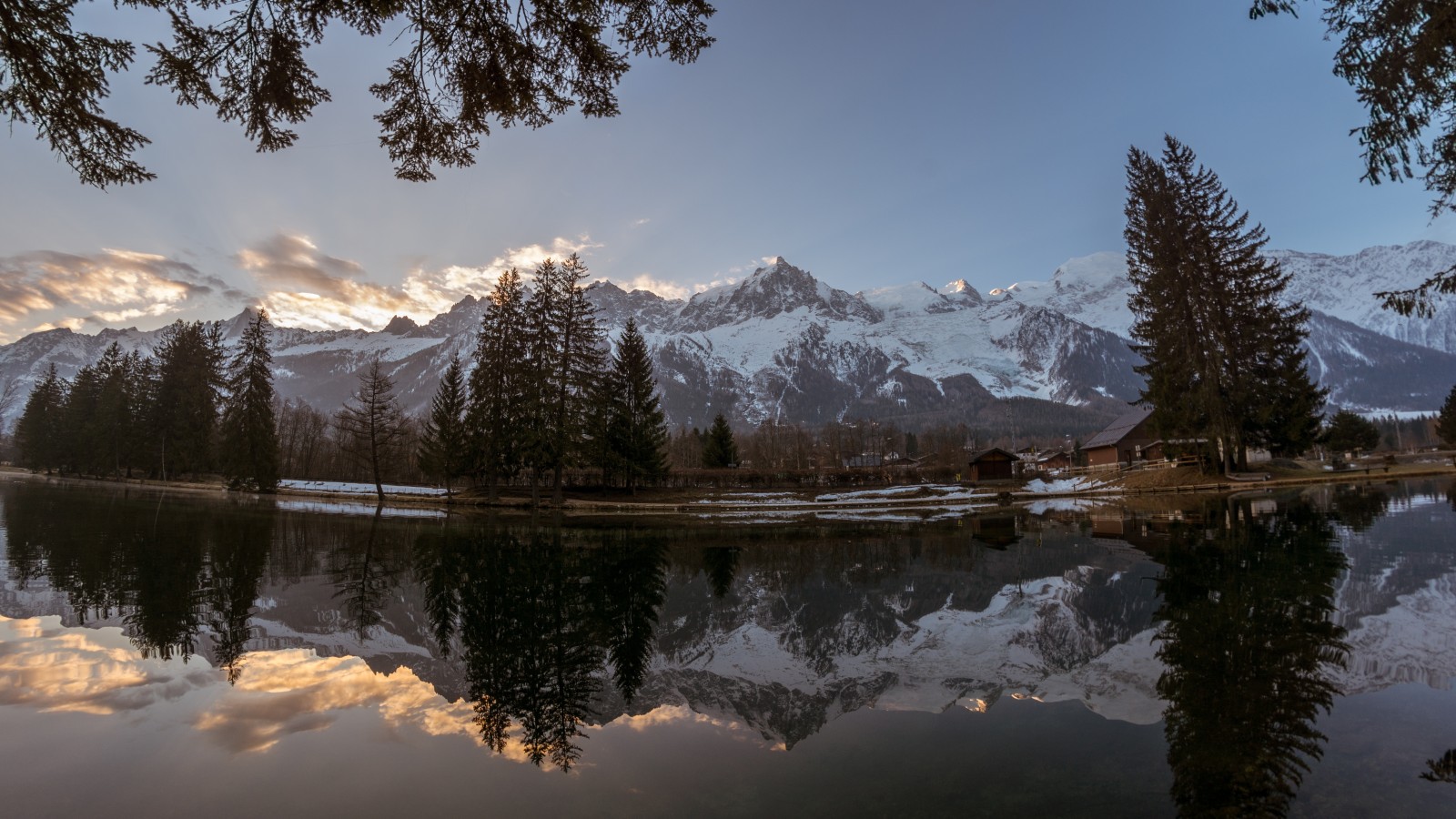 Speaking of fauna, the Aiguille du Dru supports a wide range of wildlife, from small insects to larger mammals. The elusive chamois, a goat-antelope species native to mountains in Europe, can often be spotted gracefully navigating the steep terrain. Marmots, with their distinctive whistles, are also common residents here. Birds of prey like the golden eagle soar high above this alpine paradise, while smaller bird species such as Alpine Choughs and Snow Finches flit amongst the rocks and cliffs.
Insect species at Aiguille du Dru are particularly fascinating, as they demonstrate remarkable adaptability to the harsh alpine environment. Several species of butterflies and beetles are found here, many of which have developed unique adaptations to survive in these high altitudes.
The Aiguille du Dru in Haute-Savoie is more than just a climber's paradise. It is a thriving ecosystem that supports a wide array of flora and fauna adapted to its unique alpine environment. This biodiversity adds another dimension to the beauty and allure of this iconic mountain peak.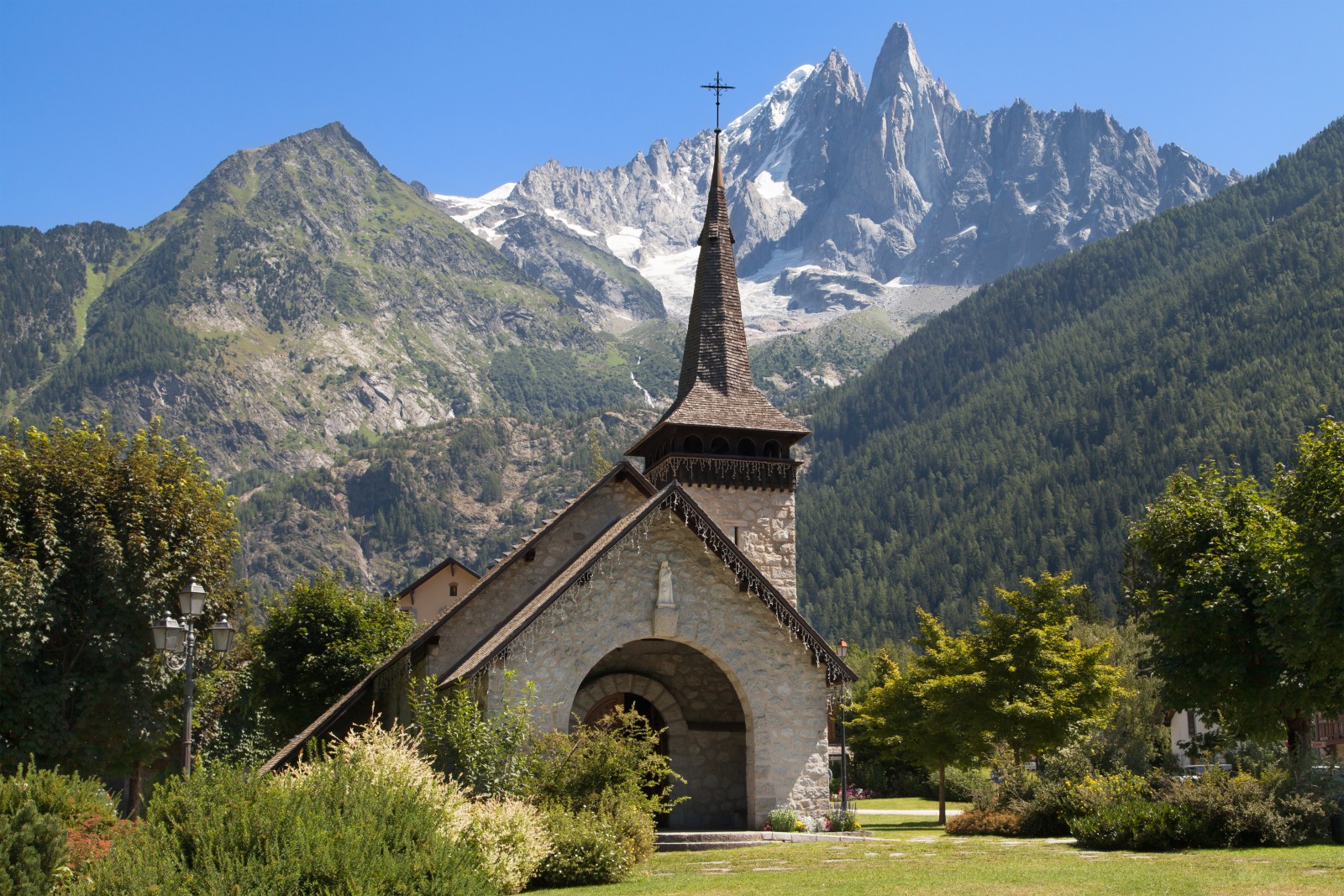 Trails
The Aiguille du Dru, located in the Haute-Savoie region of France, is a majestic peak that is not only an icon for mountaineers around the world but also a paradise for hikers and nature enthusiasts. The area around the Aiguille du Dru boasts some of the best trails which offer breathtaking views and an unforgettable adventure.
One of the most popular trails near Aiguille du Dru is the trail from Montenvers to Signal Forbes. This trail presents hikers with stunning views of the Mer de Glace, France's largest glacier, as well as the Aiguille du Dru itself. This trail is moderately difficult, making it suitable for those with some hiking experience.
Another noteworthy trail is the Grand Balcon Sud. This trail is a high-level walk from Planpraz to La Flégère, with panoramic views of the Chamonix Aiguilles and the Aiguille du Dru. This trail is relatively easy, making it perfect for families and casual hikers.
The Aiguilles Rouges National Nature Reserve also offers a fantastic trail system that provides spectacular views of the Aiguille du Dru and other surrounding peaks. This reserve is home to a variety of wildlife and plant species, adding an extra element of interest to your hike.
Lastly, there's no missing out on the famous Tour du Mont Blanc trail. Although it's a long-distance path that goes around the Mont Blanc massif, portions of this trail provide impressive views of the Aiguille du Dru.
All these trails and roads around the Haute-Savoie region offer not just an opportunity to witness the majestic beauty of Aiguille du Dru but also a chance to immerse oneself in the tranquillity of nature. Whether you are a seasoned hiker or just someone who enjoys leisurely walks, the trails near Aiguille du Dru offer something for everyone.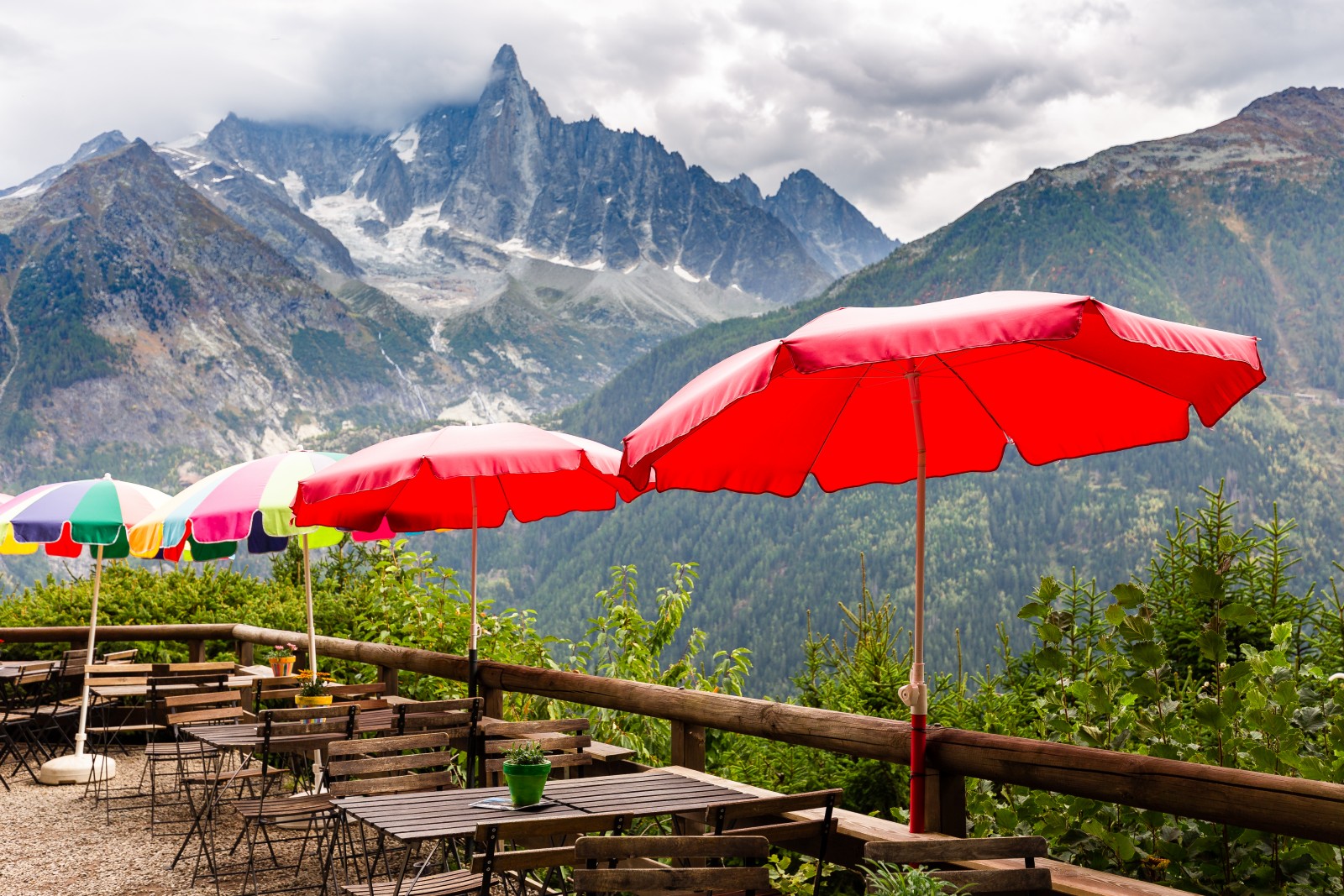 Sources