Hallett Peak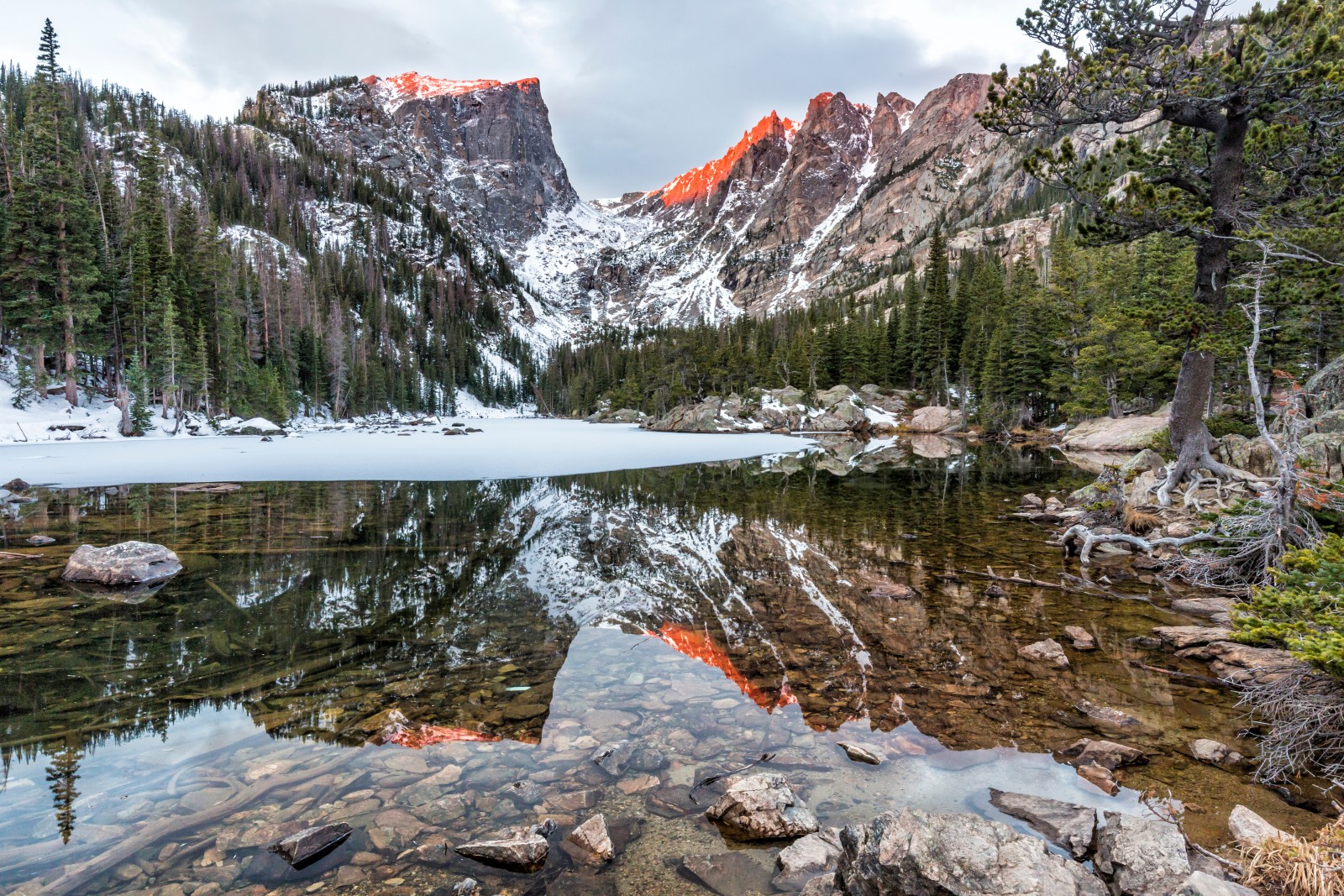 Hallett Peak, located in the state of Colorado, is one of the most iconic peaks in the Rocky Mountain National Park. The peak is named after William Hallett, a renowned mountaineer and explorer who made significant contributions to the exploration of the Rocky Mountains in the late 19th century. With an elevation of approximately 12,720 feet, Hallett Peak provides a challenging and adventurous terrain for hiking enthusiasts.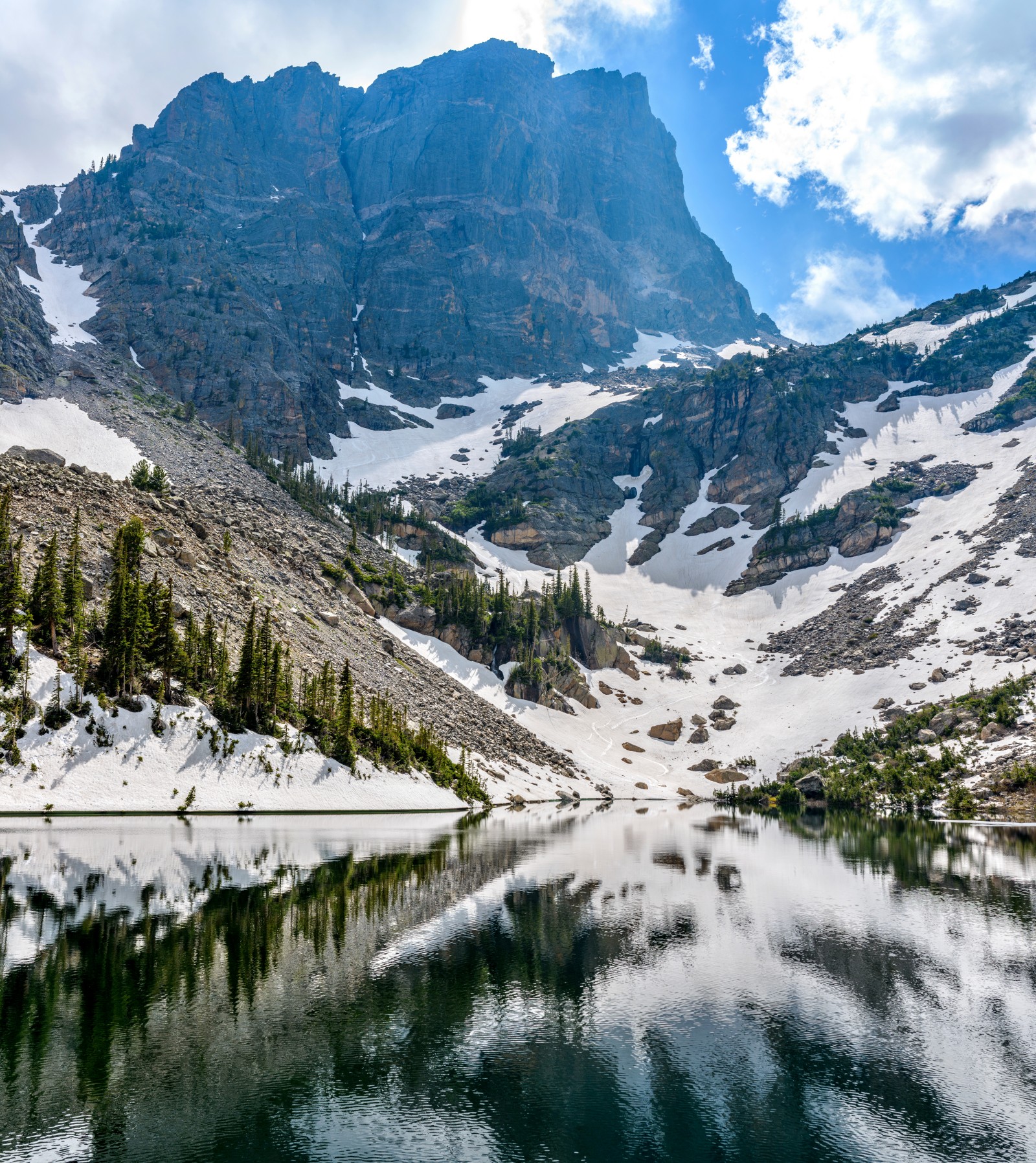 Hallett Peak is known for its distinctive flat-topped shape which can be seen from various points across the park, making it a significant landmark in the region. This colossal mountain presents a compelling sight, with its rugged slopes and snow-capped summit standing majestically against the Colorado sky. This peak is visible from many parts of the park, serving as a prominent landmark for both visitors and locals.
The trail to reach the summit of Hallett Peak starts at Bear Lake, one of the most popular destinations within Rocky Mountain National Park. It is a strenuous hike that winds through dense forests, alpine meadows and past scenic lakes before finally ascending the peak's steep eastern slopes. Despite the challenging terrain, reaching the summit of Hallett Peak is considered a rewarding experience by many hikers due to the breathtaking panoramic views of the surrounding Rocky Mountains and Continental Divide.
However, Hallett Peak isn't only for those with a penchant for high-altitude hiking. It also attracts rock climbers who relish the opportunity to tackle its challenging rock faces. The peak's west side offers several classic multi-pitch climbing routes that vary in difficulty, making it an ideal destination for climbers of all skill levels.
In addition to its recreational opportunities, Hallett Peak also serves as an important habitat for a variety of wildlife species. The diverse ecological zones found on and around the peak support an array of plant and animal life. Observant visitors may spot marmots, pikas, and various bird species, adding an element of wildlife watching to the hiking or climbing experience.
Hallett Peak in Colorado is more than just a mountain peak. It's a symbol of natural grandeur, a challenging playground for outdoor enthusiasts, and a vital part of the ecosystem within Rocky Mountain National Park. Whether you're a hiker, climber, or simply a nature lover, Hallett Peak offers an unforgettable experience of Colorado's stunning natural beauty.
Fast Facts
Country: United States
State/Province: Colorado
County/Region: Grand, Larimer
Mountain Range: Front Range, Rocky Mountains
Parents: Front Range, Rocky Mountains
Elevation: 12,720 feet / 3,877 meters
Prominence: 733 feet / 223 meters
Isolation: 1.61 miles / 2.6 kilometers
Nearest Higher Neighbor (NHN): Taylor Peak
Flora and Fauna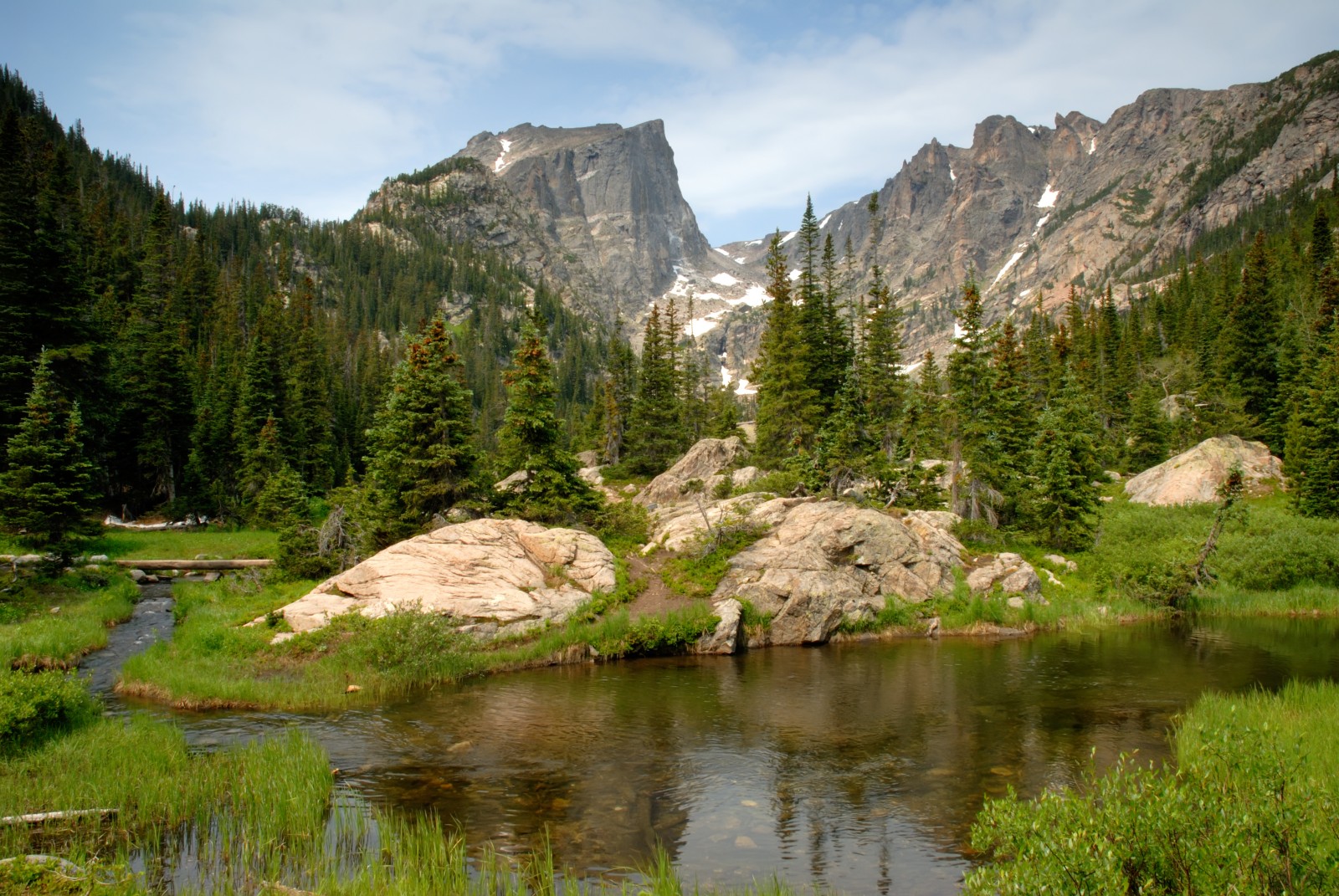 Hallett Peak, a prominent mountain in Colorado's Rocky Mountain National Park, is home to a diverse and thriving ecosystem. The flora and fauna that inhabit this region have adapted to the harsh climatic conditions and rocky terrain of this high altitude environment, providing an impressive display of survival and ecological diversity.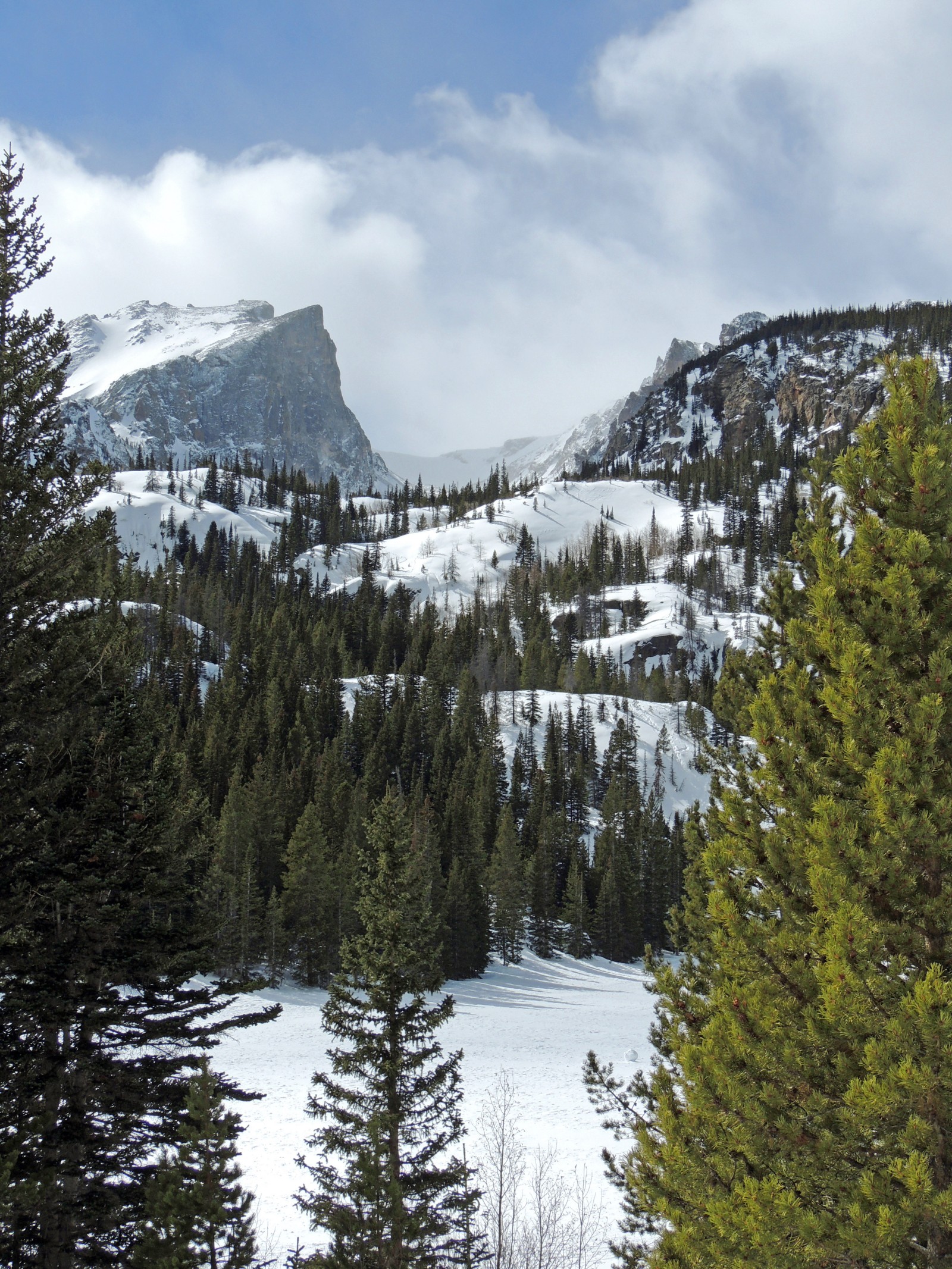 The flora of Hallett Peak is characterized by a variety of vegetation types, each suited to different microclimatic conditions. The lower slopes of the mountain are covered by lush deciduous and coniferous forests, dominated by species such as quaking aspen, lodgepole pine, and Engelmann spruce. As you ascend, these give way to subalpine forests characterized by fir and spruce trees. The tree line, marking the upper limit for tree growth, is punctuated by hardy species such as limber pine and bristlecone pine. Above the tree line, the landscape is dominated by alpine tundra vegetation, including grasses, sedges, and hardy perennial flowering plants like the alpine sunflower and sky pilot.
The fauna of Hallett Peak is equally diverse and fascinating. The mountain is home to a range of mammals from the tiny pika to the majestic elk. Other commonly sighted mammals include the yellow-bellied marmot, snowshoe hare, and various species of squirrels. Notably, Hallett Peak is also home to several species of birds, including the white-tailed ptarmigan, which camouflages itself against the snow in winter. Predators like coyotes, bobcats, and occasionally mountain lions can also be found in this region.
Hallett Peak also hosts a number of insect species that contribute significantly to its biodiversity. These range from butterflies and bees that pollinate its flowering plants to beetles that play an important role in decomposing organic matter.
The flora and fauna of Hallett Peak in Colorado represent a complex and interdependent ecosystem, demonstrating a wide range of adaptations to the challenging environmental conditions of this alpine region. The peak is a living testament to the resilience and diversity of life on Earth, offering valuable insights into the dynamics of high altitude ecosystems. It also serves as a vital habitat for numerous species, emphasizing the need for its conservation and preservation.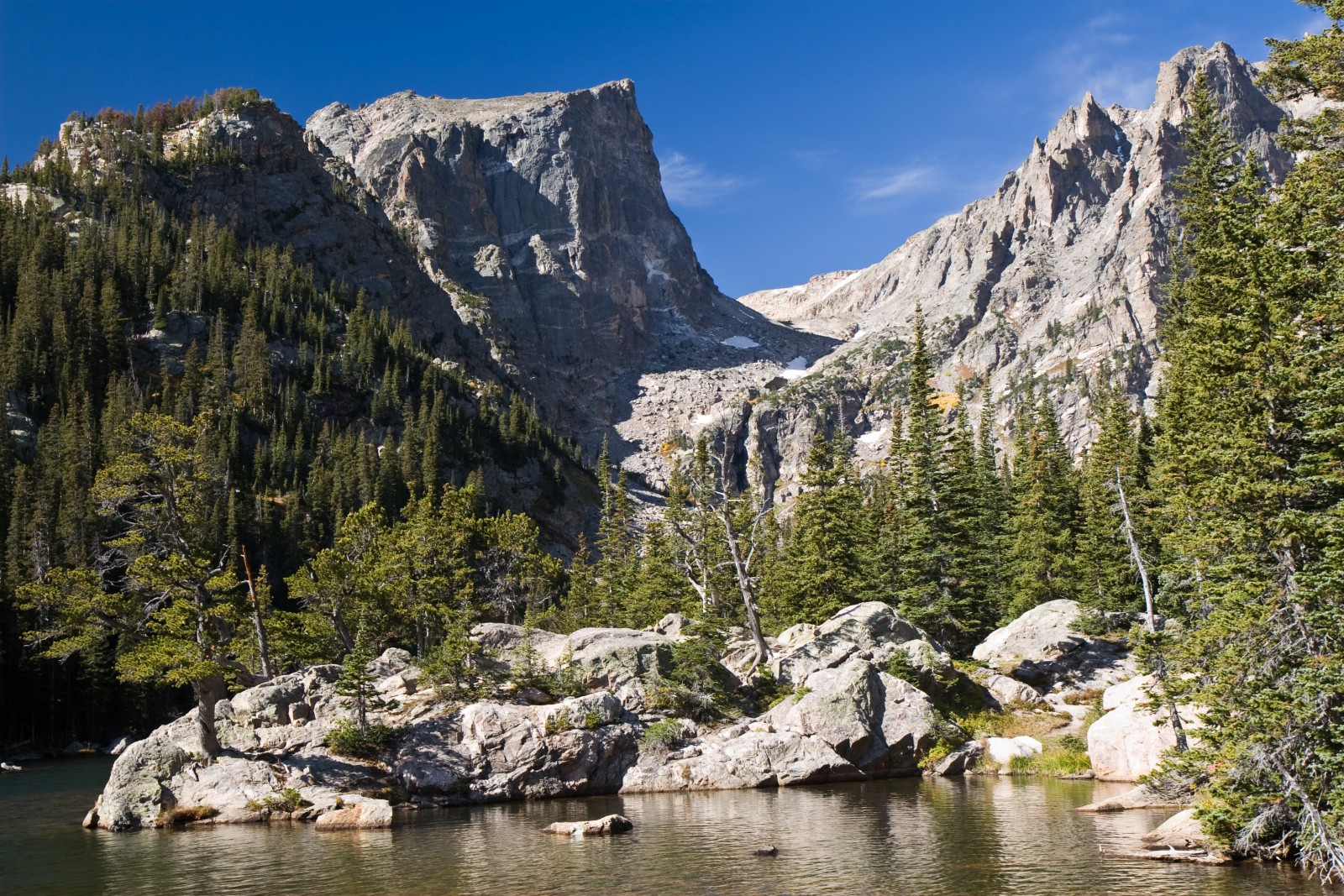 Trails
Hallett Peak, located in the Rocky Mountain National Park in Colorado, is a popular destination for nature enthusiasts and fitness lovers. The scenic beauty, tranquil ambiance, and the challenge it offers to hikers and climbers make it a top choice for those seeking an adventurous getaway. This majestic mountain peak is surrounded by numerous trails that offer an immersive experience of the splendid Colorado outdoors.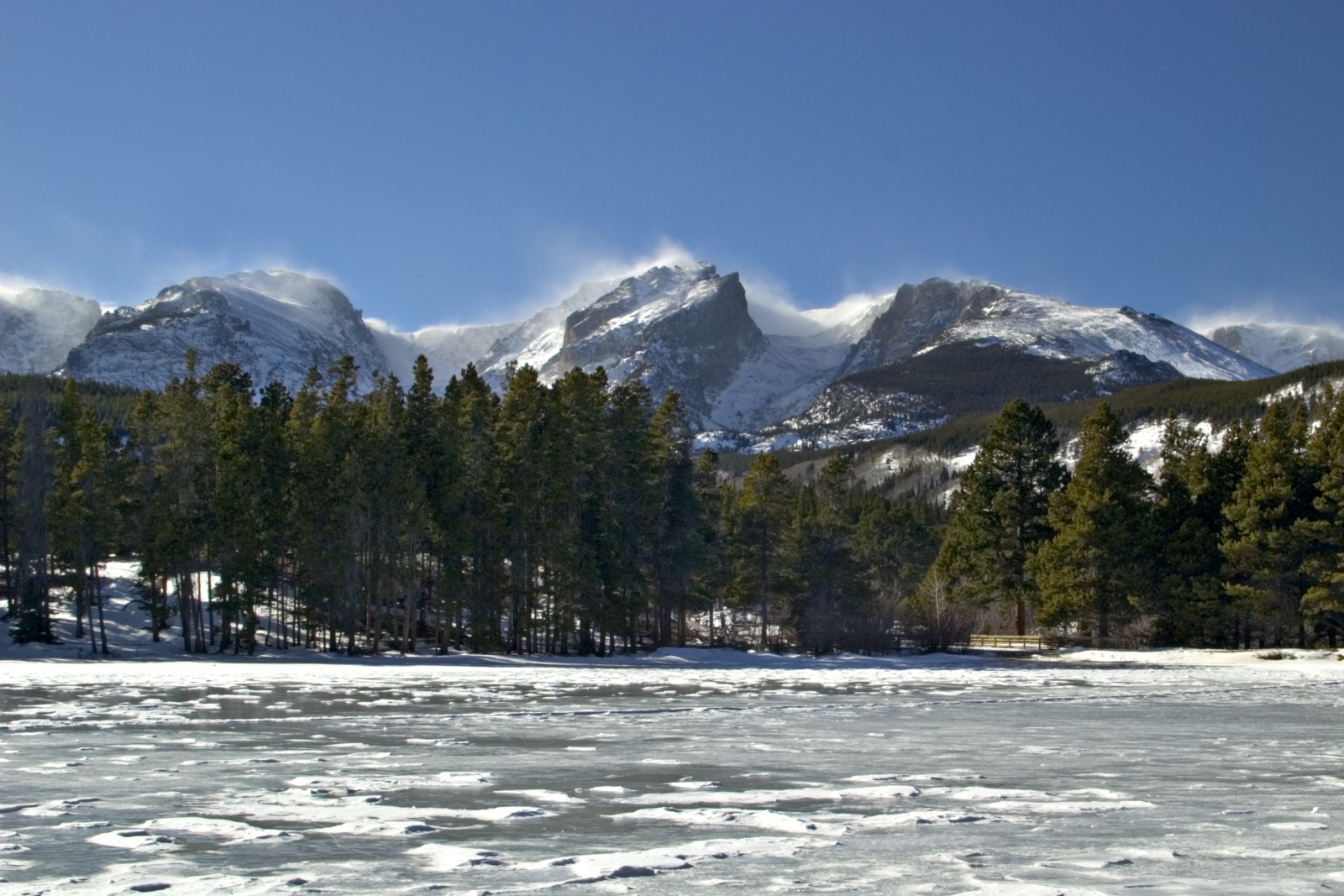 One of the most popular trails near Hallett Peak is the Flattop Mountain trail. This trail is a challenging yet rewarding climb that offers stunning views of the surrounding mountains and valleys. The trailhead begins at the Bear Lake area and ascends steadily through forests and alpine meadows, offering panoramic views of the Rocky Mountain National Park. It is an approximately 8.8-mile round-trip trail that culminates at the summit of Flattop Mountain, from where you can choose to further continue to Hallett Peak. Though it involves a steep climb, the breathtaking views of glaciated peaks and sprawling meadows make it worth the effort.
Another notable trail in the vicinity of Hallett Peak is the Dream Lake trail. This is a relatively easier hike, making it suitable for families and casual hikers. It is about 2.2 miles round-trip and leads you through lush forests to the beautiful Dream Lake. The trail offers mesmerizing views of Hallett Peak towering over the lake, creating a picturesque scenery that is a delight for photographers.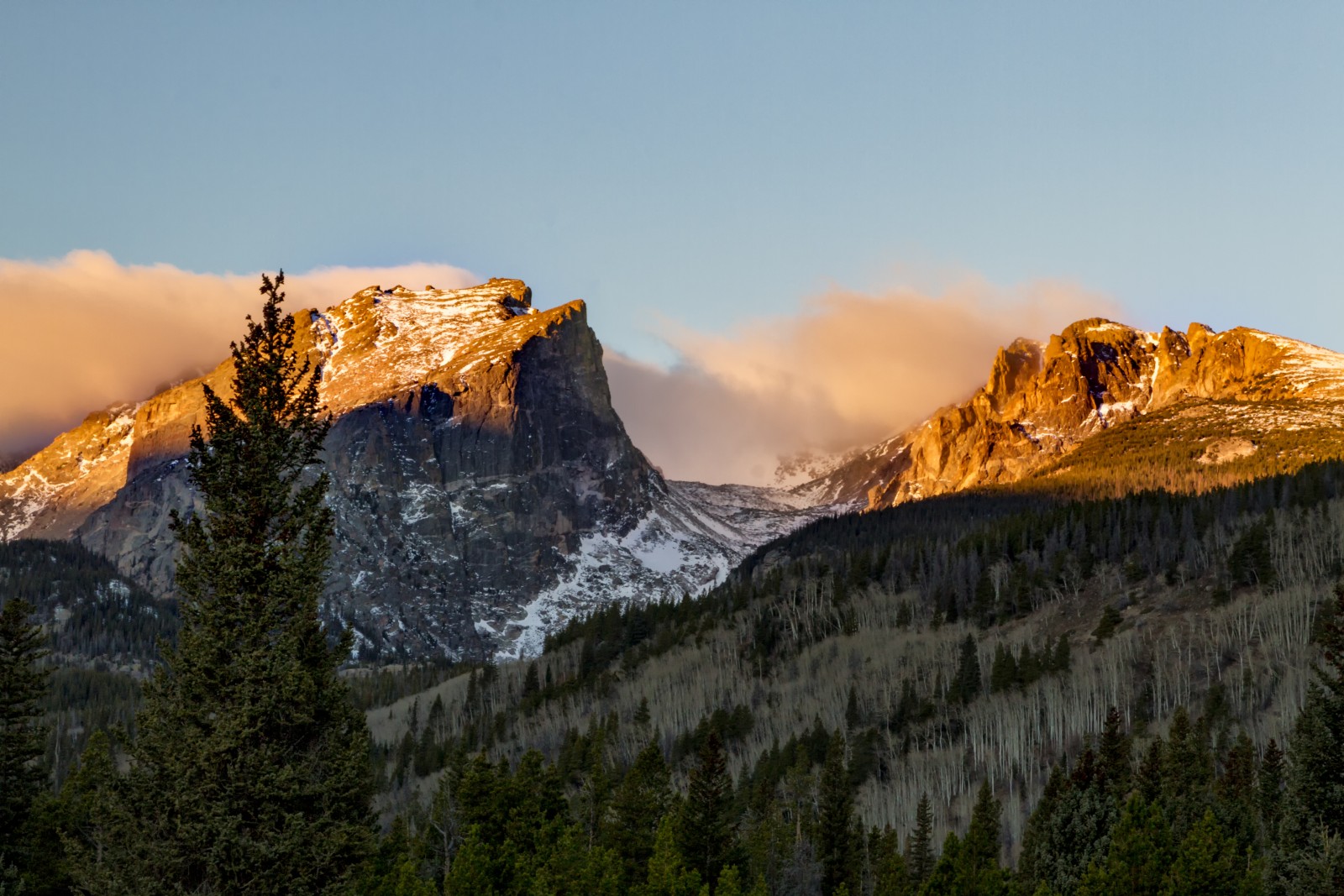 For those seeking a longer hike, the Emerald Lake trail is an excellent choice. Starting from Bear Lake, this trail covers a distance of about 3.5 miles round-trip. The trail takes you past Nymph Lake and Dream Lake before ending at Emerald Lake, nestled at the foot of Hallett Peak. The trail offers diverse landscapes including verdant forests, sparkling lakes, and striking mountain backdrops.
Hallett Peak in Colorado is surrounded by a network of trails that cater to hikers and climbers of various skill levels. Whether you are seeking a challenging climb to test your fitness, or a leisurely hike to enjoy the natural beauty, the trails near Hallett Peak offer an unforgettable outdoor experience. The rich biodiversity, the stunning landscapes, and the serene environment make these trails a must-visit for nature lovers and outdoor enthusiasts.