Mount Hood (Wy'east)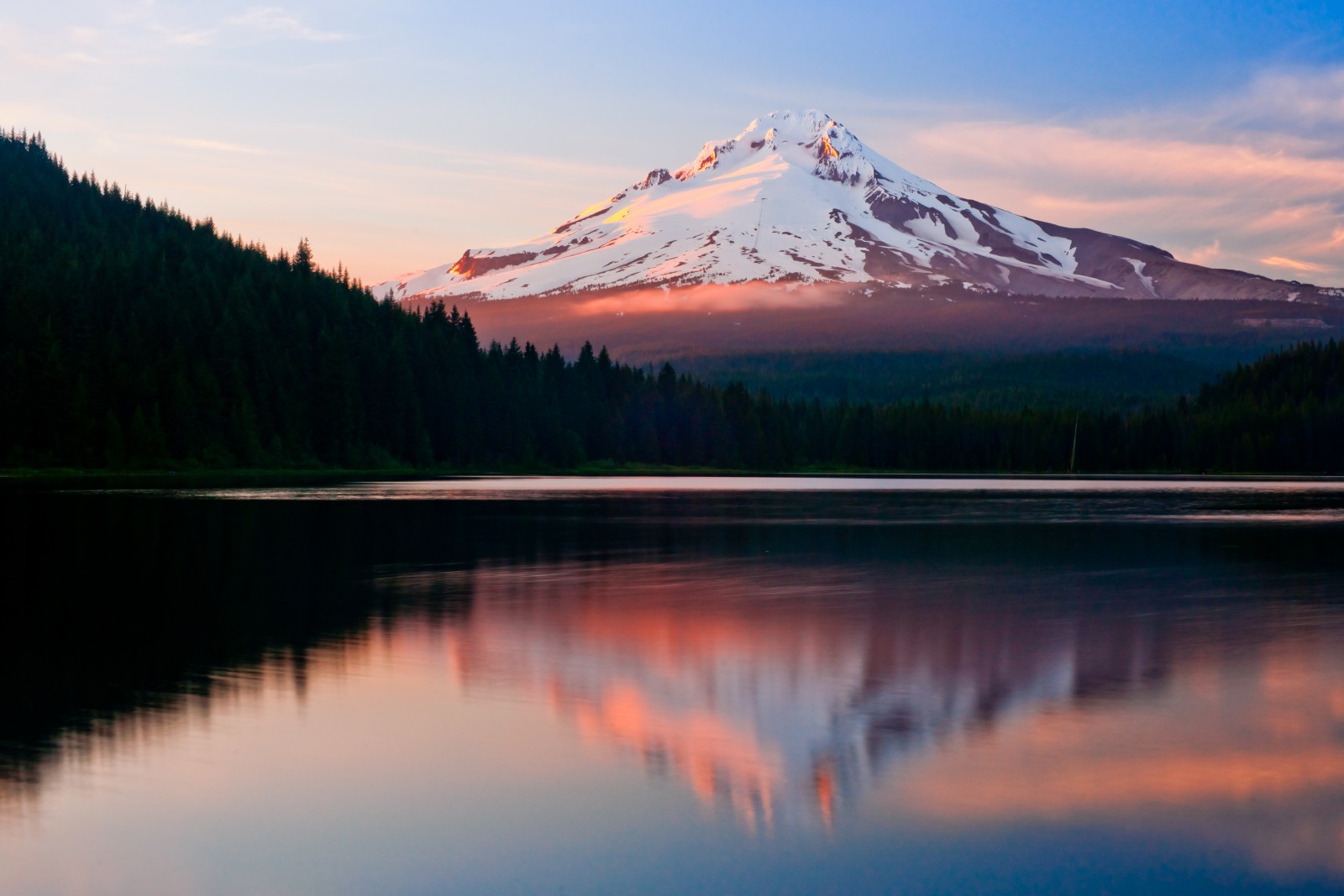 Mount Hood, an iconic landmark in the U.S. state of Oregon, is a prominent part of the visually stunning Cascade Range. It is not just a picturesque backdrop, but a dynamic natural entity that contributes significantly to the region's environmental diversity and recreational activities. Stretching up to 11,249 feet, Mount Hood is the highest peak in Oregon and the fourth highest peak in the Cascade Range. It's physical grandeur, coupled with its rich biodiversity, makes Mount Hood a veritable treasure trove for scientists, nature enthusiasts and adventurers alike.
As part of the Cascade Range, Mount Hood is part of a series of mountains that stretch from British Columbia in Canada to Northern California in the United States. This range, fashioned by the forces of plate tectonics and volcanic activity over millions of years, is home to several active and dormant volcanoes including Mount Hood. The stratovolcano has had at least four major eruptive periods during the past 15,000 years, with the last episode occurring around 170-220 years ago.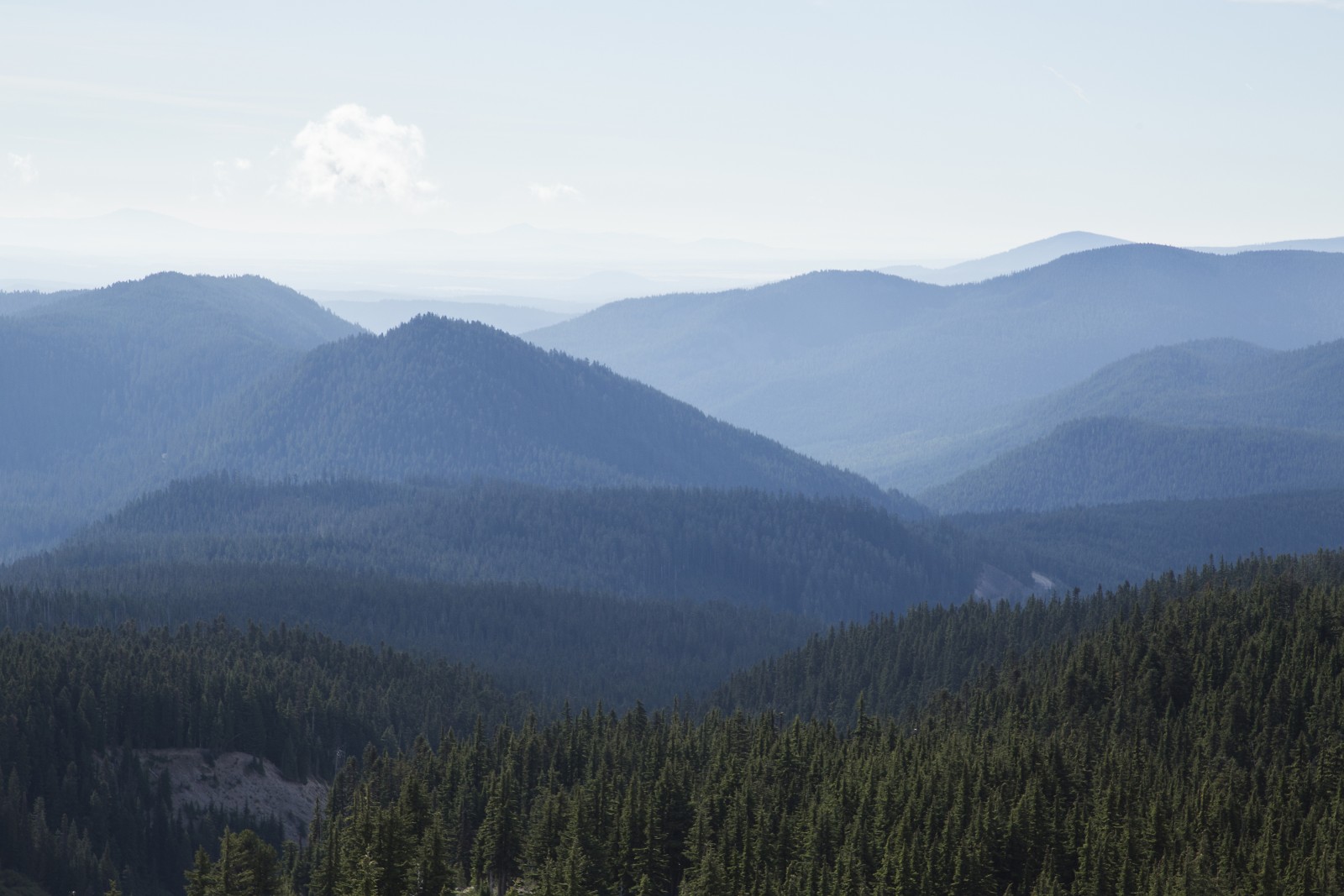 The landscape surrounding Mount Hood is as diverse as it is expansive. Dense forests of Douglas fir, western hemlock, and mountain hemlock cover its lower slopes, giving way to alpine meadows and rocky ridges as one moves higher up. This wide range of habitats supports a considerable variety of flora and fauna, some of which are unique to this region.
Beyond its environmental significance, Mount Hood holds immense recreational value. It hosts Oregon's only year-round ski resort and offers numerous trails for hiking and mountain biking. Additionally, the mountain and its surrounding wilderness areas serve as important cultural resources for Native American tribes in the region.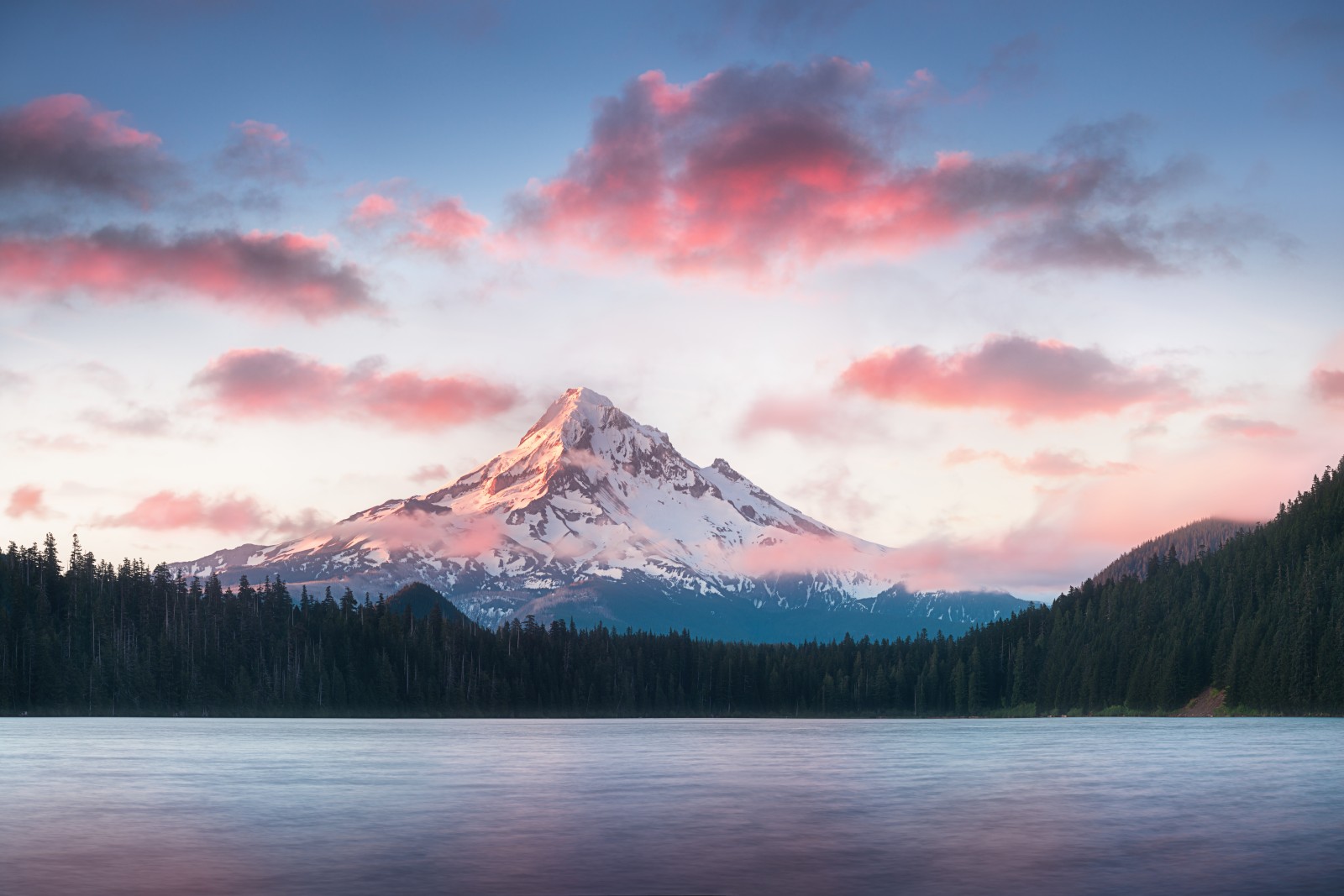 Mount Hood is much more than just a natural spectacle. It's a significant part of Oregon's geographic identity, an important contributor to the state's ecological diversity and a key player in supporting recreational tourism in the region. As part of the Cascade Range, Mount Hood's presence provides an ongoing reminder of the dynamic geological processes that continue to shape our planet.
Fast Facts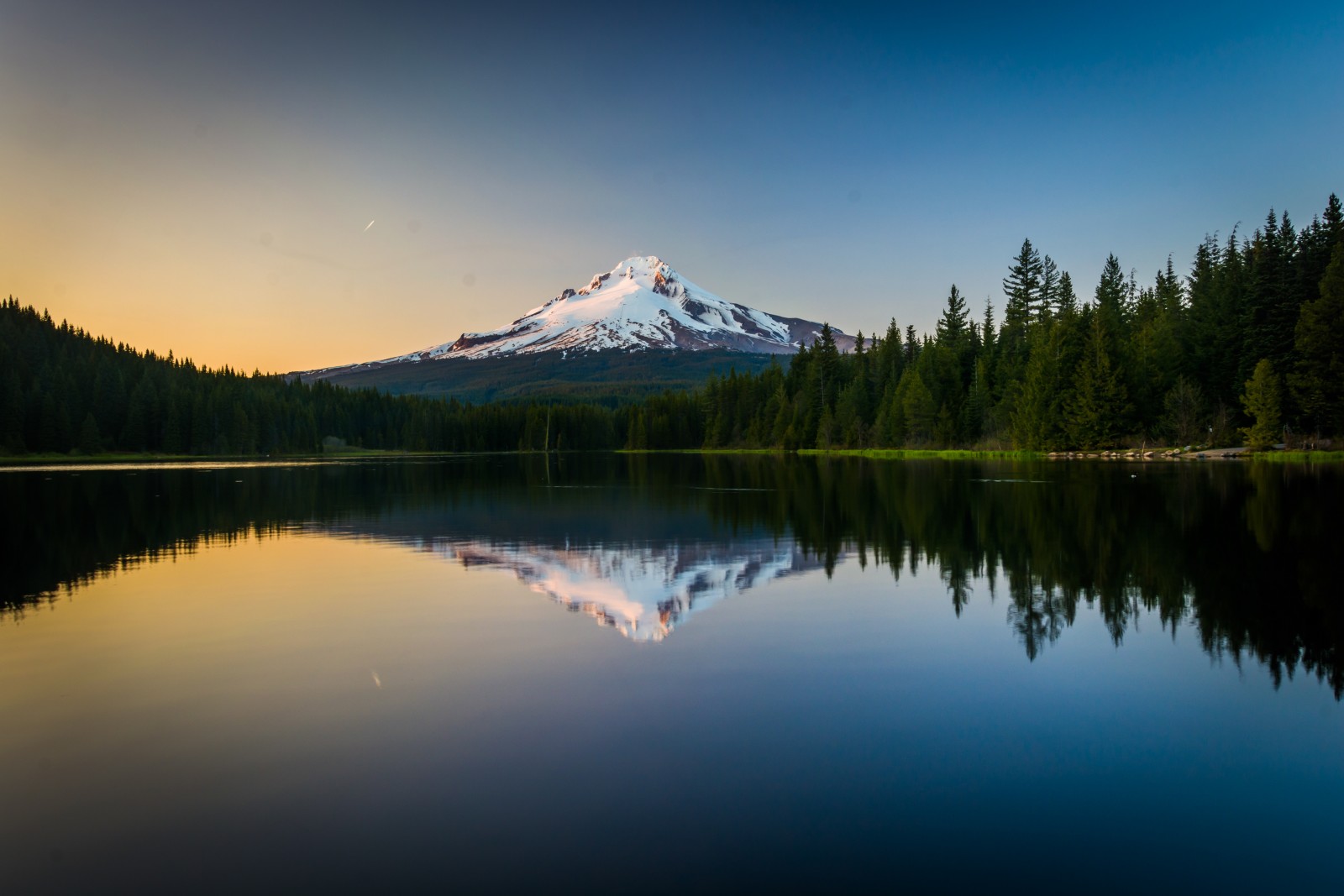 Country: United States
State/Province: Oregon
County/Region: Clackamas, Hood River
Mountain Range: Cascade Range
Parents: Cascade Range
Elevation: 11,249 feet / 3,429 meters
Prominence: 7,706 feet / 2,349 meters
Isolation: 57.32 miles / 92.24 kilometers
Nearest Higher Neighbor (NHN): Pikers Peak
First Ascent: July 11, 1857, by Henry Pittock and party of W. Lymen Chittenden, Wilbur Cornell, and Rev. T.A. Wood.
Fun Fact: Mount Hood is the highest peak in Oregon.
Flora and Fauna
Mount Hood, located in the U.S. state of Oregon, is a significant part of the Cascade Range and is revered for its outstanding natural beauty. The mountain's rich biodiversity, encompassing a wide array of flora and fauna, contributes greatly to this beauty and provides a captivating study for nature enthusiasts and scientists alike.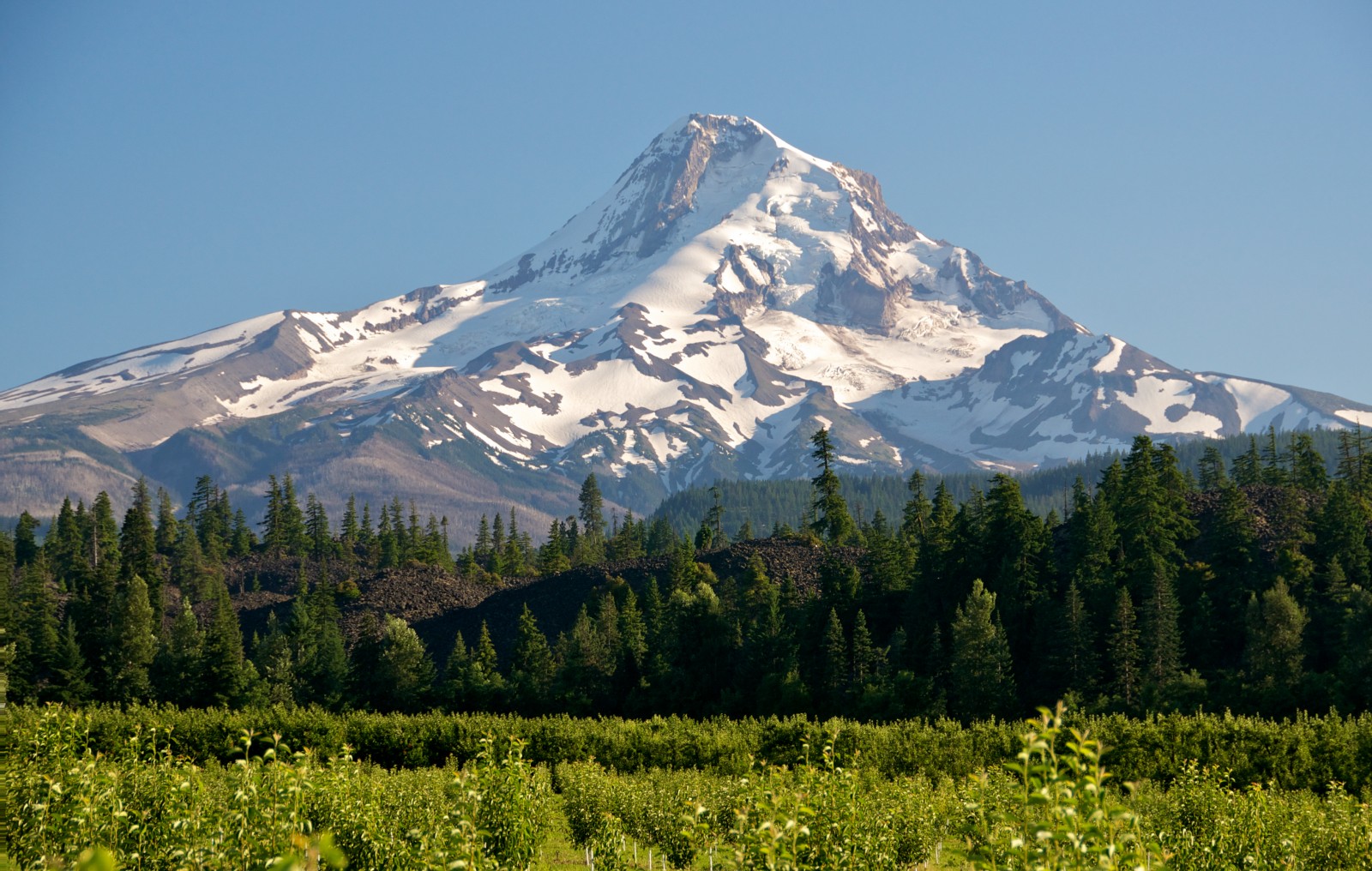 The flora of Mount Hood is distinguished by its robustness and diversity. The lower elevations are characterized by lush forests dominated by Douglas Fir, Western Hemlock, and Western Red Cedar. As you ascend, the vegetation transitions into subalpine meadows filled with wildflowers like the Indian Paintbrush, Lupine, and Beargrass that bloom in the summer months. Near the timberline, where conditions become harsher, the landscape is dominated by Whitebark Pine and Mountain Hemlock. These species have adapted to survive in the challenging conditions presented by high altitude and severe weather.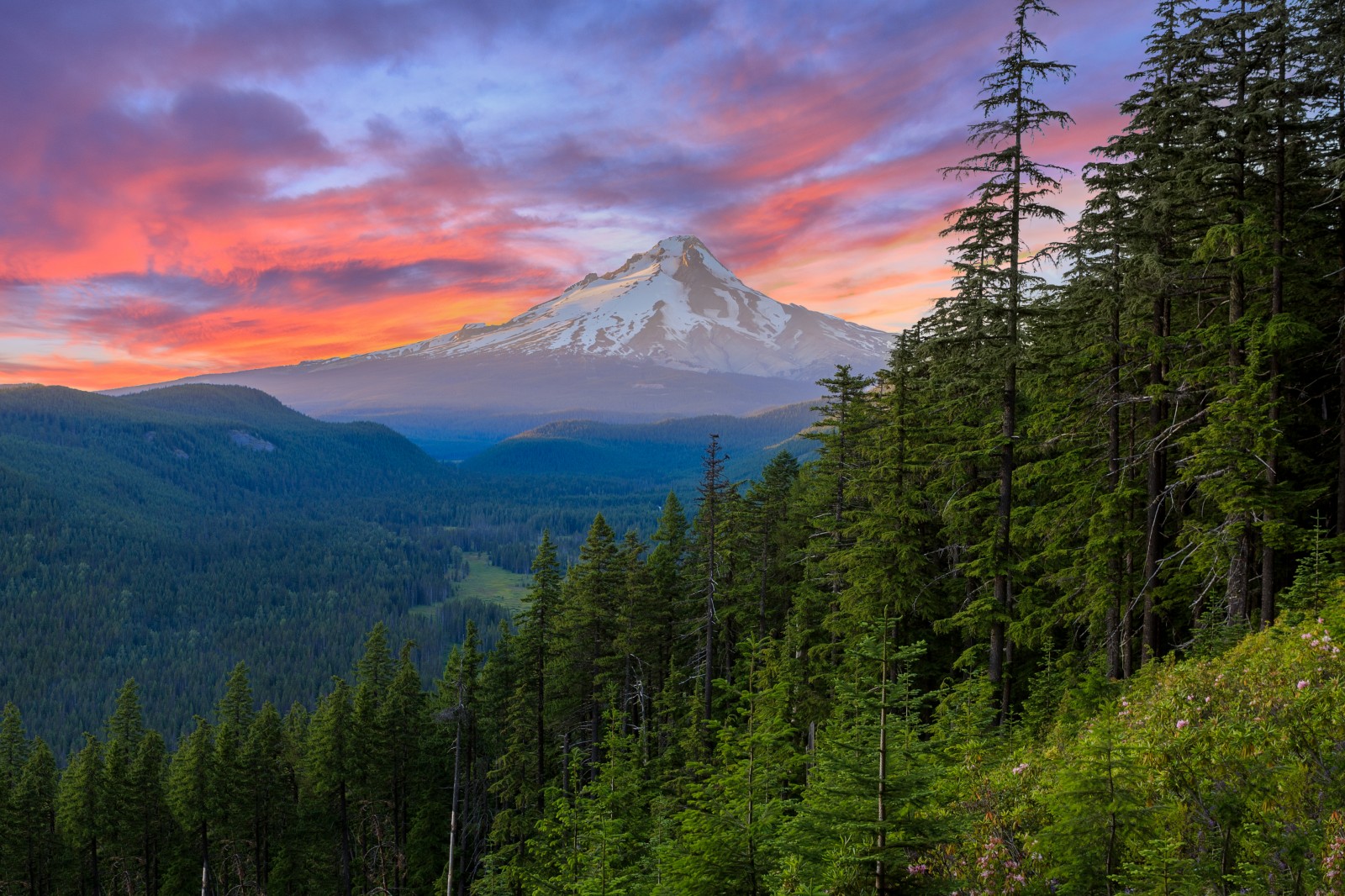 The fauna of Mount Hood is just as diverse and fascinating as its flora. The mountain serves as an important habitat for a variety of wildlife species. The lower forested areas are home to creatures such as the Black-tailed Deer, Roosevelt Elk, and Cougar. Smaller mammals such as Bobcats, Snowshoe Hares, and several species of squirrels are also common. Bird watchers will not be disappointed either with species like Northern Spotted Owls, Pileated Woodpeckers, and various songbirds frequenting the area.
The alpine regions of Mount Hood offer an entirely different set of fauna. It is here that one might spot a Hoary Marmot or a Pika – small mammals adapted to the cold alpine environment. The American Black Bear and Mountain Goat also occasionally make their way to these heights.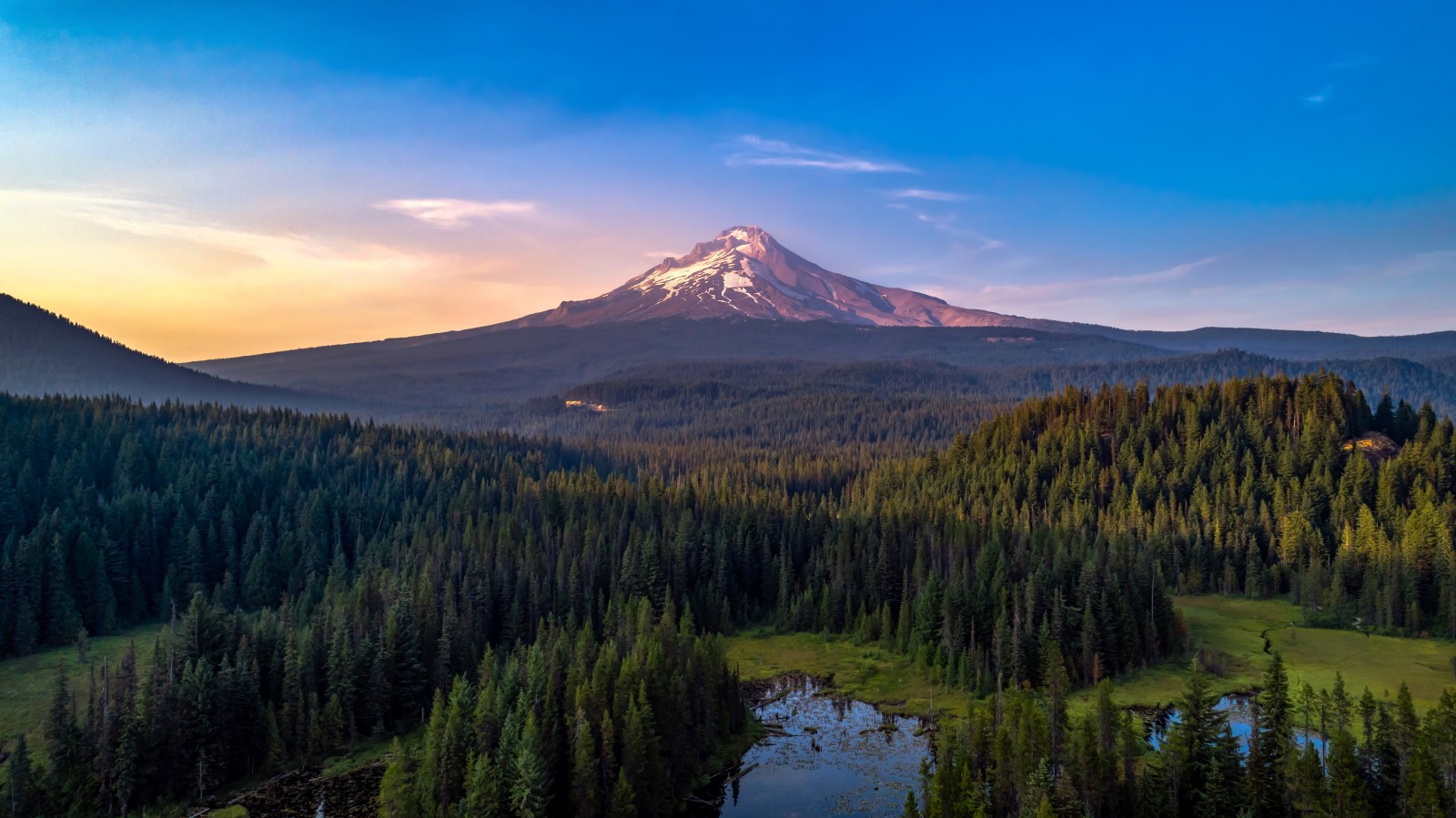 The flora and fauna of Mount Hood in Oregon indeed embody the rich biodiversity of the Cascade Range. The range's shifting altitudes and varying climates have given rise to a multitude of habitats, each with its unique set of plant and animal species. This wealth of life not only adds to the mountain's scenic beauty but also plays a crucial role in maintaining the health of the ecosystem. Moreover, the study of these species provides valuable insights into the effects of climate change and other environmental pressures on mountain ecosystems. Therefore, efforts must be made to preserve and protect this remarkable biodiversity for future generations.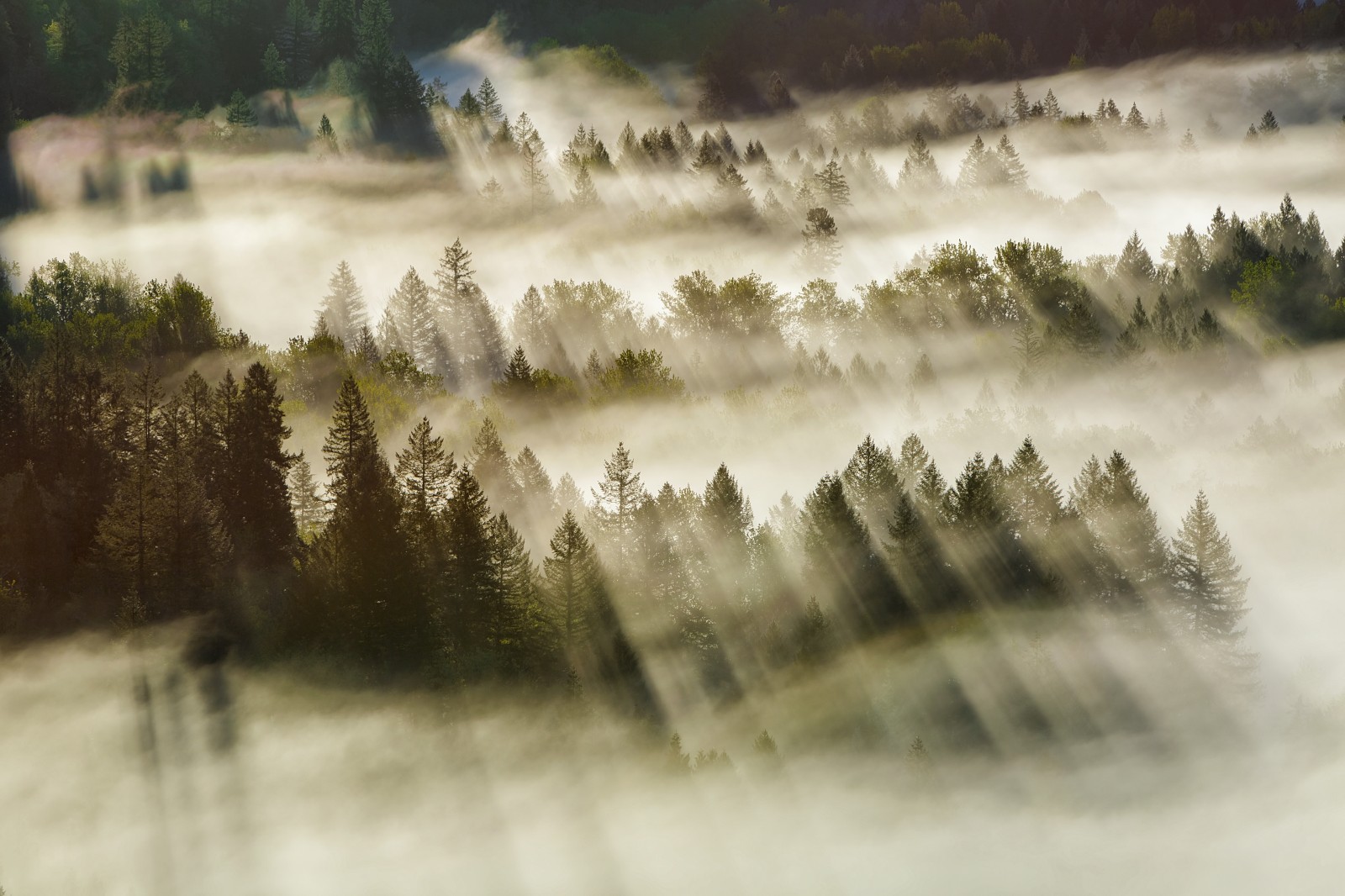 Trails
Mount Hood, located in the heart of Oregon, is a prominent landmark in the Cascade Range and offers some of the most breathtaking and thrilling trails for outdoor enthusiasts. The mountain's majestic beauty and diverse terrain make it an ideal destination for hiking, trekking, and mountain biking. These trails offer varying levels of difficulty and a range of scenic views, making Mount Hood a must-visit destination for those seeking adventure amidst nature.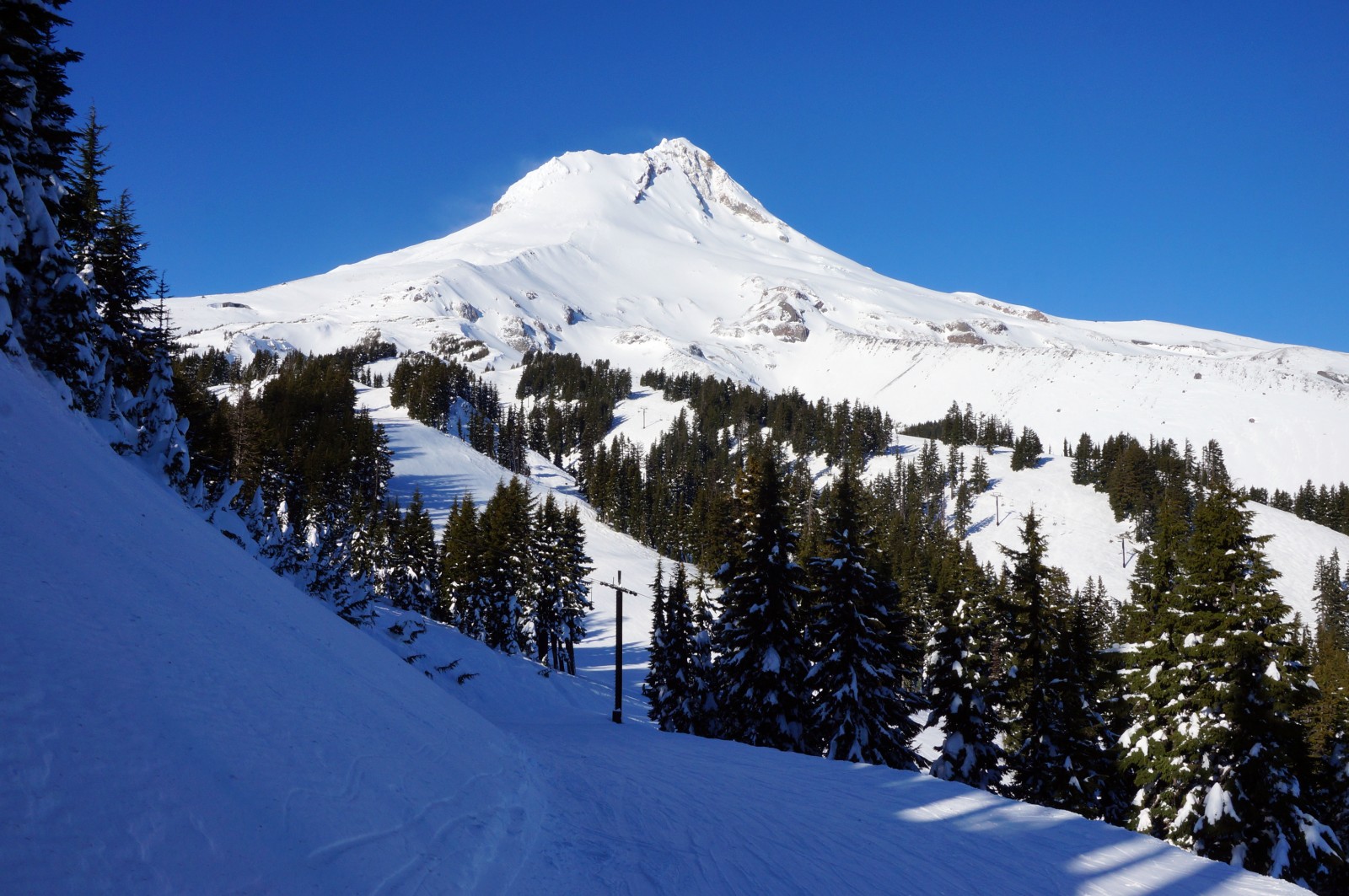 One of the most famous trails near Mount Hood is the Timberline Trail, a challenging 40-mile loop that encircles the mountain, providing panoramic views of the Cascade Range and the Oregon countryside. The trail's high elevation and rugged terrain make it best suited for experienced hikers looking for a multi-day adventure. However, its picturesque vistas and wildflower meadows make the effort worth it.
In contrast, the Trillium Lake Loop Trail is an easier option perfect for families or beginners. This 2-mile trail offers stunning views of Mount Hood reflecting off Trillium Lake, making it one of the most photographed spots in Oregon. The relatively flat terrain and well-maintained path make it a popular choice for leisurely hikes and picnics.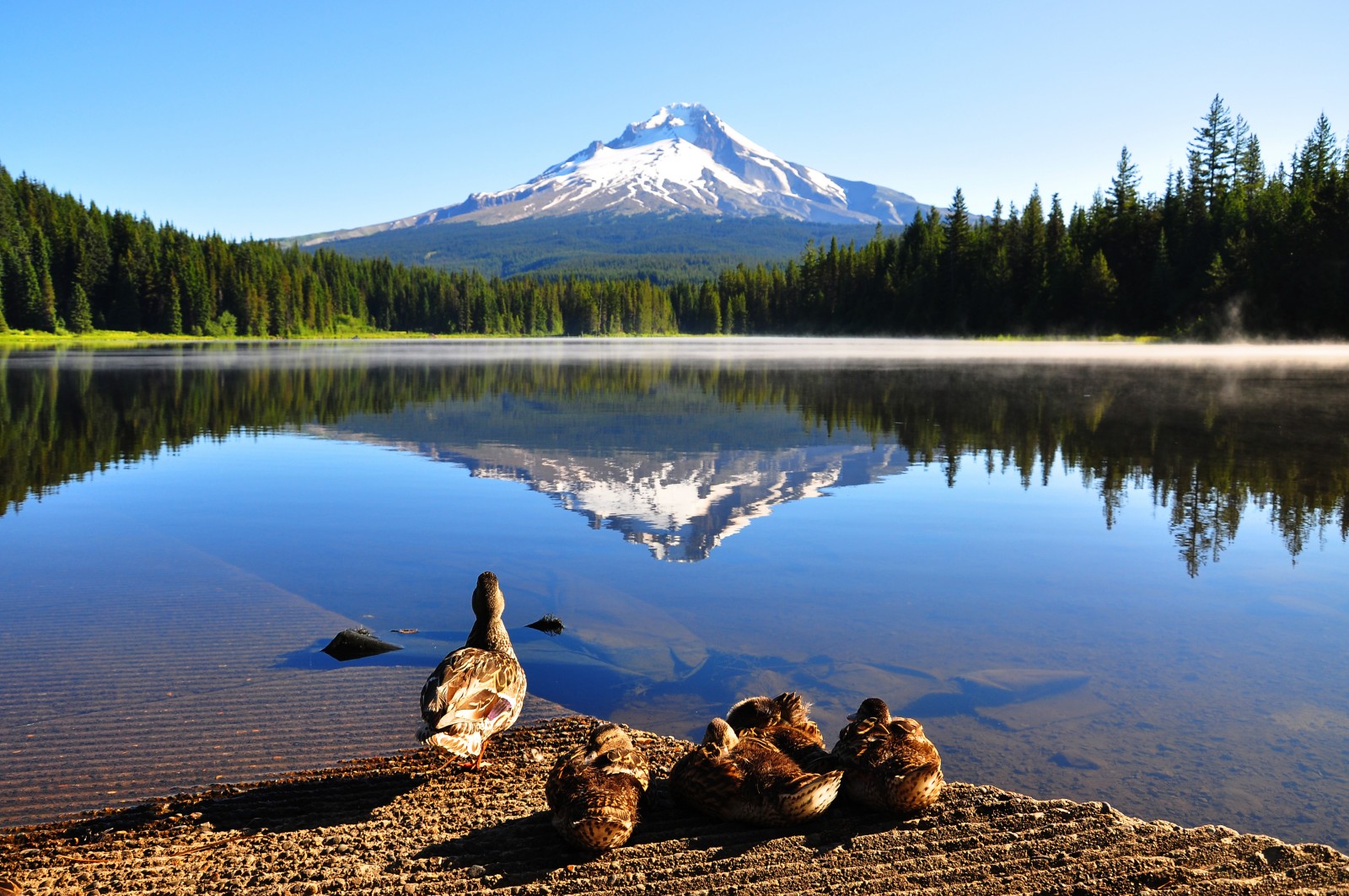 For those seeking a bit more adventure, the Tom Dick and Harry Mountain trail is another excellent choice. This 5.8-mile trail offers panoramic views of Mount Hood, Mount Jefferson, Mount Adams, and even Mount Rainier on clear days. It's a moderately difficult hike that involves some steep ascents but is renowned for its stunning mountain vistas.
The Elk Meadows trail offers a unique blend of alpine meadows, creeks, and forest paths under the shadow of Mount Hood. It's a moderate 6-mile round trip that takes hikers through picturesque landscapes abundant with wildflowers during summer.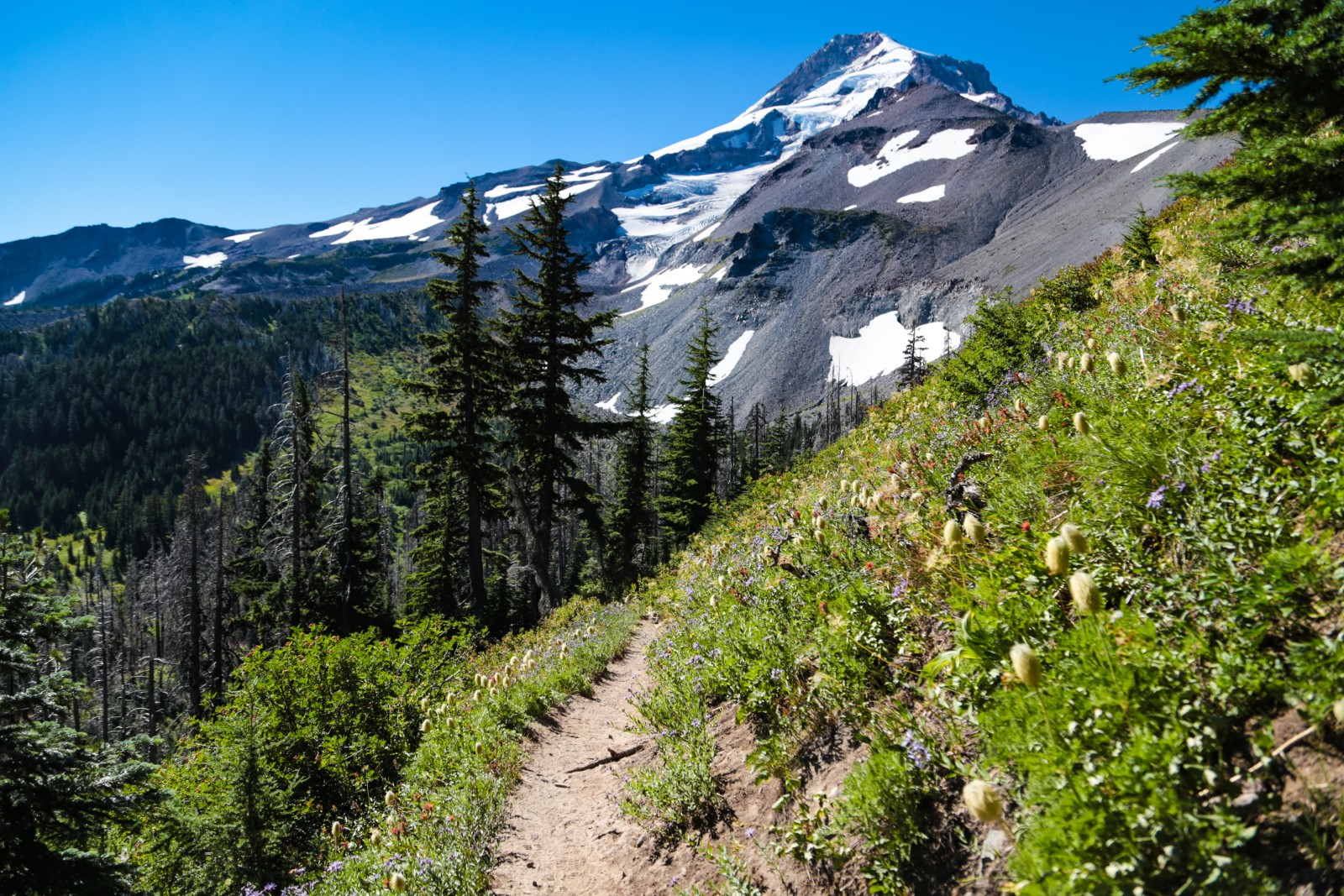 Lastly, Tamanawas Falls Trail is a remarkable journey through lush forests leading to a stunning waterfall. This 3.3-mile round trip trail is relatively straightforward, making it a favored choice among families and less experienced hikers.
In conclusion, the trails near Mount Hood in Oregon's Cascade Range offer a diverse range of experiences and views that cater to all levels of outdoor enthusiasts. Whether you're seeking a challenging multi-day hike or a peaceful walk in nature, the trails around Mount Hood will not disappoint.