Tofana di Rozes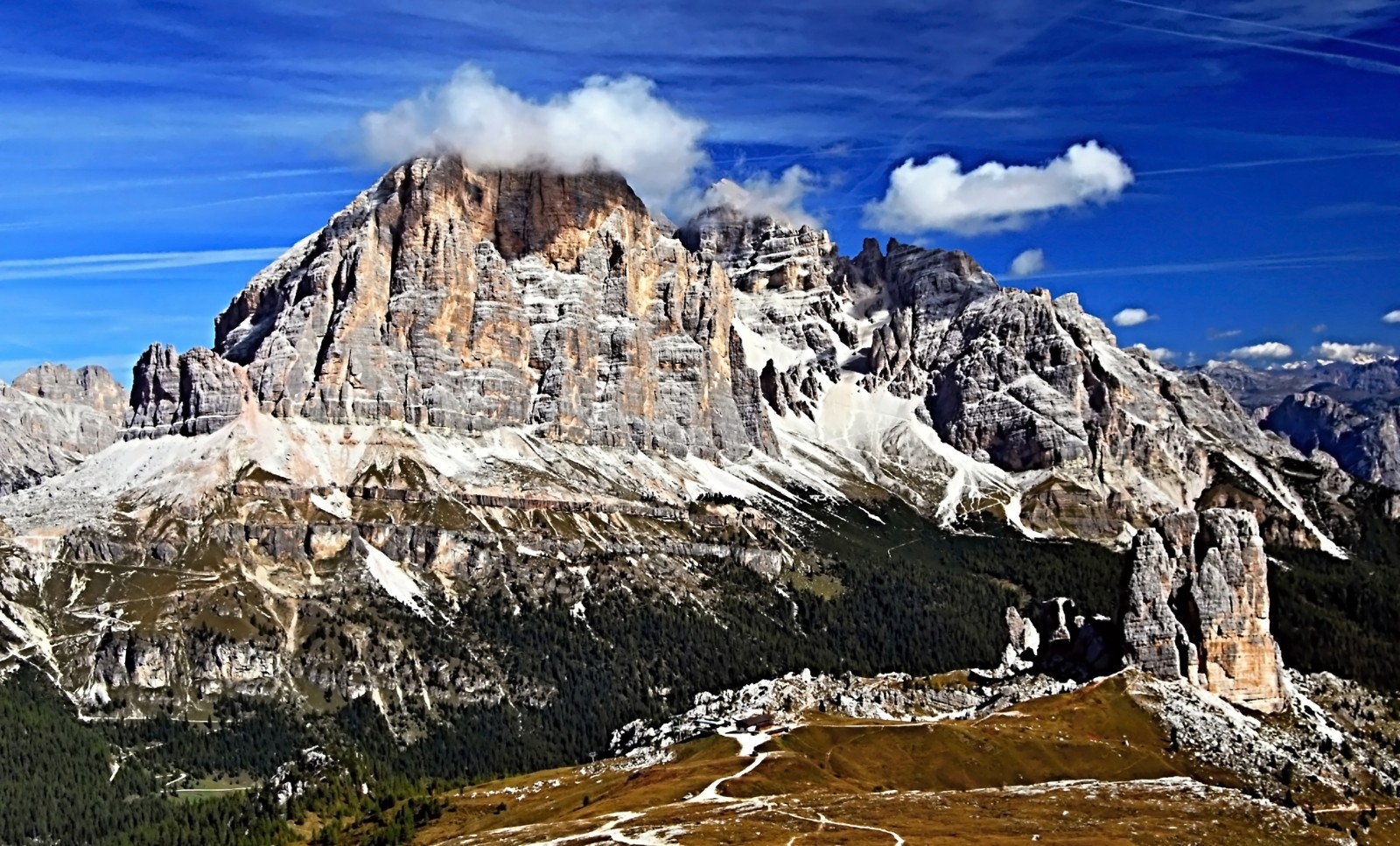 Tofana di Rozes, located in the province of Belluno, Veneto, Italy, is one of the most prominent and majestic peaks of the Dolomites range. This awe-inspiring mountain, reaching a height of 3,225 meters, forms part of the southern limestone Alps that span across northeastern Italy. The Tofana di Rozes, with its imposing presence and unique geology, is a testament to the raw and captivating beauty that defines the Dolomites.
The Tofana di Rozes is not merely a geographical feature; it is a significant landmark that shapes the culture and lifestyle of the people in the Belluno province and wider Veneto region of Italy. Its sheer cliffs and steep walls challenge climbers from around the world, offering an unparalleled experience for both amateur enthusiasts and seasoned professionals. The mountain's diverse terrain and challenging ascents have established Tofana di Rozes as a world-renowned destination for mountaineering and rock climbing.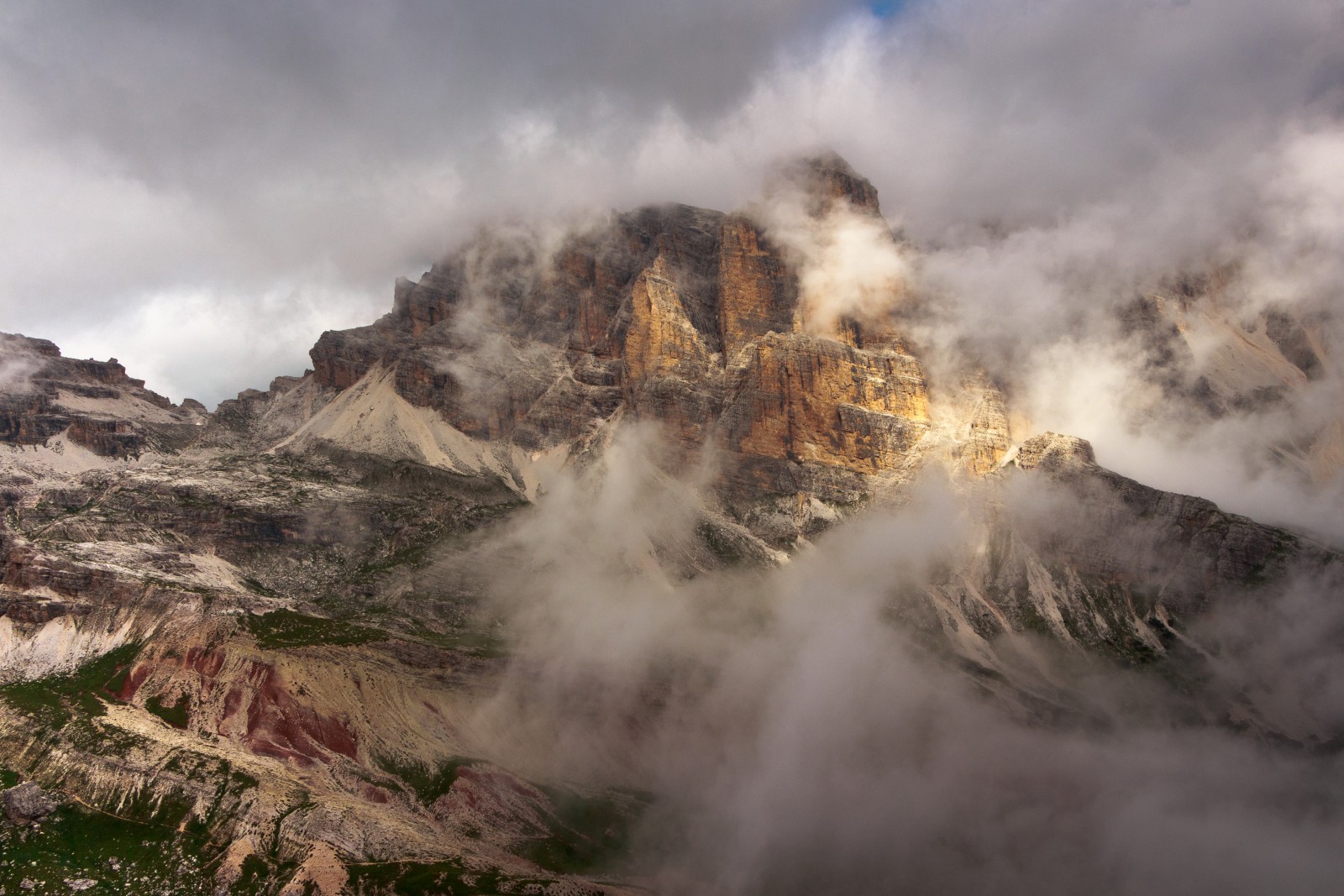 Apart from its sporting appeal, Tofana di Rozes also holds immense ecological value. The mountain's slopes are home to a rich biodiversity, hosting a variety of plant and animal species that contribute to the unique ecosystem of the Dolomites. The region is recognized as a UNESCO World Heritage site, emphasizing its global significance in terms of natural history and conservation.
Tofana di Rozes is much more than just a mountain in the Belluno province of Veneto, Italy. It is an iconic part of the Dolomites range that offers thrilling adventure opportunities, holds significant ecological value, and contributes to the cultural identity of the region. Whether one views it from afar or ventures on its challenging paths, Tofana di Rozes leaves an indelible impression of the awe-inspiring beauty that nature has to offer.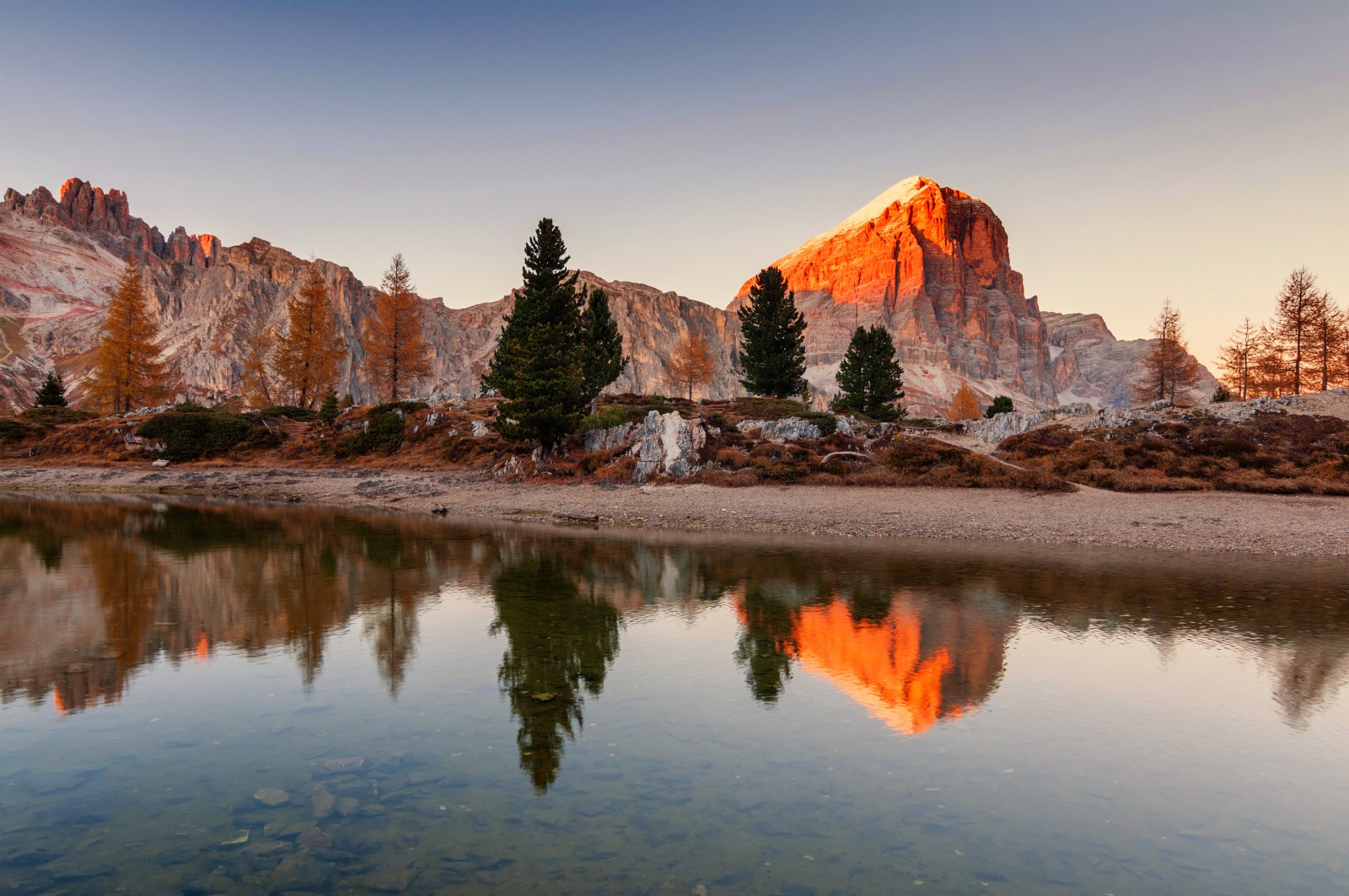 Fast Facts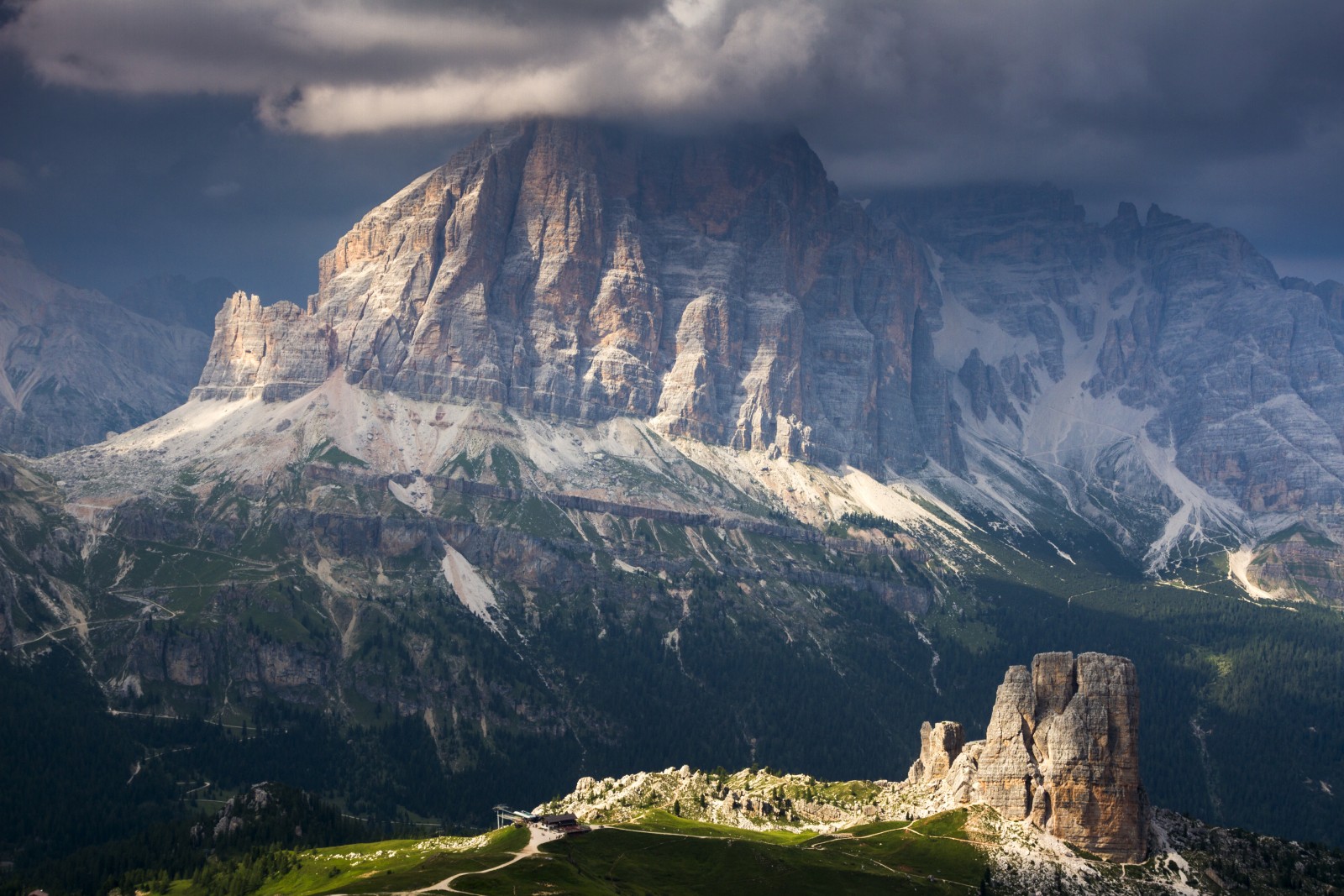 Country: Italy
State/Province: Veneto
County/Region: Belluno
Mountain Range: Tofane, Dolomites
Parents: Dolomites
Elevation: 10,581 feet / 3,225 meters
Prominence: 2,178 feet / 664 meters
Isolation: 1.19 miles / 1.91 kilometers
Nearest Higher Neighbor (NHN): Tofana di Mezzo
First Ascent: 1864, by Paul Grohmann and Francesco Lacedelli.
Fun Fact: Tofana di Rozes is the third highest peak of the Tofane mountain group.
Neighboring Peaks: The Tofana di Rozes is the third highest summit of the Tofane mountains in the Dolomites. The highest is Tofana di Mezzo, and second is Tofana di Dentro.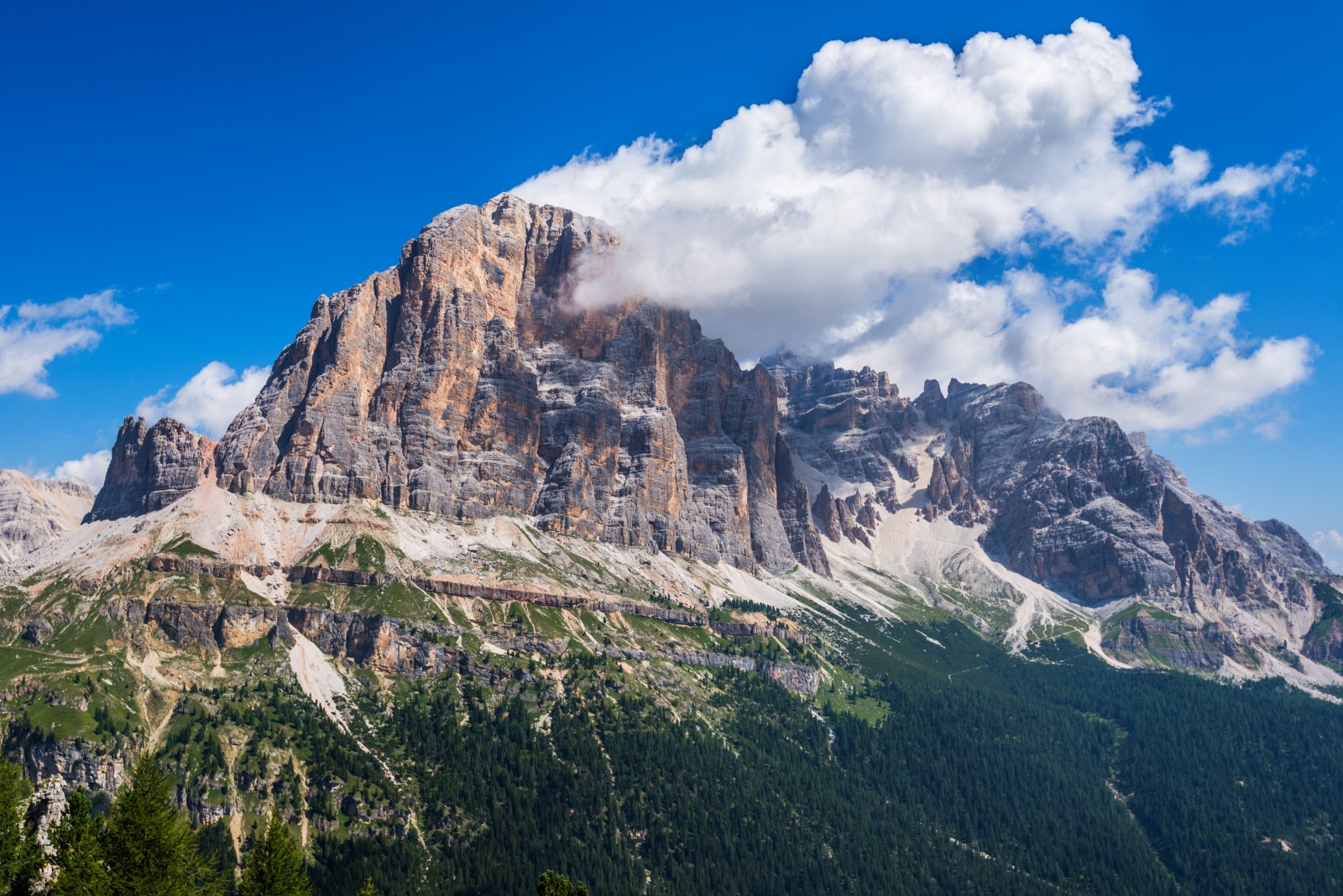 Flora and Fauna
Tofana di Rozes is a mountain in the Dolomites of northern Italy, located west of Cortina d'Ampezzo in the province of Belluno, Veneto. It is renowned for its rich biodiversity, showcasing a remarkable range of flora and fauna. The natural environment of Tofana di Rozes is defined by the stunning interaction between the geological formations and the living organisms that have adapted to this unique habitat.
The flora of Tofana di Rozes is characterized by various species that have adapted to survive in the harsh alpine conditions. One can find a diverse range of plants, including various mosses, lichens, and flowering plants. Alpine meadows are filled with colourful wildflowers such as edelweiss, gentians, and alpine roses, while higher altitudes are home to hardy species like dwarf willows and grasses. The lower slopes and valleys are covered by dense coniferous forests consisting primarily of spruce and larch trees.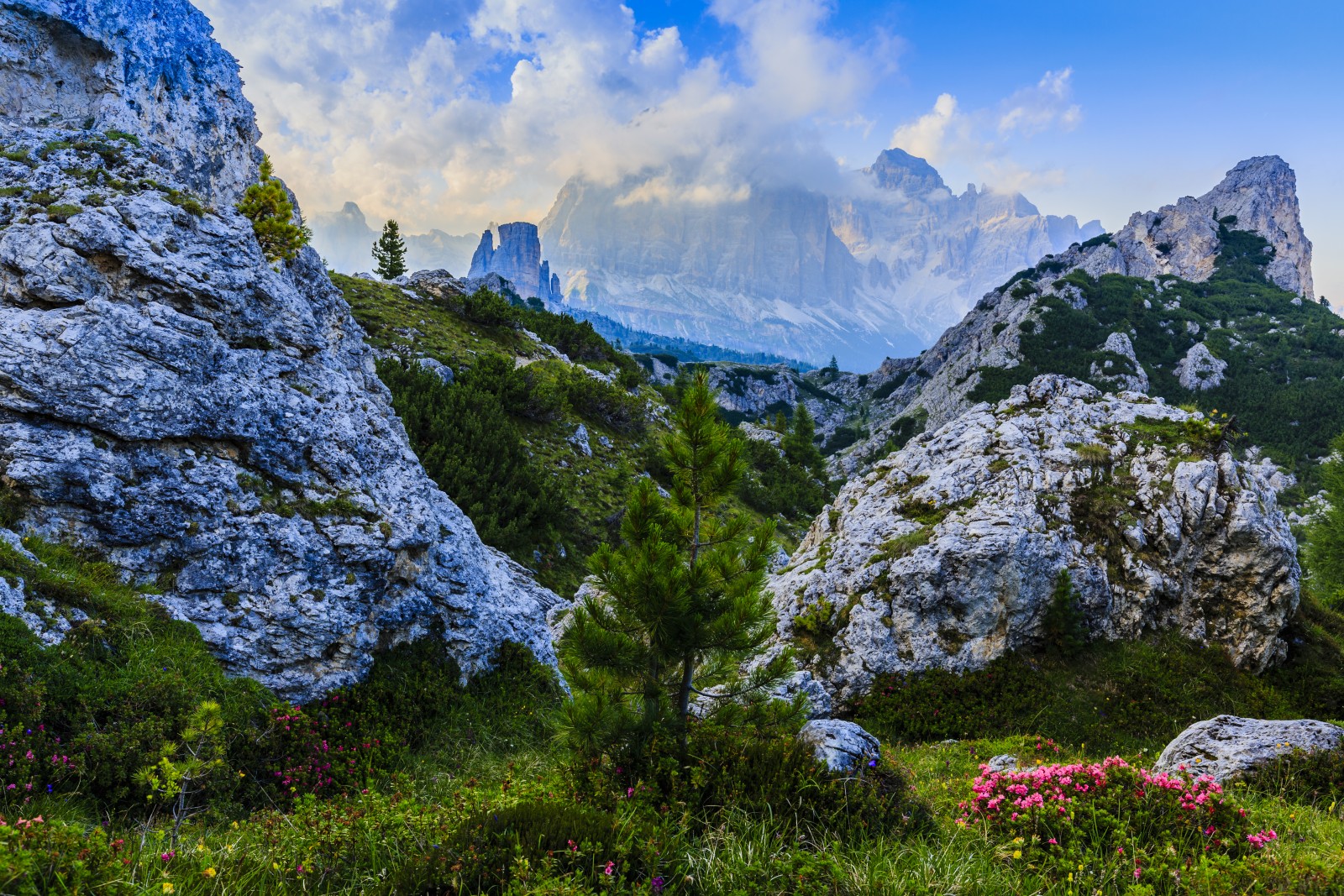 The fauna at Tofana di Rozes is equally diverse and fascinating. The region is a haven for wildlife enthusiasts, offering sightings of a multitude of species. Mammals such as chamois, marmots, and roe deer make their homes here, while the skies are ruled by golden eagles, choughs, and numerous other bird species. The pristine streams and lakes are inhabited by various amphibians and fish species.
The biodiversity found within the Tofana di Rozes region is a testament to the resilience and adaptability of nature. It serves as a living laboratory for scientists and a source of inspiration for nature lovers. The continual study of this area's flora and fauna helps us understand how species adapt to changing environments, providing valuable insights for conservation efforts.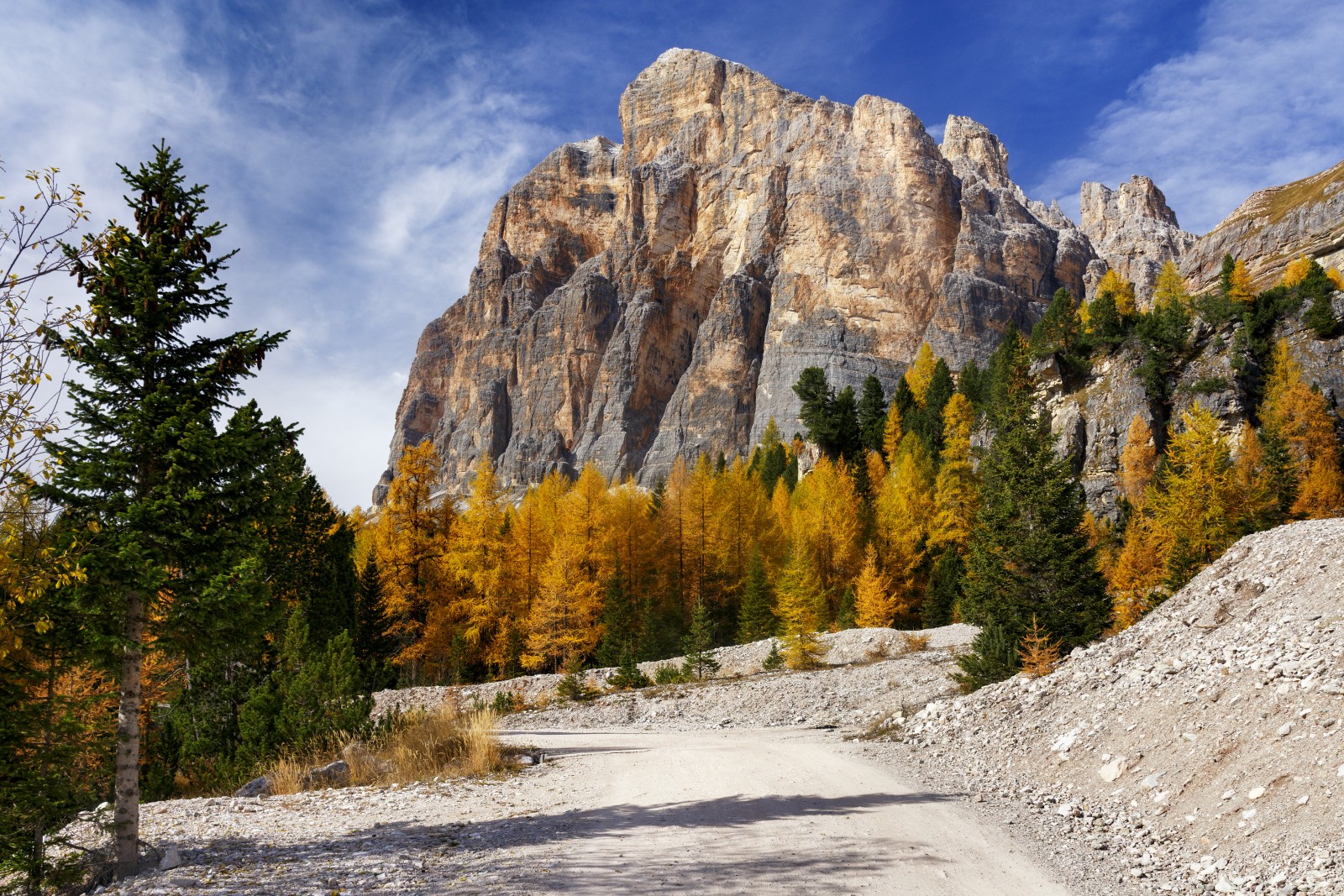 Tofana di Rozes is not only a spectacular landscape but also a vital habitat for a wide array of flora and fauna. Its rich biodiversity is a testament to the intricate balance of nature, making it a must-visit location for those who appreciate natural beauty and ecological diversity.
Trails
Located in the province of Belluno, Veneto, Italy, the Tofana di Rozes mountain offers some of the best trails for hiking enthusiasts. The panoramic views and the richness of the natural landscapes make Tofana di Rozes a true paradise for those who seek adventure and enjoy outdoor activities.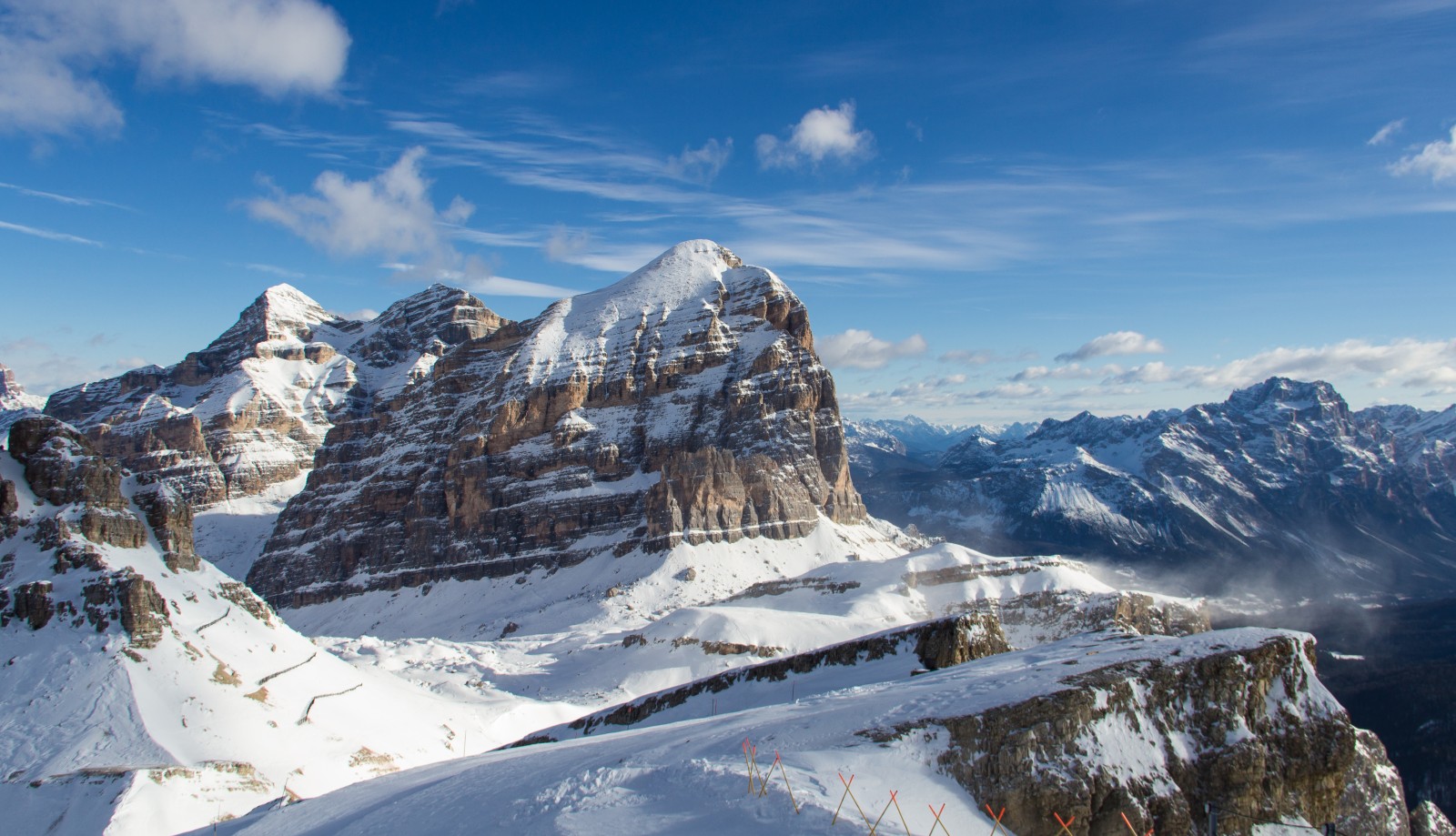 The trails near Tofana di Rozes are diverse, catering to all level of hikers and climbers. One of the most renowned routes is the Giussani Refuge trail. This trail starts from the Dibona Refuge and stretches up to the Giussani Refuge at the foot of Tofana di Rozes. It is a moderately difficult route, that takes you through enchanting landscapes, providing a breathtaking view of the surrounding Dolomites.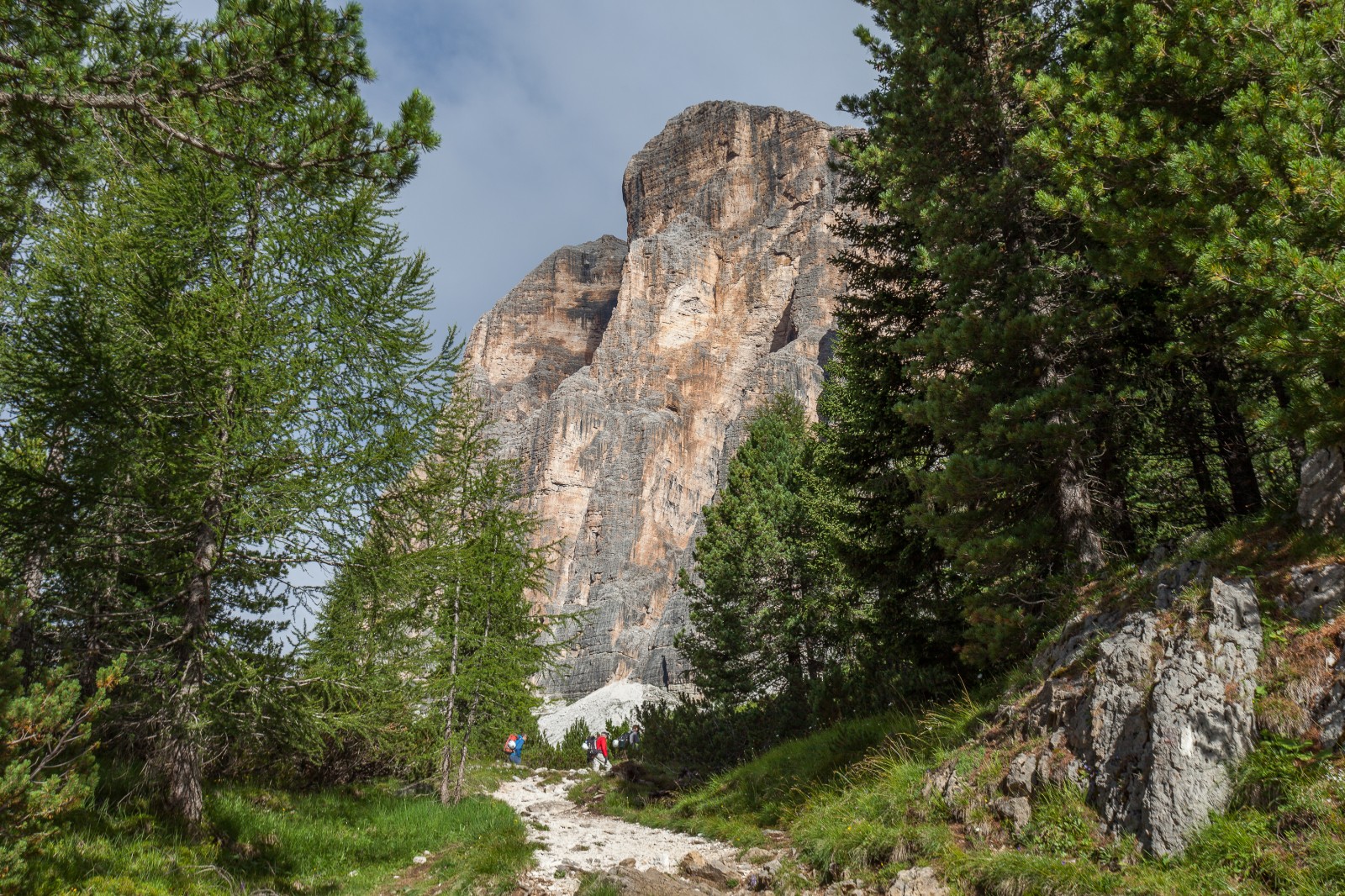 Another popular trail is the Tofana di Mezzo route. This route commences at the Falzarego Pass and winds up to the highest peak of Tofana, Tofana di Mezzo. This trail is more challenging but extremely rewarding with vast panoramic views of the Dolomites and Belluno province.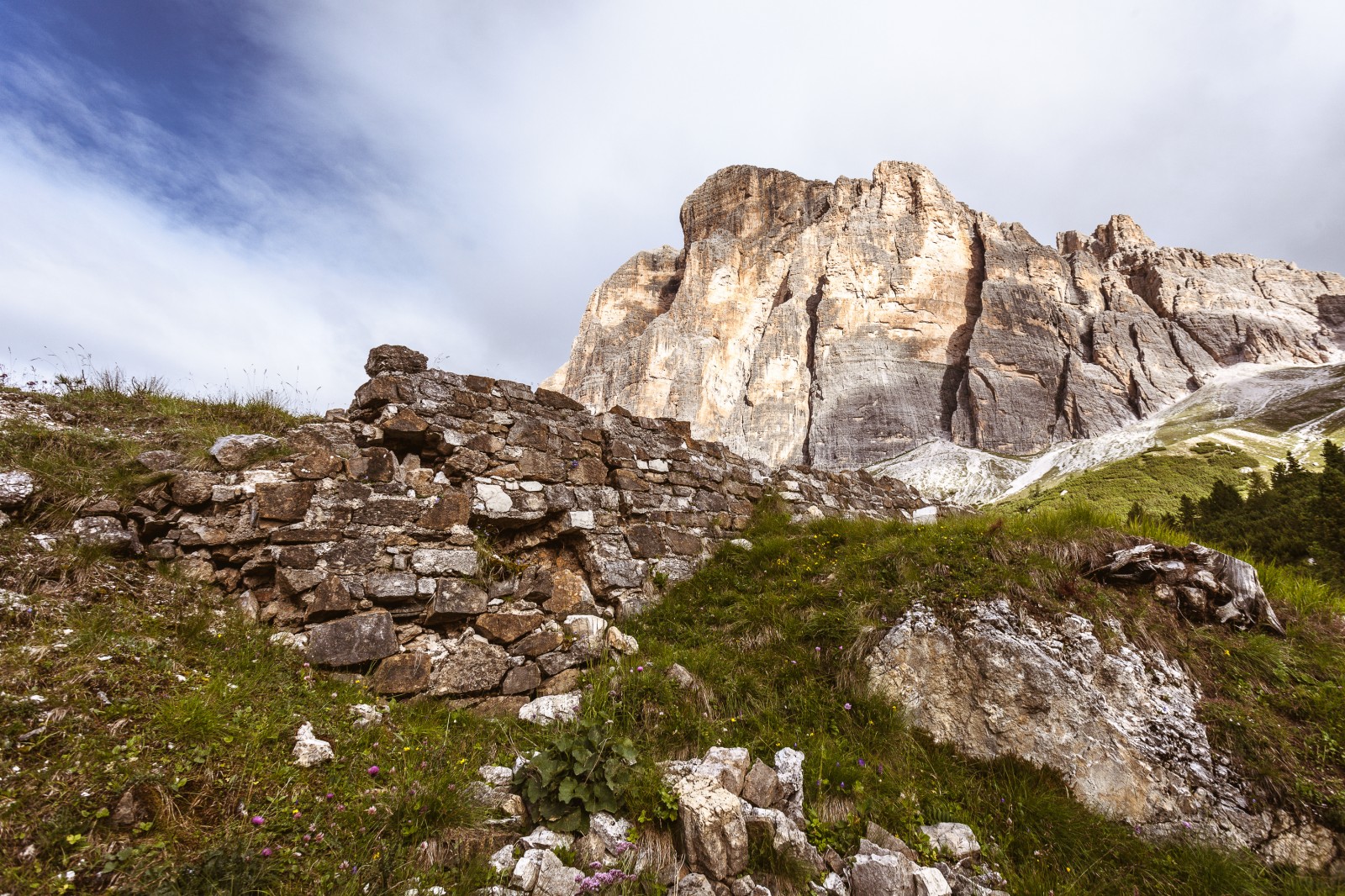 For those seeking a less strenuous hike, the Cinque Torri trail is an excellent option. Starting from Bai de Dones, this relatively easy route takes you around the Cinque Torri rock formations, offering stunning views of Tofana di Rozes and other surrounding peaks.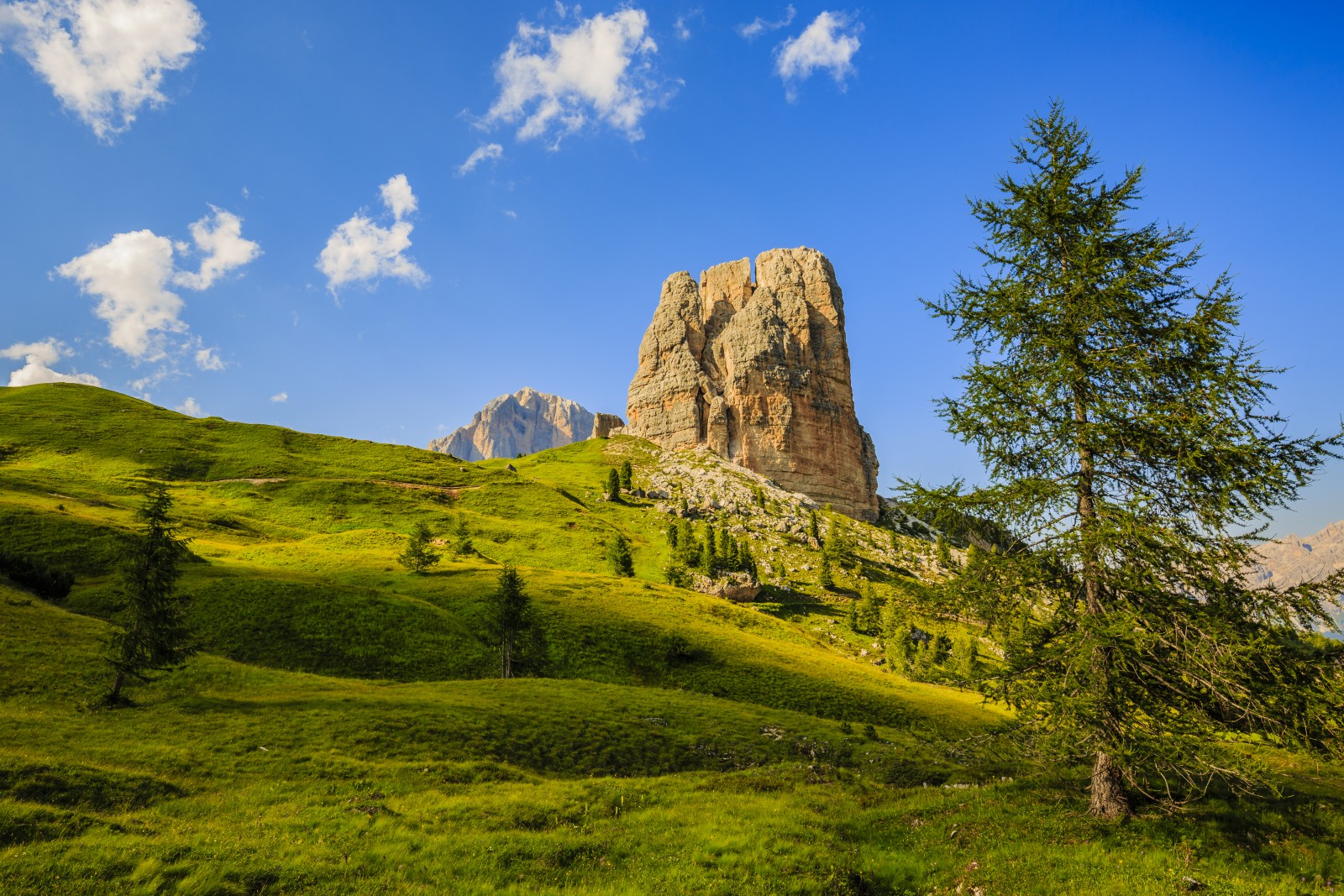 The trails near Tofana di Rozes provide a unique blend of physical challenge and visual spectacle, making it one of the top destinations for hikers visiting Veneto, Italy. The region's rich natural beauty combined with its diverse routes make it a must-visit location for any hiking enthusiast. Therefore, whether you are an experienced hiker or a novice looking for a new adventure, Tofana di Rozes certainly has a trail for you.