Annapurna Dakshin (Annapurna South, Moditse)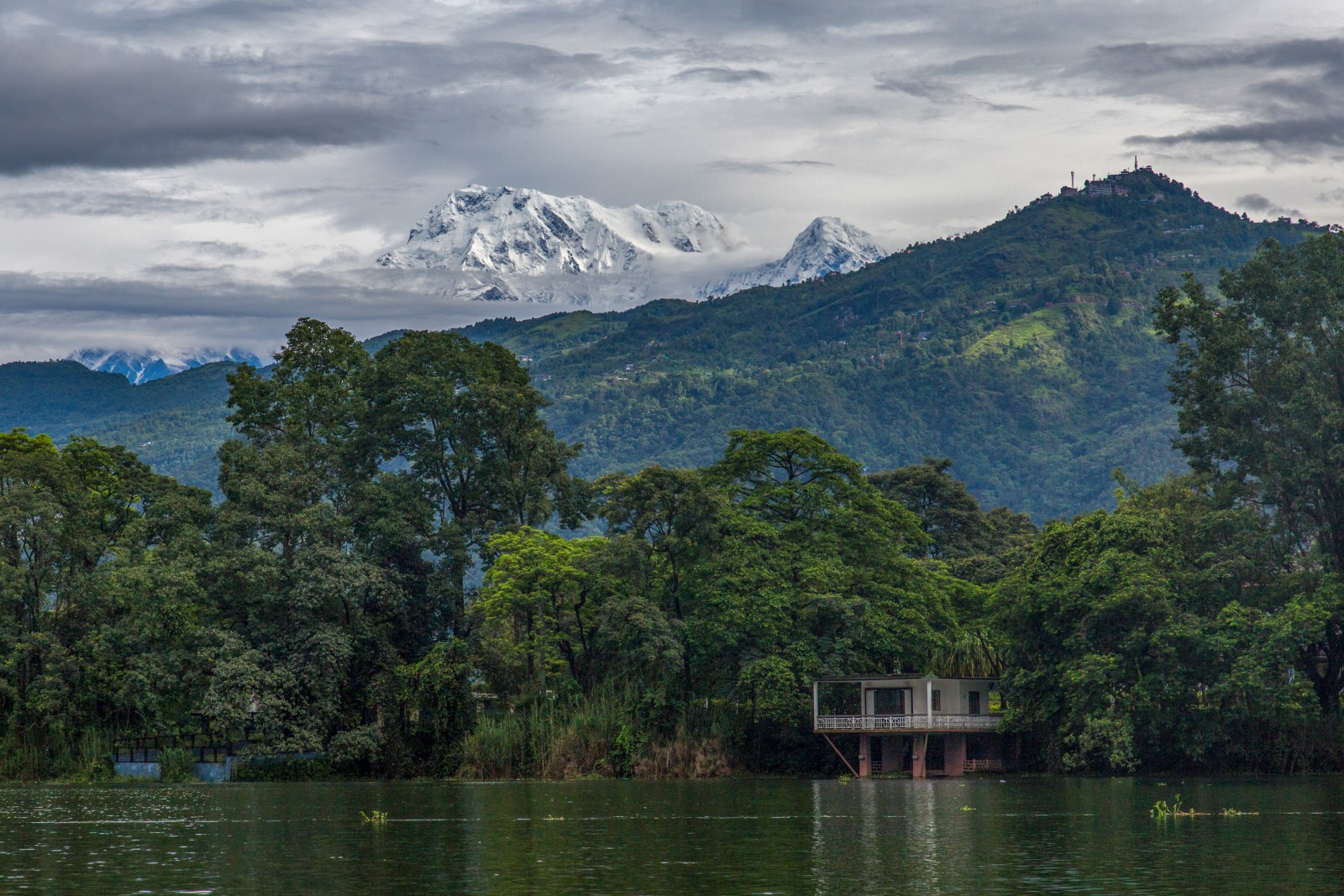 Annapurna Dakshin, a remarkable peak in the Annapurna mountain range, is an integral part of Nepal's majestic Himalayan landscapes. Located in the northern region of the country, it offers an awe-inspiring spectacle for both adventure enthusiasts and nature lovers. This peak is a treasured asset of Nepal, contributing to its reputation as a prime destination for mountaineering and trekking.
The Annapurna Dakshin is known for its significant elevation of 7,219 meters, making it one of the highest peaks in the world. Its dramatic silhouette against the pristine Himalayan skyline is a sight to behold. Notably, the name 'Annapurna' translates to 'Goddess of the Harvests' in Sanskrit, underscoring the importance of this majestic peak in local culture and folklore.
Additionally, the journey to Annapurna Dakshin is as rewarding as reaching the summit. The trails leading to this peak traverse through diverse landscapes, from lush green valleys to snow-clad mountains, offering trekkers an immersive experience of Nepal's unparalleled natural beauty. The region around Annapurna Dakshin is also home to unique flora and fauna, adding another layer of intrigue to this mountainous adventure.
Annapurna Dakshin's imposing stature and the surrounding vibrant ecosystems make it a significant attraction within the Himalayas. For those who seek thrill and beauty in equal measures, this peak in Nepal offers an unforgettable experience. Whether you are an experienced mountaineer or a nature enthusiast looking for a serene escape, Annapurna Dakshin's captivating charm is bound to leave you spellbound.
Fast Facts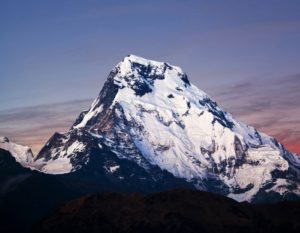 Country: Nepal
State/Province: Gandaki
Mountain Range: Annapurna Himalaya
Parents: Annapurna, Himalaya
Elevation: 23,684 feet / 7,219 meters
Prominence: 2,543 feet / 775 meters
Isolation: 3.21 miles / 5.16 kilometers
Nearest Higher Neighbor (NHN): Annapurna Fang
First Ascent: 1964, by a Japanese expedition, via the North Ridge.
Fun Fact: Annapurna Dakshin is the 101st highest peak in the world.
Neighboring Peaks: Annapurna Dakshin sits near Annapurna, its parent mountain. It is a gorgeous, highly visible mountain from the Annapurna Circuit Trek in the Nepal Himalaya. The Annapurna Massif contains the following prominent peaks, in descending order by height: Annapurna I (Main) (26,545 ft), Annapurna II (26,040 ft), Annapurna III (24,786 ft), Annapurna IV (24,688 ft), Gangapurna (24,457 ft), and Annapurna South (Dakshin) (23,684 ft). There are also several less prominent peaks in the Annapurna Himal. Mount Hiunchuli is directly to the east of Annapurna Dakshin, the Annapurna Sanctuary glacial basin is just past Hiunchuli, and Singu Chuli os located northeast of the peak. Deep blue Hidden Lake is southwest of the mountain, as well as the Khopra Danda and Rele kharka Narchyang hiking areas. The spectacular Narchyang Waterfalls are to the west of the mountain.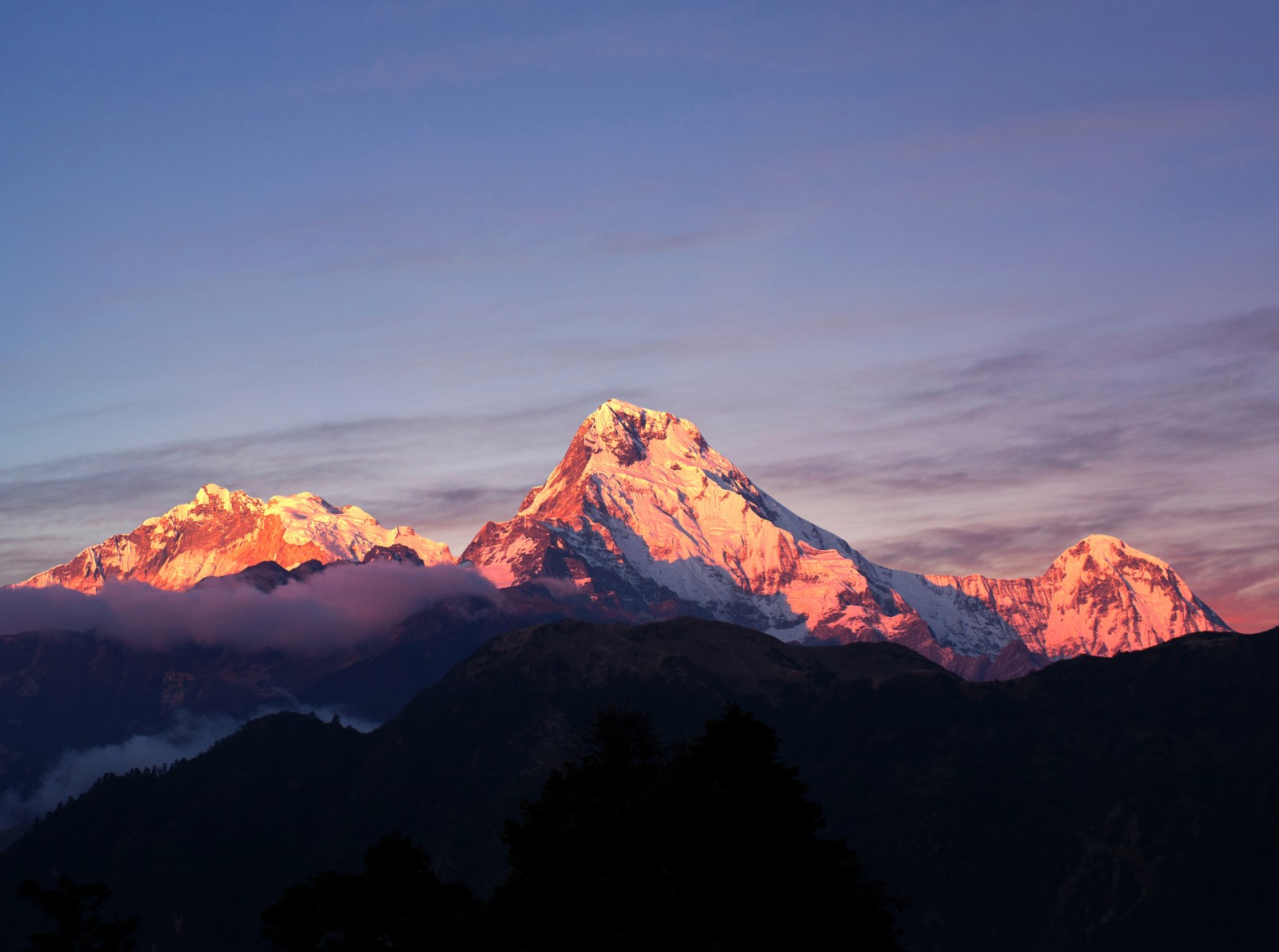 Plant Life: The Annapurna region offers rich, diverse plant life, starting with tropical forests of evergreen in the Terai lowlands below 200 meters, graduating to evergreen deciduous forests to coniferous forests. Rhododendrons and alpine meadows are common in higher elevations which fade into snow-capped peaks.
Animal Life: The Annapurna Conservation Area is home to the red panda, snow leopard, clouded leopard, and Himalayan black bear.
Bird Life: The area is rich with diverse bird life, including the crested serpent eagle and steppe eagle, large hawk-cuckoo, great barbet, green-tailed sunbird, common hill partridge and all six Himalayan pheasants: Himalayan monal, blood pheasant, satyr tragopan, koklass pheasant, cheer pheasant, and kalij pheasant.
Flora and Fauna
Annapurna Dakshin, located in the majestic Himalayas of Nepal, is renowned for its breathtaking natural beauty. This region is not just famed for its towering peaks and exhilarating trekking routes, but also for its rich biodiversity, particularly its diverse flora and fauna.
The flora of Annapurna Dakshin is a fascinating mix of tropical, subtropical, and alpine vegetation. The lower altitudes are adorned with lush vegetation of rhododendron and bamboo forests, providing a beautiful contrast to the rugged mountainous landscape. As you ascend higher, the vegetation progressively changes to scrublands and alpine pastures. One could find rare species of orchids and medicinal herbs in these high-altitude ecosystems.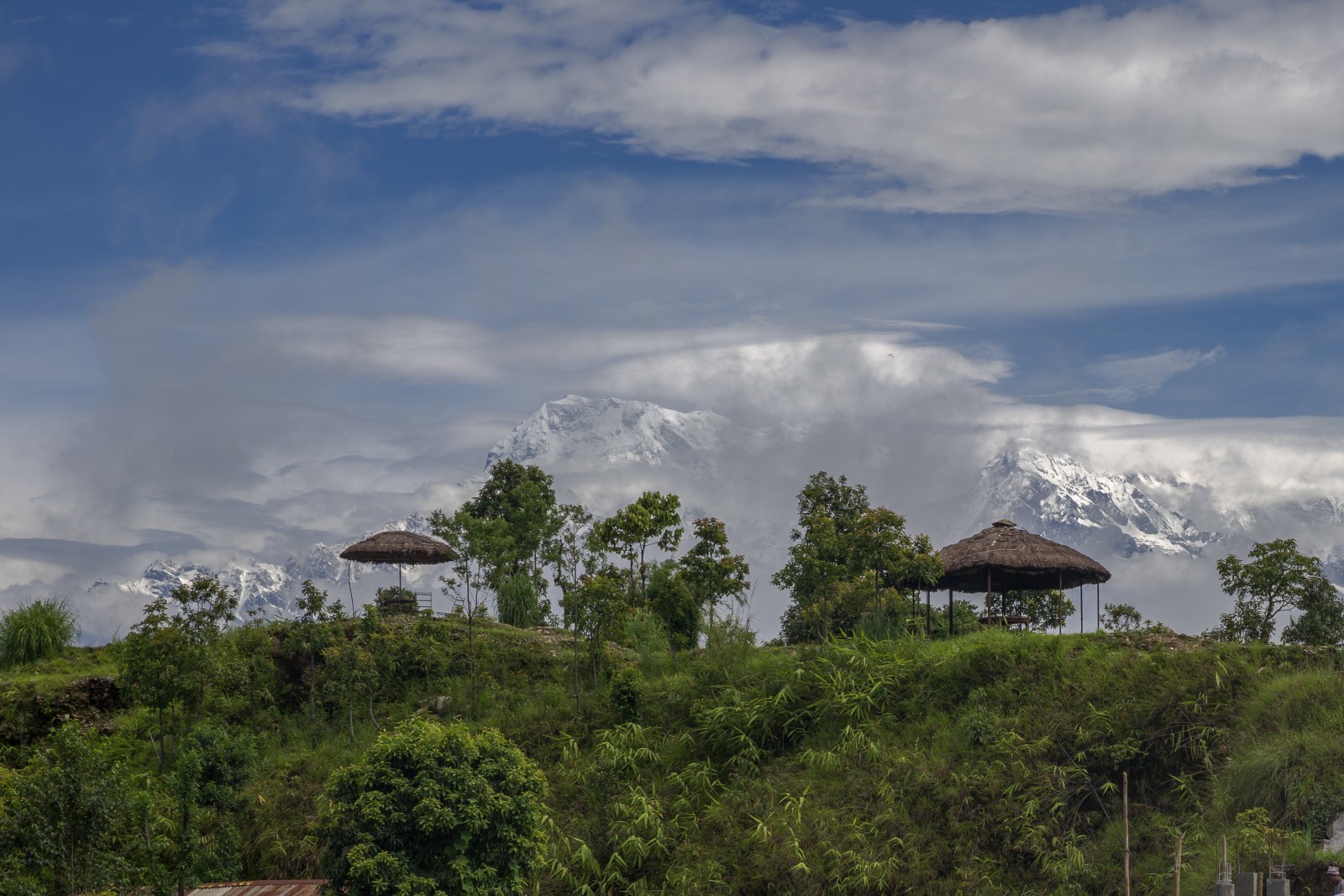 The fauna of Annapurna Dakshin is equally intriguing. The region is home to an extensive array of wildlife, some of which are endemic to Nepal and the Himalayas. The dense forests provide a perfect habitat for species such as snow leopards, Himalayan tahr, and red pandas. Bird watchers would be delighted to know that Annapurna Dakshin is a bird paradise, housing species like the Himalayan griffon, lammergeier, and the snow partridge.
The unique biodiversity of Annapurna Dakshin is a testament to the exceptional ecological health of the region. However, it also highlights the urgent need for conservation efforts to protect these invaluable natural resources from threats such as climate change and human intrusion. The flora and fauna of Annapurna Dakshin are not just components of its natural heritage but are also significant for maintaining ecological balance and supporting local livelihoods.
Annapurna Dakshin stands as a remarkable symbol of the rich biodiversity of Nepal and the Himalayas. Its varied flora and fauna contribute significantly to its charm, making it a must-visit destination for nature enthusiasts and wildlife lovers.
Trails
Annapurna Dakshin is renowned globally for its breathtaking trekking trails. These routes offer a unique combination of stunning landscapes, rugged terrains, and rich cultural experiences that have drawn outdoor enthusiasts from around the world. The Annapurna Dakshin is a part of the Annapurna Massif, which is the 10th highest mountain globally and has some of the most popular and adventurous trails in Nepal.
One of the most sought-after trails is the Annapurna Base Camp Trek. The trek takes you through terraced rice fields, vibrant rhododendron forests, and traditional Gurung villages, providing a fascinating insight into the local culture and lifestyle. The trail culminates at the base camp, where you are rewarded with panoramic views of the towering Himalayan peaks.
Another excellent route is the Ghorepani Poon Hill Trek. This trek is shorter than the Annapurna Base Camp Trek, but it doesn't compromise on the beauty or adventure. It's well known for its stunning sunrise and sunset views over the Himalayas from Poon Hill. The trail winds through lush forests full of exotic flora and fauna, offering plenty of opportunities for wildlife spotting.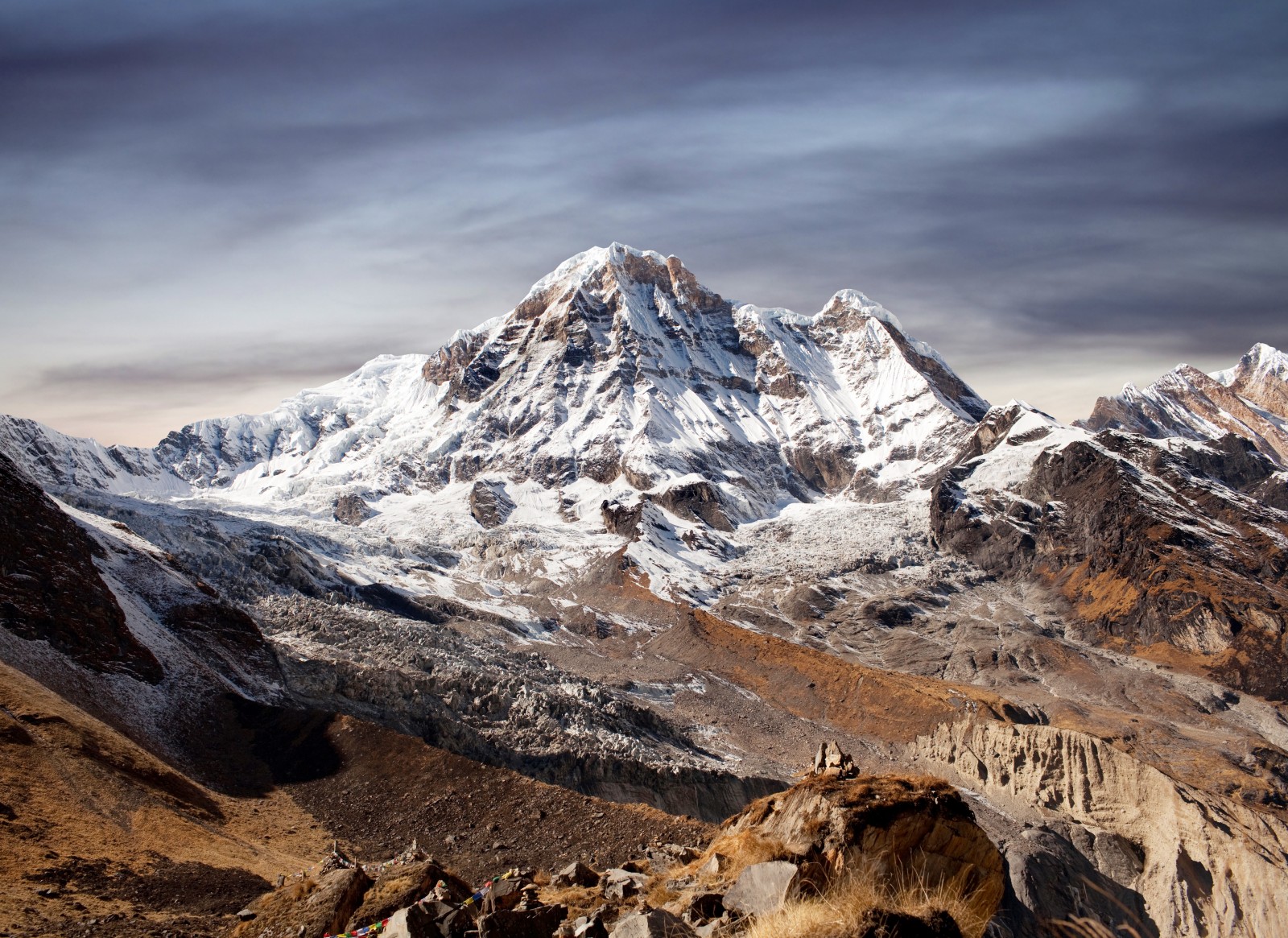 For those seeking a less trodden path, there's the Mardi Himal trek. It's a quieter route that takes you off the beaten track to give you a more serene experience of the Annapurna Dakshin. It also offers unparalleled views of the Annapurna South, Hiunchuli, Machhapuchhre, and Mardi Himal itself.
Regardless of which trail suits your preference and level of experience, each route near Annapurna Dakshin promises unforgettable memories. These trails provide a chance to immerse yourself in the rich biodiversity of Nepal's Himalayas while challenging yourself with some of the world's most thrilling hikes.
Sources